Nong-in, the State Bird of Manipur, was majestically and proudly perched on the branch of a tree in the dark of the night, deep in the forest of Jesssami village in Ukhrul district of Manipur, its natural habitat, when team Imphal Free Press (IFP) found the wild bird called Chara in Jessami Chakhesang on Friday, January 20.
And, for the first time in the history of Manipur, team IFP live streamed the state birds in their natural habitat on IFP's social media pages. The birds were spotted along Jessami hills range about 10 km away from Jessami block headquarters when Team IFP went on a trail to Jessami forest in search of it.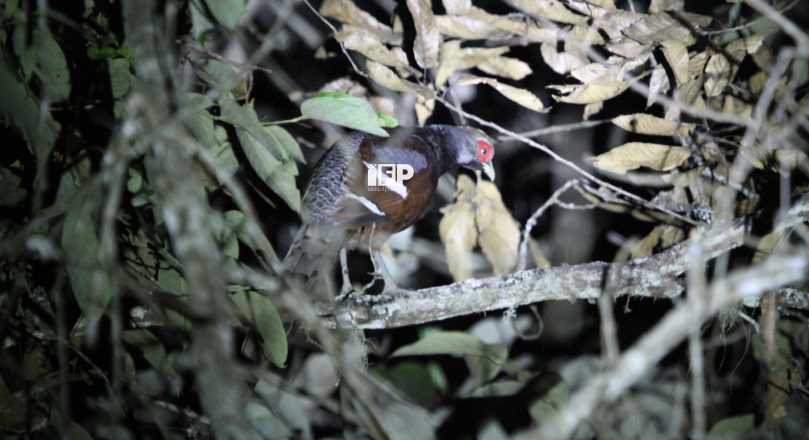 Nong-in (PHOTO: Bishworjit Mandengbam_IFP)
The bird species, whose number is estimated to be around 300, is hard to capture in the wild for they are known to be shy and sensitive.
Earlier, IFP was a part of the team that rediscovered Nong-in at Razai village in Ukhrul district on July 19, and brought to the government attention the urgent need to protect and preserve the state bird.     
Advertisement
ALSO READ: Hunting stopped, but Manipur State Bird Nongin faces extinction
The exclusive story by the Imphal Free Press prompted the government to take speedy action and on, the government declared the Razai village 'Wildlife Protection Area'.
ALSO READ: IFP Impact: Wildlife protection area to be developed in Razai Khullen, home to Manipur State Bird Nongin
Nong-in (Syrmaticus humiae), the magnificent state bird of Manipur, was once found in great numbers in the hills of Razai village under Ukhrul district. Nong-in is also known as Mrs Hume's barred back Pheasant or bar-tailed pheasant.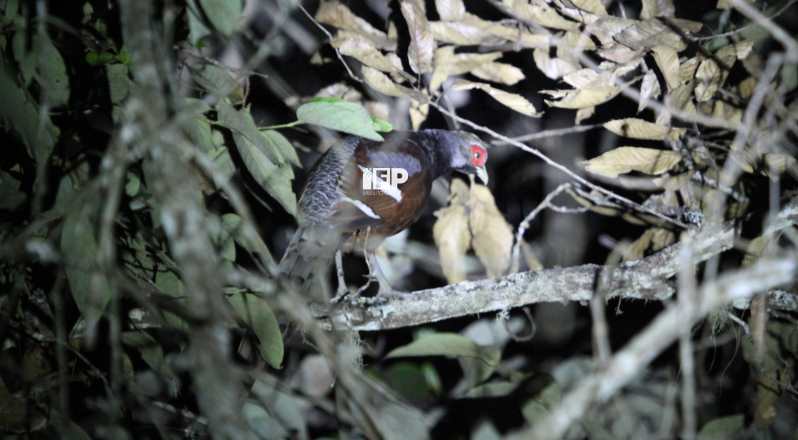 Nong-in (PHOTO: Bishworjit Mandengbam_IFP)
The bird is named Mrs Hume's Pheasant in honour of Mrs AO Hume, the wife of Allan Octavian Hume, one of the most influential ornithologists in the 19th centuries. Hume had scientifically recorded the bird during his expedition in Manipur in 1881.
Advertisement
The bird was declared as a state bird of Manipur on March 21, 1989. It is included in Schedule I of the Wildlife Protection Act, 1972.
Nongin's past range reportedly covers Razai village and Shirui village in Ukhrul district and now Jessami. However, experts say that its exact population size and status remain unknown. But this rare and endangered bird is reportedly vanishing.
Nongin is usually found in March or early April and its breeding time is May, when the vegetation is dry. It is evaluated as Near Threatened (NT) by the IUCN Red List of threatened species.
The bird is listed on Appendix 1 of CITES and Schedule 1 species under the Wildlife Protection Act (WPA), 1972. The state bird is known by various names under different dialects, Nonggin by Meitei community, Tharikthra in Tangkhul, Wa-ru in Lamkang and Lickashila in Razai groups etc.
WATCH: Follow Imphal Free Press page and witness exclusive content
Advertisement