Nongin, the magnificent state bird of Manipur, was once found in great numbers in the hills of Razai village under Ukhrul district. But its number declined as, unaware of its significance, villagers used to hunt down the bird. The villagers have now given up hunting of Nongin, but the lovely large wild bird with a pretty long tail is becoming endangered and facing extinction owing to lack of conservation efforts.
The bird is named Mrs Hume's Pheasant in honour of Mrs AO Hume, the wife of Allan Octavian Hume, one of the most influential ornithologists in the 19th centuries. Hume had scientifically recorded the bird during his expedition in Manipur in 1881.
On March 21, 1989, Nongin (Syrmaticus humiae) was declared as a state bird of Manipur. Considering its significance and the need for its conservation as a state bird, it is included in the Schedule I of the Wildlife Protection Act, 1972. But, much-needed conservation efforts in its natural habitat (in-situ) in Manipur is lacking, resulting in its disappearance, experts opine.
Nongin's past range reportedly covers Razai village and Shirui village in Ukhrul district. And, at present, there are about 300 birds of the species, the Razai village authority says. However, experts say that its exact population size and status remain unknown. But this rare and endangered bird is found fast vanishing.
As Nongin started to disappear from the forest of Razai village, a special protection committee was formed to protect the bird. Hunting of the bird in the village has stopped since 2015, the villagers say. They say that a fine of Rs 10,000 is imposed on anyone found hunting the bird.
Although the villagers of Razai have started protecting the bird, the Forest Department could not enforce the Wildlife Protection Act in the village. It may be pointed out that the Wildlife (Protection) Act, 1972 and Rule 1974 are not implemented effectively in Manipur.
Finding Nongin; Captured on Lens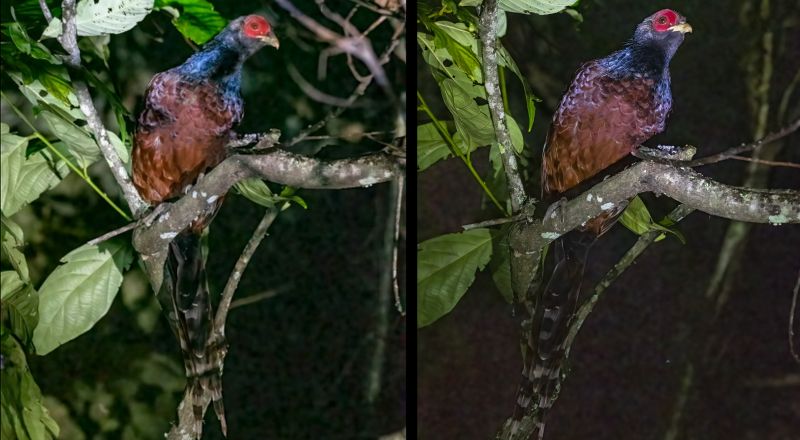 (Endangered bird Nongin captured on lens for the first time in the forest of Razai village, Ukhrul, Manipur by wildlife photographers - Oken Sanasam, Harmenn Huidrom and Priyojit Akoijam on July 19, 2022, 9 pm)
Amid the threat of extinction facing Nongin, for the love of the rare and endangered state bird, this Imphal Free Press reporter along with three wildlife photographers visited Razai Khullen village, located about 77 km from Ukhrul town, on July 19. The team reached the village at around 2.30 pm and met Ismile, the chairman of the village church, at his home.
On visiting the village, the villagers informed that the birds often return to their roosting place with some big sound at around sunset and they roost on the branches of pine trees at about five to six feet high.
Ismile arranged a team of hunters to search for Nongin at the Razai hill range. At around 3.15 pm, the team of hunters went searching and waited for hours. At 7.30 pm, as luck would have it, a male Nongin was sighted. On getting the information, this IFP reporter along with the wildlife photographers, led by Ismile's son, reached the spot.
It took three-and-half hours of trekking the hills to reach the site from Ismile's home where the male Nongin was spotted.
For the first time ever in Manipur, on July 19, 2022, 9 pm, the rare and endangered bird Nongin was captured on lens by the three wildlife photographers - Oken Sanasam, Harmenn Huidrom and Priyojit Akoijam - in the lush forest of Razai village.
"The team is fortunate to have captured the bird on lens. I tried many times to see the bird. It is the first time in Manipur that we are able to capture Nongin on lens," Th Shamugou, an environmentalist (working on wildlife science), said.
Saving Nongin
On meeting the villagers of Razai, they revealed that the state bird of Manipur, which were once found in abundance in Razai village a few years ago, was heavily hunted for its meat as it is almost the size of country chicken. Ismile shared that he himself had eaten nearly 200 Nongin birds in his lifetime.
"From childhood we went hunting for animals or birds and ate various species of birds including Nongin, as we didn't know Nongin is a special bird of the state," Ismile recalled.
Nongin is found in March or early April and its breeding time is May, when the vegetation is dry and only small pockets of forest were seen, he said.
Advertisement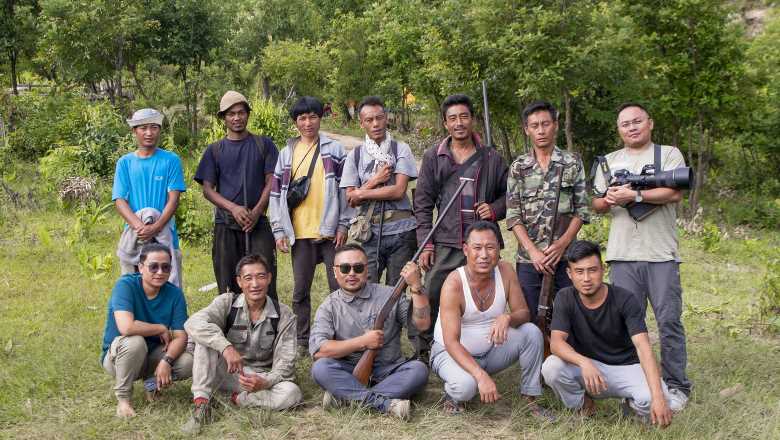 (The Team: IFP reporter Babie Shirin (Front extreme left) with wildlife photographers and volunteers of village)
At least five to six Nongins were reportedly handed over by the villagers of Razai and Shiroi villages to the Zoo authority through the forest officials of Eastern Forest Division, Ukhrul just before the celebration of 55th Wildlife Week 2010 at Manipur Zoological Garden.
Also, under the banner 'Save state bird Nongin', the villagers of Razai and Shiroi handed over more than 10 Nongins to the zoo authority through the forest officials of Eastern Forest Division, Ukhrul in the year 2013-2014, recalled Ismile.
Ismile himself trapped around 15 Nongin and handed them to the state Zoo authority till 2015. "Now, I heard that only two or one is left in the zoo," he said.
Razai Khullen has given up the age-old practice of hunting Nongin for consumption, but they continue hunting activities for other birds. And, unplanned logging is taking place in the forest areas of the village.
Recently, the Wildlife and Environment Protection Organisation, Manipur and Razai village authority called on the government and concerned departments to build a sanctuary for the protection and preservation of Nongin.
Ismile, representing the villagers, also suggested organising a festival on saving Nongin on the line of state Shirui festival or Sangai festival.
Razai village is a wildlife paradise in this small Northeast state Manipur. It is home to numerous rare and exotic birds. According to reports, Allan Octavian Hume recorded as many as 500 bird species, including Nongin.
Wildlife photographer Harmenn Huidrom, who is also an ornithologist cum, identified various bird species while trekking at Razai village range along with this IFP reporter on July 19.
(PHOTO: IFP_Babie Shirin) Razai hills range, Ukhrul district, Manipur, where bird Nongin was sighted and captured on lens for the first time in Manipur, on July 19, 2022
The birds are Kalij Pheasant (Lophura leucomelanos ); Black Francolin (Francolinus francolinus ); Hill Partridge (Arborophila torqueola ); Rufous-throated Partridge (Arborophila rufogueola ); Mountain Bamboo Partridge (Bambusicola fytchii ); Red Junglefowl (Gallus Gallup); Besra (Accipiter virgatus ); Green Imperial Pigeon (Ducula aenea ); Barred Cuckoo Dove (Macropygia unchall ); Oriental Turtle Dove (Streptopelia orientalis ); Grey-headed Parakeet  (Psittacula finschii ); Large Hawk Cuckoo (Hierococcyx sparverioides ); Himalayan Cuckoo (Cuculus saturatus); Great Barbet (Megalaima virens);
Golden-throated Barbet (Megalaima franklinii); Grey-headed Woodpecker (Picus canus); Black-winged Cuckooshrike (Coracina melaschistos ); Long-tailed Minivet (Pericrocotus ethologus); Crested Finchbill (Spizixos canifrons); Red-whiskered Bulbul (Pycnonotus jocosus ); Red-vented Bulbul (Pycnonotus cafer); Black Bulbul (Hypsipetes leucocephalus); Brown-flanked Bush Warbler (Cettia fortipes); Lemon-rumped Warbler (Phylloscopus chloronotus); Yellow-bellied Warbler (Abroscopus superciliaris);
Rufous-capped Babbler (Stachyridopsis ruficeps); Golden Babbler ( Stachyridopsis chrysaea ); Spot-breasted Scimitar Babbler (Pomatorhinus erythrocnemis ); Red-faced Liocichla ( Liocichla phoenicea); Silver-eared Mesia (Mesia argentauris ); Blue-winged Siva (Siv cyanouroptera ); Nepal Fulvetta (Alcippe nipalensis );
Whiskered Yuhina (Yuhina flavicollis); Chestnut-vented Nuthatch (Sitta nagaensis ); Velvet-fronted Nuthatch (Sitta frontalis); Spotted Forktail (Enicurus maculatus); Grey Bushchat (Saxicola ferreus); Dark-sided Flycatcher (Muscicapa sibirica); Fire-breasted Flowerpecker (Dicaeum ignipectus ); Mrs Gould's Sunbird (Aethopyga gouldiae); Scaly-breasted Munia (Lonchura punctulata); Chestnut Munia (Lonchura atricapilla).
Environmentalist Kh Shamungou said that Nongin (Hume's Pheasant) Syrmaticus humiae, also known as Mrs Hume's barred back Pheasant or bar-tailed pheasant, is a large (male 90 cm and female 60 cm) and long-tailed.
Although closely resembling Elliot's Pheasant, a male of this species has a greyish brown head, bare red facial skin round its eyes, yellowish bill, brownish orange iris, glossy steel-blue feathers on its throat, neck and upper breast; deep chestnut-brown plumage on its abdomen and flanks, and three conspicuous white bars on the upper wings. Besides, it has black and chestnut bars all across its long tail in silvery-grey colour. The female is the chestnut brown bird with a whitish throat, buff-colour belly and white-tipped tail.
Shamungou explained that the Hume's Pheasant is endemic in the regions of north eastern India, Myanmar, Thailand and China. Two subspecies are named from these places; one is Syrmaticus humiae humiae in the hills of Manipur, Mizoram through western Myanmar, south to the river Irrawady, while the other, Syrmaticus humiae burmanicus finds its habitat in the forests of south western China, northern and eastern Myanmar and extreme northern part of Thailand.
Many years ago, Nongin was said to be found in Ukhrul and Chandel, mostly at the north and north-eastern side of Manipur. But at present, it is available only in some pockets of the Ukhrul range, he said.
Talking about the habitat of Nongin, Shamungou said that although the exact population-size and status remain virtually unknown, today, Nong-in was frequently seen along the open dry evergreen, mixed pine-broadleaf forests on the steep rocky hillsides, amidst the scrub and grassy plains. Roosts were mainly located along ridges, and in other relatively open areas. They often spend time by feeding and resting in pairs, scenes of rejoicing in mud-bathing or sunbathing continue hours together or till eventide.
Advertisement
"When a sudden danger or change of weather was sensed, the frenzy birds crawled behind the rock-clefts with noisy calls. When a pair from a cleft-shelter started calling, another pair nearby responded, and thus within a short period the whole air was filled with a chord of their calls. Trawlers took advantage of it for locating the presence of the bird," said Shamungou with worries writ large on his face regarding the vanishing of the bird.
The Need for Compehensive Government Action  
In the same year 1989, the state government declared Nongin (Syrmaticus humiae humiae) as state bird along with Sangai (Rucervus eldii eldii) as state animal, Uningthou (Phoebe hainesiana) as state tree and Shiroi Lily (Liliummackliniae) as state flower. The state government even started organising a state festival for flowers and animals, then why not a festival for endangered species Nongin bird, he asked.
"The species and cultural status of Nong-in is not inferior to that of Sangai. Both are flagship species of the state. Nong-in also gained the status of Manipur state bird in the same year as Sangai did in 1989. However, no action, so far, for Nong-in's conservation in-situ or ex-situ has been taken up," he lamented.
He put up the matter of conserving and protecting Nongin many times before the Wildlife Board, but no authority took any steps.
"This time I hope the state government will open its eyes and take up a comprehensive step of conserving and protecting Nongin at Razai village," Shamungou said.
Conservation of Nongin habitat will ensure conservation of representative biological diversity of Razai region with Nongin as flagship species of conservation, he asserted.
"Nongin is going to be extinct from the state, the authorities concerned should take immediate and urgent steps to protect them," Shamungou said and suggested that Nongin festival can be organised to create awareness about the importance of Nongin to people in the state.
According to the report of the Directorate of Environment and Climate Change, in Manipur, the bird's habitat has been destroyed and severely fragmented by extensive shifting cultivation and uncontrolled annual forest fires.
A more direct threat is posed by the practices of poaching and snaring of the bird continued for years; and these, especially, as the range of the species overlaps with hill tribes, and in spite of having several preventive laws and regulations, their hunting lifestyles are still rampaging, it stated.
The fact that Manipur is home to Hume's pheasant and the bird has attained an emblematic status to represent the state is not known to the villagers.
It states that a highly adhesive gum made of locally available herbs is often used for capturing the bird. Villagers would leave such preparation on the ground or smeared on logs near streams and rivers where the birds frequents. Such practices has left not only Nong-in but other pheasants of the state endangered.
Although, fortunately, no pheasant species has yet disappeared (Green Peafowl) from the state's soil, their peculiar habitat-critical to their survival-will be fatal, if the practice continues, it stated.
Sanasam Yaisana mentions in an article that ancient kings of Manipur used to present the beautiful feathers of the bird as awards for war or hunting heroes. The bird is a big forest bird and its size is that of the local chicken. They mostly dwell on the ground and do not fly very far. The male is magnificently colourful and the female is of dull colour, it states.
In recent years, the State Bird was considered locally extinct. The State Zoological Garden could not keep a single State Bird since the establishment of the Garden in 1976. However, due to the spread of awareness and following the declaration made by the state government in 2010 to award a sum of Rs 50,000 on a pair of live Nongin, at least five to six Nongin were brought by the villagers of Razai Khullen and Shiroi Village of Ukhrul district, the author mentions.
At present, the state zoological garden has a couple of Nongins, according to an official of the state zoo.
The search for Nongin was also carried out by Anwaruddin Choudhury who was the Deputy Commissioner of Baksa, Assam in January 1996, January 2001, October 2001 and February 2002.
According to him, the wild distributions of Nongin were found in the hills of Northeast Manipur in Ukhrul district and in the Northeast of Senapati district. It also occurred in the valley of the Irang River in Tamenglong district and the Karong and Phailenkot in Senapati district.
It was also reported that in 2010, Ranger Hitler Singh, along with wildlife enthusiasts, Kh Shamungou Singh and RK Birjit Singh, visited Razai Khullen in Jessami Sub-Division of Ukhrul district. The team trekked the forest on foot and stayed the night there, but could not find the bird. According to the villagers, the bird was mostly seen in March or early April.
Advertisement