Imphal East police team on Thursday arrested seven persons for setting off forest fire and felling trees at Kongba Maru Leifamlen, Imphal East district.
Speaking to the media on Thursday at SP, Imphal East, SP Ksh Shivkanta said that villagers of Kongba Maru Laifamlen informed police of the forest fire. Following it, a team of police visited the spot and it was controlled in time.
Police detained two persons namely Dongkhomang Khongsai @ Mangcha 30 years son of Ngamkam Khongsai of Khanomphai village Kangpokpi district; Paomang Haokip, 62 year son of Late Nehkai Haokip of Khunomphai village, Kangpokpi district.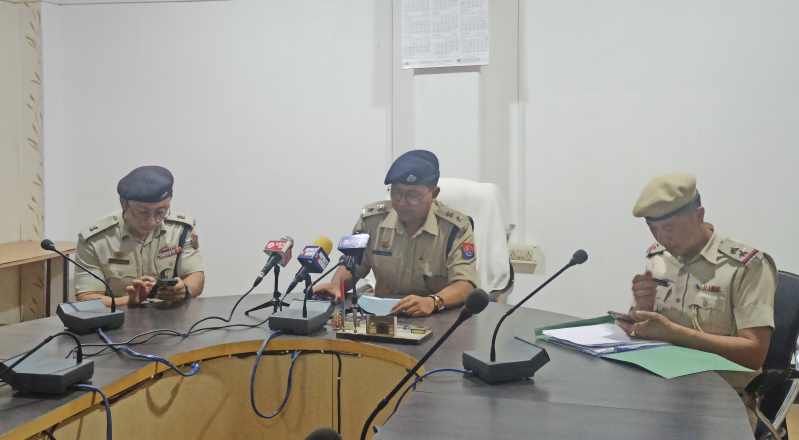 Advertisement
Spot interrogation of the said detainees confirmed the occurence of felling trees inside Kongba Maru forest. 
While entering, two more persons were found cutting trees. They were identified as Thokchom Tomba Meitei @ Ibungomacha Meitei, 54 years son of Late Thokchom Ibobi Meitei of Sanjenlok Village, Imphal East district and Thokchom Manggiyaima, 54 years son of Late Thokchom Parijat Meitei of Yumnam Khunou Awang Leikai, Imphal East district.
After witnessing more forest fires, police caught two more persons. 
They are identified as Thang-Pao Haokip, 48 years son of Late Hemjamang Haokip of P. Khunomphai village, Kangpokpi district and Sasang Khongsai @ Haubisang Khongsai, 27 years son of Kampu Khongsai of P Khunomphai village, Kangpokpi district.
According to six arrested persons, they were directed by one village chief of Molnom, Hempao Haokip, 57 years son of Late Semdou Haokip of SD Molnom presently Haokip Veng.
Advertisement
The police team of police went to the residence of village chief and arrested him.
All together seven were arrested and FIR registered against them for causing forest fire and deforestation.
SP Shivkanta appealed all to stop deforestation and starting forest fire, as the state government is taking serious initiative of drive against causing forest fire and deforestation and the police are in active to take action according to the law. 
All should be aware of shortage of water is due to deforestation and forest fire that destroyed natural cycle of environment, he added.
Also Read: Liangmais rally against Konsakhul violence, ask Leilon to vacate village
Advertisement