Normal life in Imphal East and West districts was affected on the second day of the 48-hour shutdown imposed against the arrest of five 'village defence volunteers'. The shutdown is scheduled to end Wednesday night. 
The shutdown continued on the second day with roads blockade, but no sounds of tear gas shells and mock bombs were heard unlike the first day.
In the early morning, some commuters, including roadside vendors selling essential items and vegetables, were seen on the roads. Around 10 am, the bandh supporters resumed blocking the roads.
Water pipes, wooden logs, burning tyres blocked most of the roads in the Imphal area.
Advertisement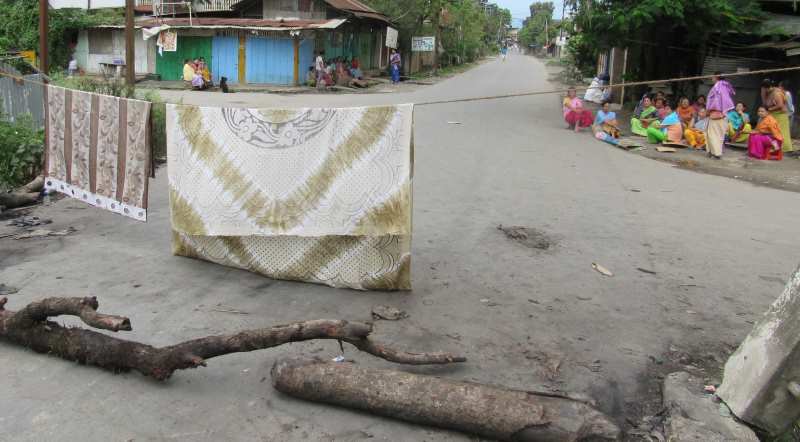 (PHOTO: IFP)
Speaking to the media, a protester said that the public supports the demand for the unconditional release of five village volunteers who got arrested on September 16 from Kongba, Imphal East during frisking and checking.
Bandh supporters blocked the Mayai Lambi stretch, starting from Keishamthong bridge, Uripok road, Sagolband road, and most of the roads in Imphal East districts.
During the shutdown, no students were seen in both government and private institutions while passenger services ceased. Market places, shops, banks, including oil pumps also remained closed. However, a few numbers of employees were seen at government offices.
Advertisement
Daily business were thrown out of gear as the main markets in Imphal Khwairamband Keithel and shops remained closed for the second day on Wednesday.
Shops in the outlying areas also remained closed, while small roadside vendors were scarce.
Even as the state police force began arresting village volunteers in the valley, militant attacks in the fringe and peripheral areas continued undaunted.
Yet, the state government remained firm on the arrest of five armed village volunteers from Kongba area and they have been charged with several crimes.
Related: Arrest of Village Volunteers: Shutdown paralyses Imphal
Advertisement