Naga villagers of Solo Chiu in Myanmar ravaged by the recent fire incident were provided relief items under the GNF Relief Mission.
The relief distribution drive was organised by the Global Naga Forum (GNF) under the GNF Relief Mission.
The GNF stated in a release that a seven-member GNF Relief Mission team led by GNF co-convenor and chair arrived at Pangsha village on March 11 from Kohima and Dimapur with 200 quintals of relief goods.
Advertisement
The GNF team also held a joint meeting with 11 leaders of Solo Chiu Village and other village leaders of New Pangsha and Dan village to discuss the transportation of materials to the affected village.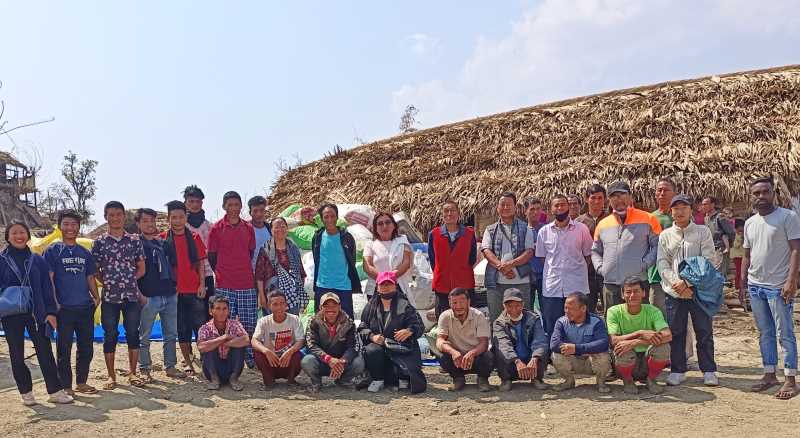 The meeting was followed by a dinner prepared for the Solo village leaders by the GNF team members, the GNF stated.
On Sunday, 12th March, the GNF Relief team was received by the chairman and the villagers of the Solo Chiu village and the relief materials were distributed to the fire victims, it added.
Advertisement
The Solo Chiu village presented a 'Khiamniungan Dao' to the GNF team as a symbolic traditional acknowledgement of friendship with the village, it further stated.
It mentioned that the GNF relief items consisted of 3750 kg rice, 300 kg dal, 350 kg salt, assorted biscuits and soap for children, clothes for men, women, and children, blankets, utensils, plates, cooking pots, cups, bed linen, mattresses, pillows and other necessities.
The GNF conveyed their gratitude to all the donors and supporters who provided assistance to the organisation in helping the Solo Chiu villagers, it added.
Also Read: H3N2 Surge: Manipur Health Directorate issues advisory
Advertisement