Manipur Water Resource and Relief and Disaster Management Minister Awangbow Newmai and Kshetrigao MLA Noorul Hassan on Thursday inspected the vulnerable and degraded riverbank of Iril River and its tributaries.
During an interaction with the media, Newmai said that expert study and technique on soil condition is required for a permanent solution to avoid flooding and soil erosion during the rainy season.
For permanent solution of affected areas, the minister said that the department will submit a DPR to the concerned Ministry. In a first-hand visit, an expert team for scientific studies will take up the matter and more importantly, soil conditions should be studied first for appropriate work and technique to maintain the quality of the riverbank, the minister said.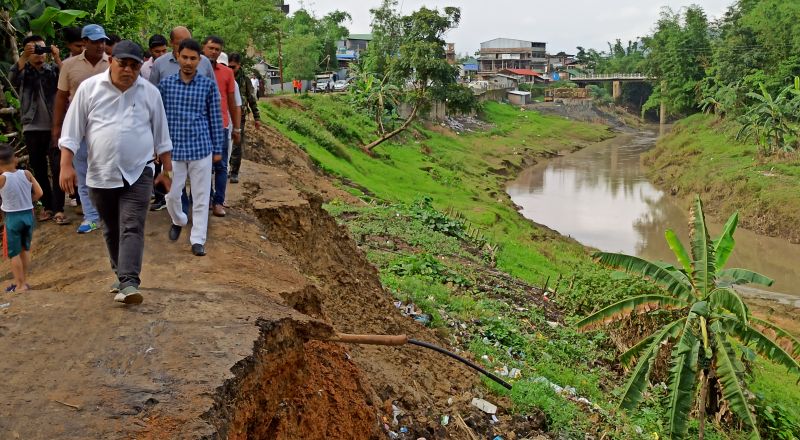 (PHOTO: IFP)
Advertisement
Most part of the riverbank, not only for Iril River but also for other rivers, also requires study of soil condition, the minister said, adding that temporary measurement will not solve the degradation. The minister also stated that this year, during the pre-monsoon season, some rivers crossed the danger-level and caused damage to villages situated on riverbanks.
Must Read: Environmental flows worsening due to increasing water extraction from rivers in Imphal valley
So adequate and proper scientific study is required before taking up any work, he added. Further, he informed that, based on the report of the study, he will put up the matter to the chief minister and steps will be taken to cover all rivers. The ministerial team noted the critical areas such as left bank of Iril River at Kshetri Awang Leikai Top Khongnangkhong, Salaudin to Jalil Mapa, Naharup Chandan Thongkhong, Khongjin Culvert Achouba and Saikhom Mapa.
Moreover, the present conditions of streams from Yaralpat and Gurupat Thong, which are about 5.5km in length, were also inspected and the minister decided to take up de-siltation work after the monsoon season. MLA of Kshetrigao Noorul Hassan said that the degraded riverbanks from Top Khongnangkhong to Naharup Konjil of Iril River have been neglected for the last many years.
Must Read: Manipur farmers suffer less yield due to poor rainfall, irregular irrigation
The government and concerned departments are looking forward to taking up appropriate steps into work, the MLA said, adding that he trusts and believes that the present government will not neglect the vulnerable situation of the constituency. 
Advertisement
Advertisement