This year, farmers in Manipur are a dejected and worried lot as delayed and poor rainfall affected their paddy production. Most of the farmers across the state reported less paddy production, mainly due to poor rainfall and irregular irrigation during cropping season.
"Farmers were waiting impatiently for good rainfall till August to sow paddy. But this year's shortage of rainfall affected our paddy production," said one A Krishnatombi from Yangbi Awang Leikai, Imphal East, who owns two sangam (local measuring units) of paddy fields.
Every year, he produces more than 30 bags of paddy. But this year, after sowing paddy seeds, his field started drying. Spending Rs 10,000, he irrigated his field with water pumped up from Iril River but of no use. In September, the state received a bit of rain. He tried his best to store water, but failed because of less rainfall this year. The farmers' plight is made worse by lack of proper irrigation facilities during cropping season in several districts of the state, except in Imphal West.
ALSO READ: Rice Distribution in Manipur: No joy in Poinu
Agriculture is the main occupation of the majority of people in Manipur, and rice the staple crop. The state's agriculture sector contributes a major share to the total state domestic product and generates employment to about 22.13 per cent (according to 2011 census) of the total number of workers in Manipur.
Of the total geographical area of the state, only 7.41 per cent is utilized for cultivation. Of this total cultivated area, 52 per cent is confined to the valley. Therefore, half of the total valley area, which accommodates 67 per cent of the total population, is reserved for agriculture purposes.
As per the economic survey report of Manipur 2020-21, the Gross State Domestic Product (GSDP) of Manipur for 2019-20 (Advance Estimates) at current prices is estimated to be Rs. 31,989 crore as against Rs. 27,869 crore in 2018-19 (Quick Estimates) registering an increase of 14.79 per cent. At constant (2011-12=100) prices, GSDP in 2019-20 (Advance Estimates) is estimated at Rs 20,743 crore as against Rs 19,300 crore in the previous year showing an increase of 7.47 per cent. The exponential growth rates between (2011-12 to 2019-20) are worked out to be 11.34  per cent and 5.92 % for current and constant prices respectively.
Farmers of Churachandpur told this reporter that out of 80 farmers of Phemuol village, Saikot sub-division, Churachandpur district, only six farmers could reap some paddy. The farmers suffered due to lack of irrigation facilities and shortage of rainwater, they said.
ALSO READ: Manipur: Farmers condemn damaging of paddy fields for construction of Mega Food Park
In Imphal East district, some villages namely Seijang, Telouchana, Lamlai, Yorbung, Sekta Loushangkhong, Pungdongbam and Pourabi farmers got less amount of paddy.
Advertisement
A farmer, Samugou, who has a paddy field at Lamlai constituency produced only 10 bags this year. Earlier, he used to get 50 bags of paddy. He said that most of the paddy farms in Imphal East district lost production due to rainfall deficit. The irrigation facility provided from Iril river has not reached the area and throughout the paddy season it depended on rainwater. But some areas with irrigation facilities also lost production due to irregular irrigation.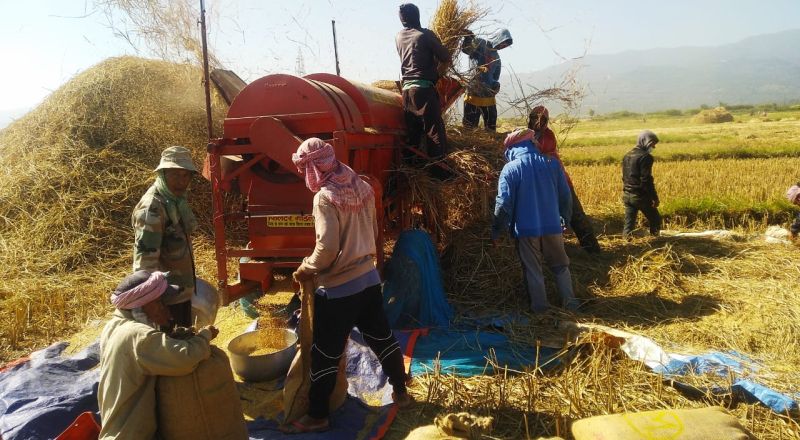 (PHOTO:IFP)
Samugou has 10 and half hectares of paddy fields. Every year, it produces 50 and above bags of paddy. He was worried of shortage of food and hunger.  While the price of Meitei Cheng or local rice has plummeted to an all-time low,it may increase in the coming year, he added.
Interacting with different farmers from every valley district, almost all farmers, except Imphal West, complained of reduced paddy rice production.
The Lainingthou Puthiba Thousil Kanglup cum Development Committee Pourabi has announced that landowners of farmlands of Pourabi village cannot take crop share rent (Lousal) from the farmers this year as they have decided not to give the rent due to crop failure.
In Pourabi, farmlands faced drought with standing crops severely attacked by pests and around 4,000 metric tonnes of paddy crops in Pourabi of Khundrakpam AC were in danger of going to waste due to irregular supply of water and delayed distribution of fertiliser.
In the area, there was no structure in Ithei Loukon for supply of water to the 1000 'lou pari', which is the source of food of around 300 households. As such, the government scheme of providing water to farmers cannot be taken up in the area. Farmers are left with no choice but to put their hands on their hands.
June has always been the ideal month for starting agriculture activities with the onset of monsoon. So far, the monsoon has been erratic. Add to that the problem of cash shortage among the farmers and rising prices of paddy seeds and fertilisers.
ALSO READ: '100 hectares of rice plantation wasted due to insufficient rainfall'
According to information received from the state Directorate of Environment and Climate Change, Manipur recorded the highest rainfall deficit of 64 per cent till July 16 among the eight north-eastern states of India. Other north-eastern states have recorded deficit rainfall of between 20 per cent to 30 per cent.
In Manipur, Imphal East district recorded the highest rainfall deficit of 72 per cent till mid-July among valley districts. Churachandpur district recorded 80 per cent highest rainfall deficit among hill districts, officials say.
While talking to Loumee Shinmee Apunba Lup president Mutum Churamani, he said that Imphal East district farmers face more negative impacts than other districts. Due to shortage of rainfall mostly in Imphal East, the water required during the paddy season faced shortage. And from one side, the irrigation facilities were irregular and in some areas not functional.
"Comparing with previous two- three years paddy production, 30 percent production has reduced", Churamani said. It will affect the state economy as well as the livelihood source for people. Due to the irregularity and erratic behaviour of monsoon accompanied by inadequate irrigation facilities have resulted in severe fluctuations in agricultural production. Agriculture plays a very crucial role in the state's economy, he said.
Advertisement
He suggests the state government take up steps to provide facilities for the Rabi crop. The paddy seed that does not require a huge amount of water should start being provided to the farmers. The state requires a concrete policy to implement irrigation facilities in full swing during the paddy season.
When many states in India are gradually moving away from their traditional agriculture-based to industry or service-oriented economy, Manipur continues to depend on the agricultural sector, especially the rice crop. The crop's yield level is found to be much higher than that of the national level, but its demand in the state is much higher than the supply.
There are 18 main crops which are cultivated during the two seasons in the state. Rice cultivation dominates all other crops. With the increase of the population, the requirement or demand of all crops has increased tremendously. However the production of the crops has decreased. Therefore there has been the great requirement of adaptation of the high yielding varieties of seed over the traditional seeds. The adoption of high-yielding varieties (HYV) of different crops except paddy has been very slow in Manipur.
ALSO READ: Locust attack worries Manipur's Suangdoh village farmers
ENVIS, Manipur reported that agricultural production is highly sensitive to climate change and weather variability. Extreme weather events such as droughts, floods, tropical cyclones, heavy precipitation events, heat and cold waves have significant negative impacts on agricultural production and livelihood of the farmers as agriculture forms the backbone of the state economy. The main source of water for agriculture is rain water. The productivity of agriculture is largely dependent on rainfall because the irrigation system in Manipur is not fully developed.
According to the economic survey report of Manipur 2020-21, the agriculture sector has a vital place in the economy of the state. It contributes a major share to the State Domestic Product. 52.81 per cent of the workers in Manipur are engaged as cultivators and Agricultural labourers. However, the performance of agriculture in the state mainly depends on timely rainfall and weather conditions. Permanent cultivation is generally practised in the valley districts while terrace cultivation is practised in some pockets of the hills where jhuming or shifting cultivation is widely adopted in most of the hills. Rice is the staple food and is grown in hill and plain areas. The production of rice in 2019-20 (P) is estimated at 3.85 lakh tonnes. In case of maize, production in 2019-20 (P) is estimated to be 4.94 thousand tonnes.
The irrigation system in Manipur is not fully developed and therefore, the main source of water for agricultural purposes is rain water. The prospects of agriculture in the state depend largely on timely occurrence of rains. It is particularly so in the case of Kharif season where production and productivity of crops are dependent not only on the quantum of rains, but also its equitable distribution over the days/months of the seasons.
Permanent cultivation is generally practiced in the valley districts, while terrace cultivation is practiced in some pockets of the hills where jhuming or shifting cultivation is widely adopted in most of the hill districts. Rice is the staple food of Manipur and is grown in both the hill and plain areas. Cultivation is almost entirely mono-crop with rice accounting about 98 per cent of food-grains production. During 2019-20, the food-grain production excluding pulses was 389.89 thousand tonnes thereby showing a decrease of 17.77  per cent from the previous year of 474.16 thousand tonnes in 2018-19. The estimated requirement of food grains for human consumption excluding livestock/poultry/seed/wastage etc. in the state would be of the order of 677.90 thousand tonnes in 2019-20.
ALSO READ: Insects infest village; crops, fruits destroyed in Senapati district
The production of rice in Manipur for the year 2019-20 was estimated at 3.85 lakh tonnes as against 4.61 lakh tonnes in 2018-19. In case of maize, the estimated area, the average yield and production for the agricultural year 2019-20 was recorded as 2.22 thousand hectares, 2228.35 kgs per hectare and 4.94 thousand tonnes respectively. Among the districts, Senapati District has the highest production of rice with 64.59 thousand tonnes which was followed by Thoubal with 63.83 thousand tonnes. The lowest was recorded in Chandel District, having only 16.54 thousand tonnes during the year 2019-20.
An important negative aspect of the current strategy for raising agricultural production is increasing reliance on non-perennial irrigation due to the absence of timely and adequate rainfall. Therefore, the various programmes undertaken for providing irrigation facilities produce salutary effects. Out of the estimated area of 175.62 thousand hectares, 49.42 thousand hectares were found to be irrigated which accounted for 28.14  per cent to the total area under paddy during 2019-20.
Advertisement