The Manipur Police on Tuesday expressed concern over the recent spate of crimes committed by armed miscreants in the valley districts of Manipur.
Over the past month, a total of 25 such crimes have been reported, with specific breakdowns indicating nine incidents in Imphal East, five in Imphal West, three in Thoubal, one in Kakching, and seven in Bishnupur, said additional secretary (Home) M Pradip during a press conference held at the Manipur Police headquarters Tuesday evening.
He maintained, in this present crisis where the state administrations, particularly the Police Department, is making all-out efforts to restore normalcy, the genuine efforts of the police have been hampered by certain unwanted acts committed by some armed miscreants.
Related: Arrest of Village Volunteers: Shutdown Day-1 paralyses Imphal
There is also information of armed miscreants moving around masquerading as Special CDOs wearing CDO uniforms, moving in Gypsies/vehicles with Special CDO tags/stickers, visiting/entering the private individual residences and government offices for extortion in the valley districts, he added.
Advertisement
Stating that in the recent past, the frequency of complaints of unsolicited monetary demands, threats and others have also increased, he said that the police have taken a serious note of these complaints and is committed to curb the menace to ensure safety of the general public.
In this regard, the police have taken several steps including setting up of nakas in multiple strategic routes, he said, adding in one of the nakas set up in Kongba area, on September 16, security forces intercepted five armed miscreants impersonating as CDOs of Manipur Police by wearing Special CDOs uniform.
They were caught along with sophisticated weapons which belonged to police, he added.
Related: AMWJU condemns assault on journalist
Furthermore, the additional secretary said, police are conducting extensive search and combing operations both in the valley and hill districts to apprehend the armed miscreants who are actively involved in the present crisis.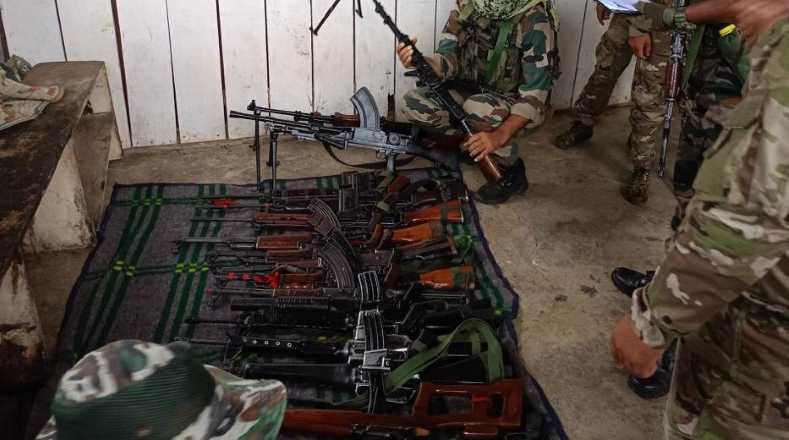 Advertisement
He highlighted the security forces in a joint operation conducted at Kholmun on September 11 had recovered 10 arms including a M4 Assault Rifle, rounds and other incriminating items.
These recoveries bear testimony to the genuine efforts made by the security forces, he said, adding similarly, regular checking of the Soo camps located in the hill districts are also conducted to ensure the presence of the cadres in the camp.
On September 18 and 19, four SoO camps in CCPur and one SoO camp in Kangpokpi were jointly inspected by combined security forces composed of CAPF, local police and Assam Rifles, he said.
Stating that Manipur Police is firmly committed to ensuring the safety of the public, the additional secretary accompanied by 2nd MR CO Y Victoria appealed to the public to cooperate and support police genuine efforts and not to believe in news spread in the social media without proper authentication.
Related: Release five village volunteers unconditionally: SANULAL
Advertisement