The annual snowfall rate in Shirui Kashong (Shirui Peak) range in Manipur's Ukhrul district is generally used to measure the success and failure of agricultural activities in villages around this hill range, a traditional belief system which is still observed religiously by the farmers.
The quantity of snowfall in the month of January is a major determinant for the traditional farmers to forecast the success or failure of seasonal harvest; more snowfall in the hill indicates bumper harvest. However, the snowfall was reportedly less this year, which meant poor harvest for the farmers.
This observation was made by Soyo A Wungsek, headman, Shirui Aze, while commenting specifically on the significance of snowfalls (locally known as Horam Kashik) in the Shirui peak for the farmers of Tangkhul community.
"I have observed snowfall for twenty plus years", he shared.
"When it snows more, it means more harvest. Similarly, lesser snowfall indicates poor harvest", he added.
So, from the dawn of January, which is the normal cycle for the snow to fall, it was foreseen that harvest will not be good for the year 2023, he emphasised.
Prediction through snowfall from the peak has been an age-old belief system.
As predicted earlier, seasonal harvest particular rice plantations in different areas of the district were reportedly found to have declined.
Compared to last year's rice production, Shirui village witnessed 40 per cent less harvest this year. People who harvested 100 tins of rice in 2022 harvested only 40 tins worth of rice this season. So, the local's overall annual production was less by 40 to 45 per cent which is a big loss, Soyo maintained.
The Shirui Hill range is home to three treasures of the state, viz. unique state flower Shirui Lily (Lilium mackliniae), state bird Nongin (Mrs Hume's Pheasant), and state tree Uningthou (Phoeba Hainesiana).
However, these species have been threatened due to the changing trend of climate and human activities. Massive killing of birds has led to increase in pests and insects causing damage to the standing crops. Moreover, following the impact of climate change on water sources, standing crops and its flora and fauna have also been affected.
So, this has led to the massive decline in yield of crops as the increasing intrusion by pests and insects have destroyed the standing crops and vegetation, infesting them and leading to rot before harvest time. Widespread felling of trees has further fuelled the matter by leading to sharp decrease of water sources and thus, affecting the fields.
Erratic rainfall patterns coupled with drying up of wells and ponds have also added more woes to the plight of the agrarian community.
ALSO READ: IFP Impact: Nongin habitat Razai Khullen to be declared 'Community Reserve'
As per the Indian Council of Agricultural Research (ICAR), this year's monsoon rain (June -September) is recorded at 745.4mm against the normal rain of 851.3mm (64 years mean value).
When this Imphal Free Press reporter enquire Varechon Raingam, District Agriculture Officer, Ukhrul if there are any alternative arrangements for the farmers of Shirui village who had reported crop failure due to poor rainfall in the region, he nodded that the farmers had indeed faced crop failure due to erratic rainfall.
To redress their grievances the department is "ready to distribute winter crops" to the affected farmers, he said, adding that the applicants (farmers) have also duly filled up the forms and the department would do all that they can from their end to help the affected farmers.
On the other hand, commenting on the cause of increase in pests and insects and its attacks on the standing crops and vegetations, Arti, senior scientist at Indian Council of Agricultural Research (ICAR), Imphal said if the balance of nature is broken or manipulated, it is not good for environment as human beings are dependent on environment.
The scientist cited killing of birds as one of the causative effects for increase in pests and insects.
To counter this abrupt increase, she suggested the use of Integrated Pest Management (IPM) which is not solely relying on chemical pesticides but an integration of tactics and starts with cultural practices like ploughing, crop rotation and intercropping. It uses other non-chemical methods like mechanical methods such as sticky traps and biological methods such as botanical and microbial insecticides.
Use of chemical pesticides is the last option in IPM and depends on pest population. "Under climate change, insect populations will rise as temperature increases and they will cause further damage," she maintained.
Advertisement
Therefore, relying solely on chemical pesticides will only increase the pesticide load on our environment leading to pesticide residues in our food. So, if we do not learn how to manage pests in crops by other means besides chemicals, we will be destroying our environment and ecological balance through heavy use of pesticides, she cautioned.
ALSO READ: Understanding Nongin for conservation and management actions
In the meanwhile, the senior scientist said Ukhrul has huge potential for agri-tourism and biodiversity tourism in the near future and for that the people of Ukhrul needs to protect its environment and unique ecosystem.
At this juncture, Shirui village, under the banner of Village Authority (VA), made a landmark decision towards nature conservation by imposing a blanket ban on killing/hunting of animals and birds and use of air guns in their geographical areas for three years.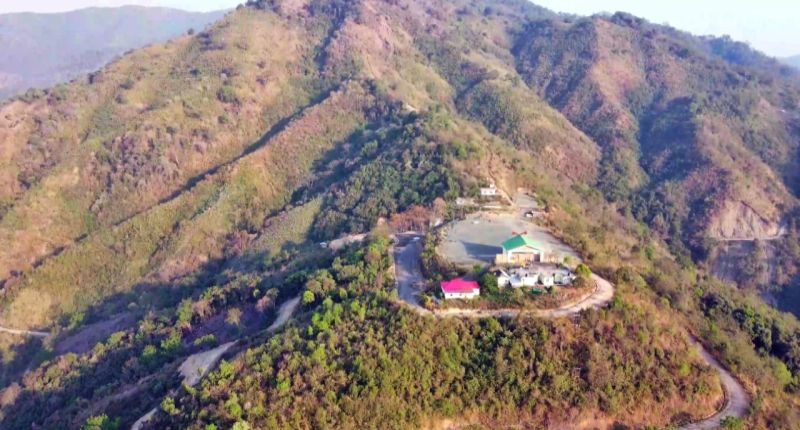 But, how did the decision to ban killing of wild animals, use of weapons including airguns and conservation of Shirui hill ranges and its forest cover come about?
The picturesque Shirui hill range is home to several other bird species including Amul Falcon, Shiri (Grey-sided thrush), a migratory bird believed to have migrated from Serbia. Animals like deer, wild boar and monkey etc, also abound in these forests.
Shirui hill range is also the main source of water for the populace of Ukhrul district headquarters providing potable drinking water free of cost. Its source, however, has sharply declined in recent years due to the destruction of forest cover and erratic rainfall pattern in the region. This has caused great inconvenience to the public as the demand and supply was destabilized due to shrinking water volume.
Yunrei Shangh, headman, Shirui Ato village, said that the village is the 'main source of water supply for Ukhrul town'.
Water is life and any disturbances to the forest are bound to have disastrous implications for town residents and farmers who directly depend on this water for their sustenance.
In recent years the people of Ukhrul town have started witnessing abrupt decline in water source; lack of potable drinking water has hit Ukhrul like never before. Sensing this deficit, the village decided to champion this cause by imposing a ban on felling of trees especially Uningthou, the state tree, and killing of animals in the area as first remedial measures to counter this surging issues.
If this wanton destruction of nature continues, the Tangkhul community of Manipur's Ukhrul will face untold miseries for lack of water. Taking a cue from this predicament and to avoid collateral damage, the villagers had a brainstorming session on "Preservation of Shirui forest and its flora and fauna" in the recently concluded village half-yearly assembly where after a threadbare discussion a decision was made to completely ban killing of wild animals and use of airguns, he stated.
The Shirui Lily (Lilium mackliniae) was first discovered by Frank Kingdon Ward in 1948. Subsequently, in 1989 the state government declared Shirui Lily as the state flower.
Why is the state flower Shirui Lily considered unique? It is unique for the simple reason that unlike other flowers it refuses to grow anywhere else in the world except in its natural habitat, the lofty Shirui peak at an altitude of about 8,500 feet from the sea level.
Shirui Lily blooms for about six weeks each year, from the first week of May to the middle of June.
The flowering of the Shirui Lily is followed by 'White Summer Lily' which grows between June and August each year; varieties of orchids and other flowers also adorn the beautiful hill ranges.
Shirui Lily is locally known as Kashong Timrawon.
Lauding the efforts of rescuing a rare bird species recently in Ukhrul, Zunringla Kengoo, deputy commissioner of Ukhrul expressed deep appreciation and gratitude to the concerned citizen for protecting a rare species bird.
The "Ashy headed green pigeon" was rescued by Soring Shimrah of Hunphun from Rayotang, Ukhrul.
My utmost gratitude to the Shirui village leaders who have taken the bold step to stop hunting of birds at Shirui village especially when migratory birds arrive, for the next three years in their "efforts to save the environment, its biodiversity and the fragile ecosystem".
The state bird Nongin and the state tree Uningthou are also found in Shirui areas.
Advertisement
The District Administration and the forest department are encouraging many more villages to adopt a resolution to join in the conservation and preservation of the ecosystem.
Asserting that human existence is dependent on a healthy and vibrant environment, the deputy commissioner has urged the neighbouring villages like Khangkhui Khullen - Khunou and surrounding villages to resolutely decide to protect the 'Shiri' bird that visits these areas during the winter season.
Interestingly, the Shirui hill range is the main source of water for the people of Ukhrul headquarters. However, its source has declined very sharply.
It may be mentioned that the people of Ukhrul town had a harrowing time, struggling to arrange potable drinking water while spending sleepless nights. Drying up ponds and wells have further complicated the issue. Unable to cope with the challenges of water scarcity people were seen cursing and questioning as to what has gone wrong with the pipeline, ponds and well while not realising the root cause behind these changes.
In 2021, Shirui peak witnessed abrupt wildfire destroying several resources found in this hill range. Responding to the distress call a chopper was swiftly sent to extinguish the raging fire.
On the prevailing scene in Shirui hill ranges, Ashem Rahul Singh, junior Research Officer at Directorate of Environment and Climate Change, shared that both Uningthou and Shirui Lily form the kidneys of Shirui hills ecosystem and services.
With the changing climate and natural degradation besides human pressure, the state tree and flower are facing untold miseries in their natural existence.
Maintaining that the presence of Nongin, the state bird of Manipur, add as the heart of Shirui hills range, he stressed on the need to organise more awareness programmes and introduction of new methods and techniques. This is the need of the hour to preserve these important hill ranges, he said.
The village is located about 13 kms from Ukhrul headquarters and is home to around 400 households.
Spelling out the village conservation initiative, Yaomeikan Shangh, Youth president of Shirui village said that the three years' timeline was just a start up or proposal towards long term achievement. Man-made activities have disturbed our ecology leading to ecological imbalance. To lessen its impact, this movement was launched (ban on use of airguns, weapons and killing of birds/animals). However, if this task is left alone only to the people of Shirui to undertake it would be a herculean task to see the positive end result on time, Shang added.
Making a similar observation in line with Arsti, senior scientist at ICAR in Imphal, Shangh pointed out that widespread killing of birds just for the sheer joy of killing and to earn some quick penny is the reason for destruction to farms and fields as pests and insects increase in multitudes exposing crops to its attack.
Countless number of trees are equally infested with insects and has now become more prone to its rampage due to massive decline and disappearance of insects eating bird species in the area including woodpecker.
Admitting that attacks by pests and insects have become a common phenomenon, he blamed the widespread use of airguns for the disappearance of many bird species. "Now, we are reaping what we sow. Sad to admit but reality has hit back and in a harmful way," he said.
ALSO READ: Acid Rain - what precaution can we take against the harmful effects?
To make this initiative a successful one, he appealed to the state government to provide alternative means of livelihood for the villagers to sustain. Intervention from the state government and support from all the stakeholders will go a long towards making this movement a successful one, Shangh said.
May this humble step taken by the locals be a model for the neighbouring villages and the community to emulate starting from grassroot level for climate change pattern is not a distant phenomenon but its impact has reached our place, he added.
According to him, in 2022 around 16,000 visitors visited the Shirui peak. Unfortunately, this year due to the outbreak of ethnic unrest in the state no visitors either from the state or outside visited the site.
Shirui village has a huge tourism potential and preserving the hill ranges' rich flora and fauna will open windows of opportunity for the locals to better their lives. As bird species abound here, particularly the onset of winter attracts migratory birds, roping in concerned authority to open bird sanctuary for birdwatching would be an added advantage for the village to tap.
Though small in area and population, the state of Manipur is well known for its landscape, green valleys, blue hills and a mosaic of a rich cultural heritage. There are scores of tourist centres and sites in Manipur, which can result in a variety of natural ecotourism and a huge potential of the state. These resources include natural sites, wildlife and garden sites, cultural and historical sites, lake sites, archaeological sites, adventure sites and waterfall sites.
The Manipur Tourism Department (MTD) has been taking major initiatives to develop Manipur as a major tourist destination of north east India. The state has a strategic importance in India's Act East Policy, thereby enabling itself to become the gateway to South East Asia and subsequently an important tourist destination in future.
Advertisement