Sajibu Nongma Panba, Cheiraoba Festival of the Meitei community in Manipur, Northeast India is celebrated to mark the traditional lunar new year of the Meitei people. The festival is considered one of the most sacred festivals of Manipur which the community celebrate with great zeal, heralding a new beginning filled with peace and prosperity. The day of the festival begins with cleaning the household and indulging in ceremonial rituals.
Of those many festivals in Manipur, Cheiraoba is a popular one that holds a great significance in the hearts of the locals. As per the Western calendar, the Cheiraoba festival mainly falls in late March or early April. This year, according to the Meitei lunar calendar, Cheiraoba Festival 2023 falls on March 22.
What is the origin of Sajibu Nongma Panba, Cheiraoba Festival?
According to the followers of the faith of Sanamahism, Meitei New Year/Sajibu Nongma Panba started during the reign of King Maliya Fambalcha (1359 BC-1329 BC), also known as Koi-Koi, who ascended the throne at the age of 25 years. From this day, the dating of the Meitei calendar (Cheiraoba) known as Mari-Fam was introduced.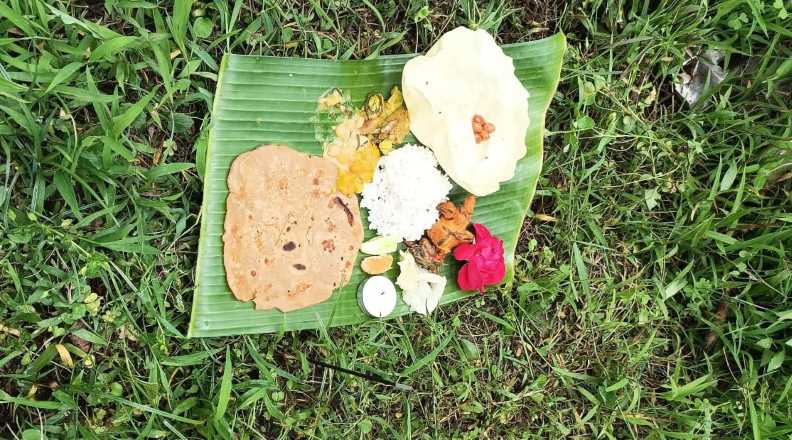 Food offered to sylvan dieties in a backyard as a part of the ritual offerings observed on Cheiraoba (PHOTO: IFP)
Advertisement
Five Fascinating Facts of Sajibu Nongma Panba, Cheiraoba Festival
1. The day begins with ritual offerings of fruits, vegetables, rice and other uncooked food items to the Meitei deity Lainingthou Sanamahi.
2. An even number of traditional dishes are prepared using the offerings.
3. After the dishes for the feast are made, they are ritually offered at two different traditional locations around the house - one at the front gate of the house and the other at the rear gate of the house on plantain leaf.
4. After enjoying the meal, people with their guests climb to the top of a nearby hill to offer prayers; they believe climbing the hill elevates them to great heights in their lives.
Advertisement
5. The Cheiraoba festival is also celebrated by performing 'Thabal Chongba,' the locals' traditional folk dance. Several localities organize the dance event where locals dance and welcome the New Year with great joy.
READ MORE About Sajibu Nongma Panba, Cheiraoba Festival of Manipur
Advertisement