The Report of the Expert Advisory Committee (EAC) on the "Long-Term Perspective Plan for Conservation and Wise Use of Loktak and Associated Wetlands" was launched on Friday by chairman, Loktak Development Authority (LDA), M Asnikumar Singh along with chief secretary, Dr Vineet Joshi and ACS (FE&CC), MH Khan, at Manipur Secretariat (South Block), Imphal.
During the programme, chief secretary Vineet Joshi expressed full support and said that the report is an excellent approach. He said that Loktak Lake is the pride of the state. All concerned stakeholders should work together for its revival and conservation, he added.
MH Khan expressed that a sincere effort by the LDA to prepare the recommendations will certainly be useful for future management and restoration of the Loktak Lake.
LDA Chairman M. Asnikumar expressed gratitude to all the members of the EAC led by Prof. Rajeev Sinha (IIT Kanpur). He informed that the comprehensive report is the culmination of earnest efforts of the committee members since the past one year.
Advertisement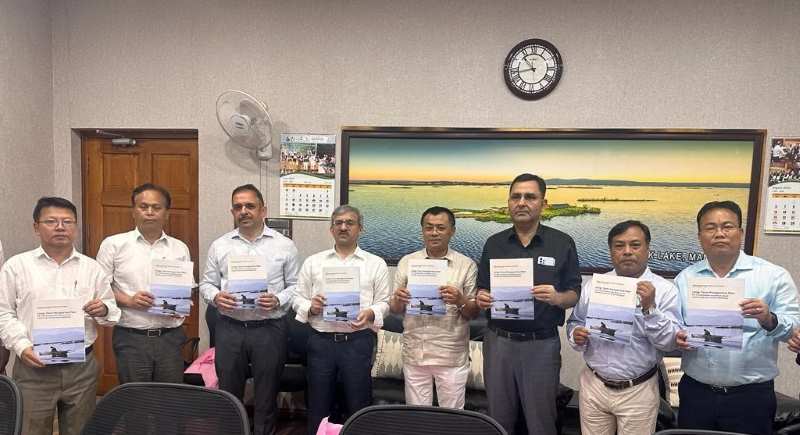 "This report is vital in bringing about a change in the LDA's approach; based on scientific research, long term perspective and community participation in the wise use of the Loktak lake" he asserted. 
He continued that it will also help in preparation of the detailed project report of the sustainable Loktak lake ecosystem restoration, ecotourism and livelihood improvement project (with technical and financial support of the Asian Development Bank). It is an ongoing initiative of the State Government led by Chief Minister, Shri N. Biren Singh.
Based on the analysis of several contributing factors that are responsible for the degradation of the Loktak, the committee recommended several measures. The committee divided the recommendation into three groups as Scientific Intervention, restructuring of LDA for better governance and community participation.
Some of these recommendations are the operational policy of the Ithai Barrage, the hydroelectric project and the water policy are to be reviewed urgently. Rejuvenation of out flow channels such as Khordak and Ungamel should restore hydrological connectivity and water balance of the Lokak wetland.
Advertisement
The committee also recommended that the Ithai Barrage needs to be opened more frequently. Constant monitoring of the phumdi thickness and strengthening of technical expertise are also the other points that the committee recommended.
The expert advisory committee was formed last year with Prof (Dr) Rajiv Sinha, IIT Kanpur as chairman. Prof (Dr) Sushma Yadav, S.S. Chhabra, IFS, Prof (Dr) Ksh Lal Bihari Singha, MU Dr S.A Hussain, WII, Dheradun , Dr B.K. Das, CFRI , Dr Ritesh Kumar, WISA, Prof (Dr) Surabhi Mehrotra, NIT, Bhopal Dr.Goldin Quadros, MoEF&CC,GoI, Prof Thingbaijam Binoy Singh, MU and Shri Ng Sanajaoba Meitei, LDA (as Member Secretary).
Principal Chief Conservator of Forests (PCCF), SS Chhabra, IFS, Prof Lalbihari Singh, MU, Prof. Th. Binoy Singh, MU, PD LDA Bhagaton, SE/Wetland In-charge, LDA Ng. Sanajaoba and senior Scientists of LDA were also present at the launching function.
Advertisement