Model Singjamei top order batsman Biyon's hurricane effort of 95 runs sealed the fate of YWC Langthabal by 2 wickets in the 4th MNCA U-16 Boys Naorem Rajningthou Memorial Trophy 2023-24 Dhobi Lampak, Kongba Khunou.
Winning the toss, YWC Langthabal opted to bat first and managed 184 runs for 9 wickets from 35 overs with some hardened effort from Kumar who got 23 runs while Achouba made 36 runs; Shantanu remained not out with 13 runs.
Model bowler Bobby and Biyon claimed 2 wickets from their quota of 7 overs.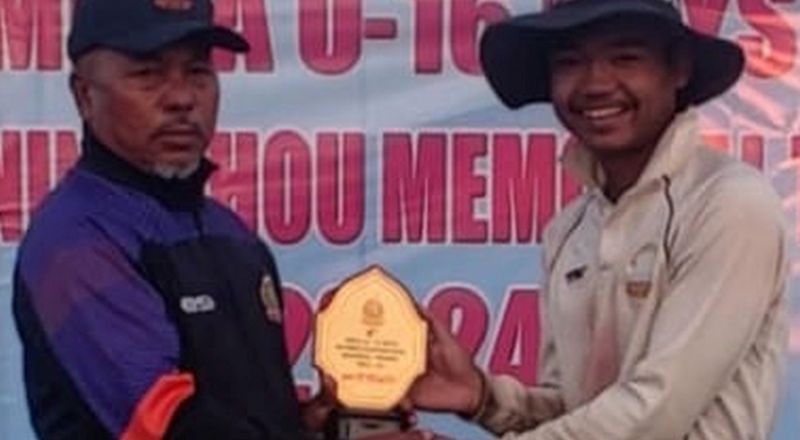 In reply, Model opener Benjonh stuck to his ground making 26 runs but it was Biyon who demolished the morale of YWC bowlers, hitting 95 runs from 64 balls to ease the pressure and reached the target in 34.1 overs for the loss of 8 wickets; Bisal got 18 runs.
Advertisement
YWC bowler Brightson bagged 4 wickets while Achouba claimed 3 wickets but failed to restrict the Model batsmen. Biyon was adjudged Man of the Match for his 95 runs.
In another match played at Lairenjam Public Ground, YUCC Kwakeithel outshone Rule Meitram by 277 runs.
YUCC batsmen amassed a huge total of 299 runs for 7 wickets from 35 overs with Ricky hitting an unbeaten 142 runs from 92 balls while Okeson got 28 runs. Rule bowler Nongpoknganba claimed 4 wickets to be among the top wicket takers.
In response, the Rule batsmen collapsed just for 22 runs, losing all their wickets in 14 overs. YUCC bowlers Joychand, Kenedy and Lanleiba took 2 wickets each. Ricky was declared Man of the Match for his 142 runs. 
In another match, AKSDO Khangabok beat Al-Ameen Lilong by 132 runs at Luwangpokpa Cricket Ground. 
Advertisement
AKSDO made 216 runs for 4 wickets from 35 overs with L. Samson top scoring with 69 runs. In reply, Al-Ameen could manage just 84 runs for 10 wickets from 23.4 overs. Rashid made 37 runs. AKSDO bowlers S. Kaiku claimed 3 wickets while N. Samson, Lanchenba, Nungshiba took 2 wickets each. 
Shadow Thangmeiband pulled off 8 wickets win over TCMDC Thongju played at Model Hr.Secondary School & Oriental College Ground.
In a low scoring match, TCMDC put up 80 runs for 10 wickets from 23.4 overs with Kh. Prakash contributing 24 runs. Shadow bowler A. Goshan picked up 4 wickets while James Sahu took 3 wickets and Nirmal Mishra fetched 2 wickets.
Shadow Thangmeiband surpassed the target in 20.2 overs for the loss of 2 wickets with S Lanchenba hitting an unbeaten 20 runs and James Sahu also remained not out with 21 runs for the victory and later claimed the Man of the Match award.
Advertisement