Chief Minister N Biren Singh on Saturday opened the Kuki Football Academy (KFA) Residential Academy in Kangpokpi and announced that his government would make provision to provide Rs 5 lakh grant every year to sports clubs and academies which produce good players.
Speaking on the occasion, the chief minister appreciated the enthusiastic spirit of the people of Kangpokpi district and said that the state government had started construction of an amusement park with swimming pool and artificial football turf in the district. He also said a hostel for the Kuki Football Academy and a football field would be built at a suitable site.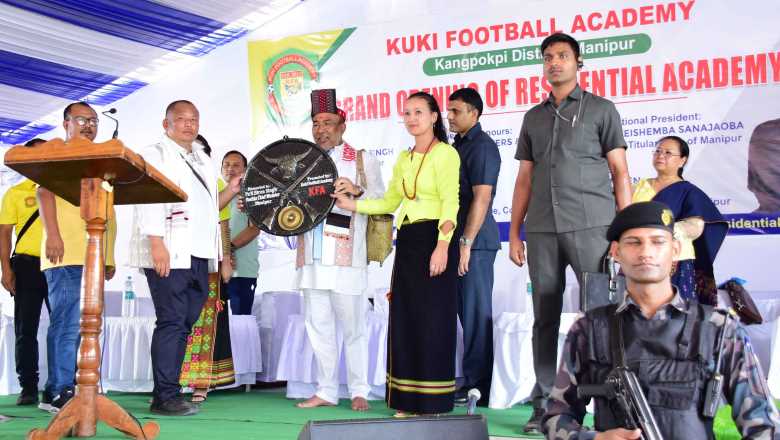 Advertisement
Biren also lauded their support in the State Government's War on Drugs movement. He said that the anti-drugs movement is for the betterment of future generations, and expressed satisfaction that other alternative crops like fruits have been planted instead of poppy cultivation in various parts of the district. He said there are many beautiful places in Kangpokpi district which could be developed into tourist sites.
The government aims to make Manipur a peaceful and progressing state with cooperation among different communities working together for development, he said. He appreciated the Thadou community for their efforts and cooperation in maintaining peace in the State.
The grand opening programme of the academy at Keithelmanbi MC, Kangpokpi district was also attended by state Industries Minister Nemcha Kipgen; chairman, Planning and Development Authority Lourembam Rameshwor Meetei, MLA of Wangkhei assembly constituency Thangjam Arunkumar and president KFA Lamminthang Kipgen among others.
Advertisement
Kipgen stated that sports help in keeping youths away from drug-related activities and also maintain good health. She continued that possessing game spirit and hard work are stepping stones to success adding that Manipur, despite being small in areas, has many hard working sportspeople.
She appreciated the chief minister, saying he had never shown discrimination among different communities while taking up development works. Performances of cultural dance by Vaiphei Cultural Troupe and KFA theme song were also showcased during the programme.
Advertisement