Advertisement
Ksh Niraj Singh bagged the top title of senior 2nd Mr Kakching District Body Building and Fitness Competition, 2022 organised by KDBBA under the aegis of AMBBA at Library and Information Centre, Kakching.

Niraj Singh of Muscle Factory beat two other competitors M Robert Singh of Sangai Fitness Centre and Kh Sangeet Meitei of OJ Gym and Fitness Centre who took the second and third spot.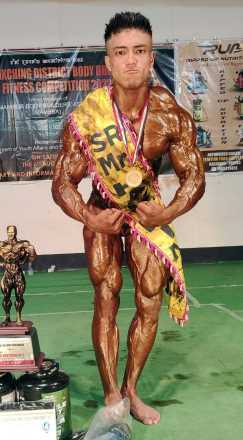 The Junior Mr Kakching title was won by Y Jupiter Singh of Muscle Factory while M Olenjit of Iron Gym, Kakching and Sachidananda Leimapokpam of SEDO Gym, Hiyanglam fetched the second and third spot among the eight contenders.

N Fredy Singh of DJ Gym and Fitness Centre claimed the top spot in Men's Fitness Physique Open while N Parash Singh of Sangai Fitness and M Olenjit Singh of Iron Gym collected the second and third spot among the 12 competitors.
Advertisement
Advertisement