Yaipha Thouni Thouram ceremony of the film PU-WA: The Golden Biblion was held at Yumlak, Taothong Apheiba, Imphal, Manipur, with blessings bestowed upon the cast and crew of the film on Wednesday.
PU-WA: The Golden Biblion, directed by Joychand Moirangthem, showcases the importance of the historical book Puya in Manipuri culture. The Puya is an essential and revered text that has played a vital role in shaping the cultural identity of Manipur, Pakhangba Films and Entertainment said in a release.
The film features an ensemble cast, including Oli Diuzharden (Russian), Mariia Gruzintceva (Russian), Ariel Kambale (South African), Maneesida Hatthakij (Thai), Kaiku, and Edhou.
Advertisement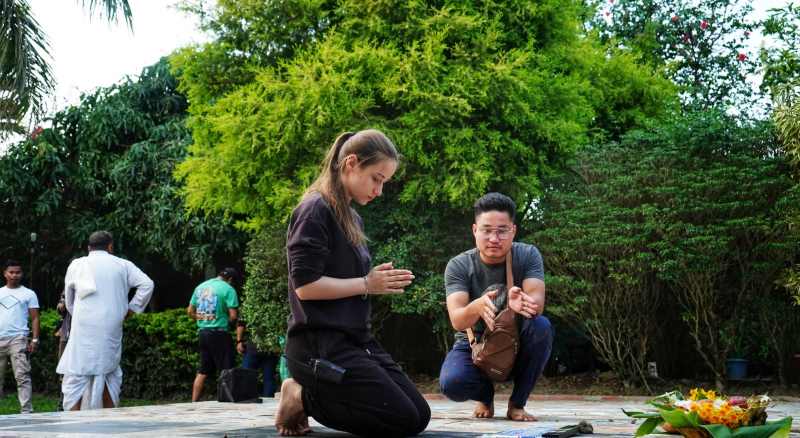 PU-WA: The Golden Biblion is being produced by RD Group and Pakhangba Films and Entertainment and will pay tribute to the rich cultural heritage of Manipur, the producers said.
The screenplay is by Khorjei Laang, and the story is by Poireinganbi Chanu, Dr Atom Sunil Singh and Joychand Moirangthem, with Chief Consultant Thokchom Thoiba and Chungkham Sunilkumar, Thang Ta Expert. Sanjoy Chingangbam (DOP), Inaocha Khundrakpam (Editor), Birjit Ahanthem (Executive Producer), Ronaldo Mutum (Co-producer), Francesco Tresca (Composer), and Romi Lamabam (Sound recordist) are among the cast and crew, the release stated.
Utilizing advanced equipment and cutting-edge technology, the filmmakers said that PU-WA: The Golden Biblion will be the first of its kind in Northeast India and will be distributed throughout Southeast Asia and other parts of the world.
Advertisement
"The film's innovative approach to storytelling and its visual tribute to Manipur's cultural heritage are sure to captivate audiences worldwide. We look forward to its release and congratulate the team behind it on their impressive achievement. It will not only be a visual treat for the audience but also help in preserving Manipur'cultural heritage for future generations," Pakhangba Films and Entertainment said.
 Thes film will take the importance of the Puya to a global audience, highlighting the unique features of the text and its significant role in shaping the society of Manipur, it said.
"May the blessings of the Yaipha Thouni Thouram ceremony bring success and prosperity to their efforts, and may their film inspire a deeper appreciation and understanding of Manipuri culture," it said.
Advertisement