Amid the prevailing unrest in Manipur, a banner that reads 'Separate Administration, Welcome to Kanggui District Headquarters, Sadar Hills District' was seen installed a gate, in Kangpokpi Headquarters, on Sunday.
Most of the walls along the roadside were also seen painted with the words, 'Separate Administration', 'United Chin Kuki-Mizo', 'No peace, No Compensation, only political solution', 'We want separate administration', 'Separate Administration four hills and valley', 'Greater Mizoram', 'In defense of our ancestral land and freedom', 'Save Kuki', 'Long live our fighters', etc.
Advertisement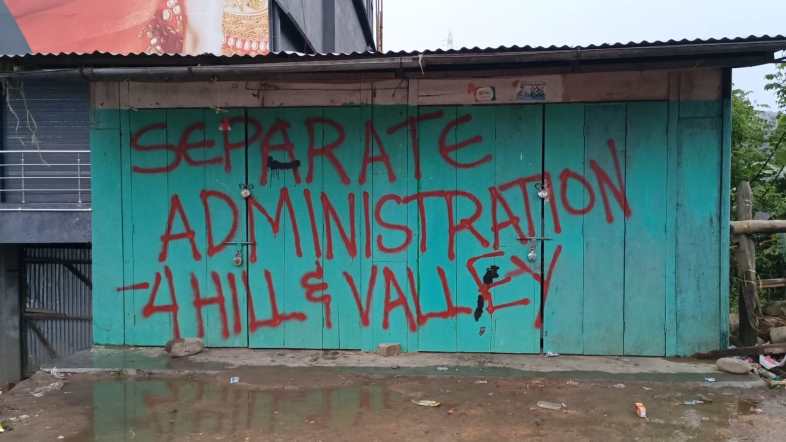 On all the signboards of every shop and institution, the word 'Manipur' was seen removed or erased.
The lifeline of Manipur, the National Highway-2 has been obstructed with stones piled up along the road. Volunteers were seen rushing in, in hundreds and thousands, on hearing rumours of trucks attempting to pass through the highway.
Advertisement
Meanwhile, two heavy of keystone infrastructure were burnt down by volunteers along the National Highway-2 in Kangpokpi district, between Mongpijang village and Kholep village, on Sunday morning at around 9.30 am. In one of the trucks, 'Lamjingba Motors' was found written. One of the trucks had the registration number MN05C-3920 on it, while the other truck registration could not be ascertained.
Also Read: Manipur Unrest: Stranded truck drivers feel unsafe driving on NH-37
Advertisement