Northeast
Musical tributes, rally, candlelight vigil mark World AIDS Day 2021 in Manipur
Several districts in Manipur carried out awareness rally on World AIDS Day 2021.
Updated on 2 Dec 2021, 8:32 am
Manipur joined the rest of the globe in observing World AIDS Day 2021 on Wednesday to support those affected by HIV/AIDS, spread awareness, and offered tributes to those who lost their lives to the disease.
As a tribute to all the lives lost in the battle against AIDS, a rally was conducted from the Northern gate of the Kangla Fort to its Western gate on Wednesday evening. The rally was organised by Brothers In Arms (BIA) and Sayon Entertainment under the theme, 'End Inequalities, End AIDS, End Pandemic' and the sponsorship of Manipur State AIDS Control Society.
Following the rally, candles were lit up in front of the Kangla gate and homage was paid to the departed souls by observing a two-minutes silence.
Speaking to the media, BIA executive member Arambam Mangamba said the day is observed in memory of those who died of AIDS. For the ones who are currently living with HIV/AIDS, everyday is a day of struggle and misery, he said.
The main purpose of the day is to give awareness on the impact of the dreadful disease on people's lives. However, the patients are able to live a better life by getting treatment with the advancement in medical science, he added.
A musical tribute was also organised at Salom Farm in Mantripukhri, Imphal East.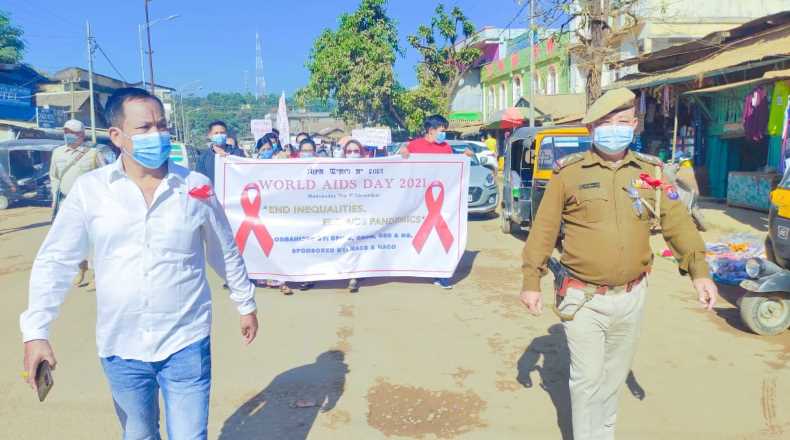 In Indo-Myanmar border town Moreh, the occasion was observed under the sponsorship of National Aids Control Organisation and Manipur State Aids Control Society.
The Dedicated People's Union, Organisation for Salvation of Man, Organisation for Social Development and New Generation Moreh jointly organised an awareness rally, red ribbon campaign and Covid vaccination camp in connection with the observation of World Aids Day.
The awareness rally with the theme, 'Let's all together end inequalities, End Aids Pandemic' started from Trade Center Moreh and culminated at Moreh Police Station. It was flagged off by officer in charge - Moreh Police Station Kh Dilipkumar and president Meetei Council Moreh M Thoiba Meetei.
The rally was participated by staff of various Targeted Intervention NGOs and many People Living with HIV (PLHIV). After the rally ended, a Red Ribbon Campaign was conducted to show support and solidarity to the PLHIV. After concluding the Red Ribbon Campaign, a Covid Vaccination Camp was also organised with PHC Moreh, during which 18 Injecting Drug Users, 10 PLHIVs , 12 Female Sex Workers and 19 Migrant workers were vaccinated.
In Tamenglong district, a mass public awareness rally marked the observation in the district headquarters, organised by District AIDs Prevention and Control Unit, DAPCU Tamenglong under the sponsorship of Manipur State AIDs control society.
The rally began from the medical gate and culminated at the heart of Tamenglong where a formal function was held at Shekinuh Inn under the theme, 'End inequalities, end AIDs and end pandemic.'
Banners and placards were raised while slogans were chanted as the rally moved towards the main venue.
Deputy commissioner Tamenglong Worshang Hungyo, Rongmei Naga Baptist Association youth secretary AG Kasumpou, OST medical officer Dr Namjupou Panmei and District AIDs control officer Tamenglong Dr Gaiduanrei Gangmei attended the event as chief guest, guest of honours and president respectively in the programme.
A two-minute silent prayer and candle lighting was observed to show respect for the departed souls who fell victim to AIDS.
In his keynote address, DIS Tamenglong Stephen Chiru informed that Tamenglong district has 183 HIV/AIDs victims, excluding 51 patients from Tamenglong district who are taking ART outside Tamenglong.
Of the 183 HIV/AIDs patients, 23 lost their lives while 129 patients are actively taking ART, he said. Another 20 patients have been shifted from the district to the nearest ART centre, he added.
In his chief guest speech, DC Worshang Hungyo urged all the HIV/AIDs patients to take ART regularly and maintain a diet to keep the body healthy. He assured all possible help from district administration Tamenglong. Dr Namjupou Panmei talked about the present condition of drug users in the state.
"We have an OST Centre at District Hospital Tamenglong and a Satellite Centre (AWARE NGO) as well to dispense the OST Drugs to the clients registered at the centre as a means of rehabilitation," Dr Namjupou said.
He also informed that Tamenglong has 219 clients registered at the centre and has a cumulative number of active clients ranging from 68-80 clients. He urged all the youngsters to join hands in eradicating the evil practice of using drugs. In his speech as guest of honour, Rongmei Naga Baptist Associate youth secretary AG Kasumpou encouraged the HIV/AIDs victims.
On behalf of his ministry, guest of honour AG Kasumpou donated some financial aid to district AIDs Control Officer Tamenglong for the welfare of PLHIVs.
In her presidential speech, district AIDs control officer Tamenglong Gaiduanreiliu Gangmei thanked all the participants. She also expressed her gratitude to guest of honour AG Kasumpou for the big donation.
The day was also observed in Jiribam district at the conference hall of Jiri Ima Meira Paibi Apunba Lup JIMPAL, Babupara in a function organised by Child Welfare Ashram,
It was attended by chief medical officer CMO Jiribam E Okendro Singh; senior medical officer, Jiribam Th Borot Singh; secretary child welfare Ashram Rk Bijoysana Singh and C/F Helping Hand for Social Upliftment Md Rijawul Karim as presidium members. A one-minute silence was observed to offer prayers for those who died battling AIDS.
First published:1 Dec 2021, 3:50 pm
Tags: