Amid the prevailing tension in violence-hit Manipur, an all-political party meeting that was held in Imphal on Saturday resolved on solving the present burning issue of the communal clashes before solving the root cause of the problem.
Speaking to mediapersons after the meeting which was held at the CM Secretariat office, Manipur CLP leader Okram Ibobi Singh said the meeting resolved to solve the present burning issue of communal clashes in order to bring back normalcy in the state.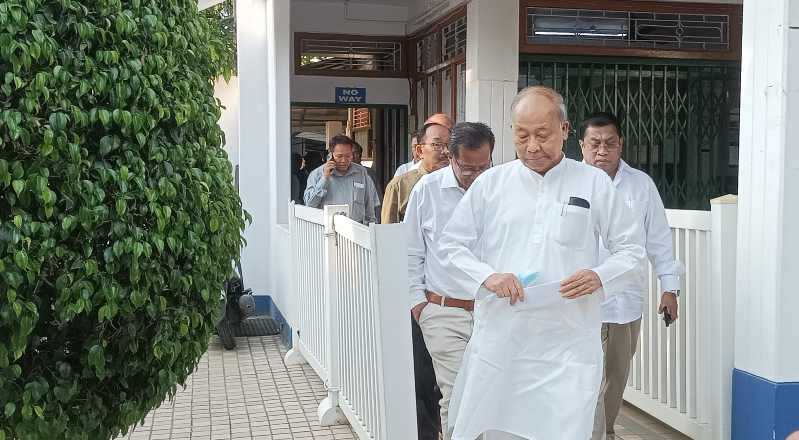 Advertisement
The recent communal violence that broke out in Manipur claimed several lives and left many injured. Several houses, places of worship and other establishments were burnt down and properties damaged in several parts of the state. 
Stressing upon giving priority to bringing peace and harmony in the state, Ibobi appealed to the Central government to deploy central security forces at vulnerable places so that normalcy could be brought back at the earliest.
Ibobi said that "there might have been some shortage in security forces but the Central government has been deploying additional forces,"
The former chief minister also appealed to the authorities concerned to evacuate the stranded people who are staying at various relief centers at the earliest.
Advertisement
The meeting, which was chaired by Chief Minister N Biren, was attended by members of the Bharatiya Janata Party (BJP); Manipur Pradesh Congress Committee (MPCC); Janata Dal United (JD-U); the Shiv Sena Manipur Pradesh; CPI; CPI-M; Manipur Forward Block; Aam Aadmi Party; Bahujan Samaj Party (BSP); Revolutionary Socialist party (RSP); and the Trinamool Congress Party.
Meanwhile, according to official sources, over 20,000 people have been evacuated. Internet/data services remained suspended, curfew imposed in violence-hit districts and Article 355 imposed in the state. Thousands of security personnel are deployed in the state and shoot at sight ordered in "extreme cases" in the state. 
Also Read: Organisations condemn violence, call for peace in Manipur
Advertisement