In what could be termed an utter failure of so-called "airtight" security measures, around three houses in 3rd Street of New Lambulane in the New Checkon area were burnt down around 2 pm Sunday despite the presence of heavy central paramilitary forces.
According to police sources, two of the three houses were completely gutted. The cause of the fire is still yet to be ascertained till the filing of the report. 
Following the event, teams of Manipur Fire Services rushed to the site and doused the fire before it spread to other neighbouring houses in the area.
Ever since May 3, the entrance to the Kuki inhabited area in New Checkon was sealed off to create a security buffer zone.
Advertisement
A large number of central paramilitary forces were also deployed to guard the sensitive spots in the New Checkon area, including both ends of New Lambulane 3rd Street. Since then, Meitei residents of New Checkon have been barred from entering the buffer zone for security purposes.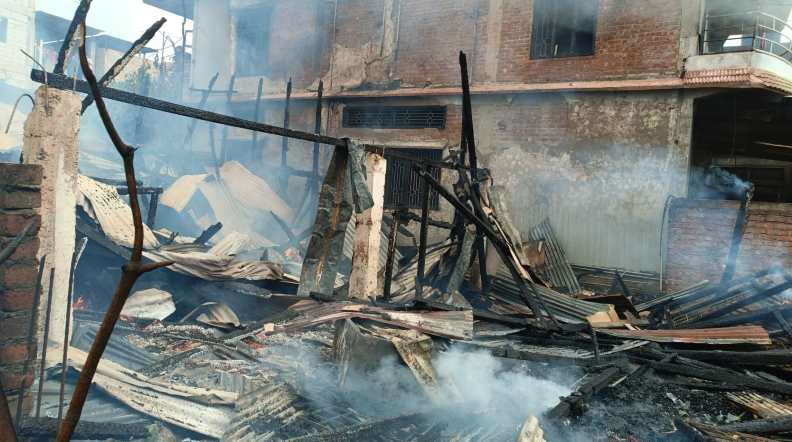 However, the slew of sporadic incidents of arson inside the sealed area has irritated the locals and led them to cast suspicion over the central forces and question the effectiveness of the security presence in the area.
It may be mentioned that the northern stretch of New Lambulane 3rd Street where the houses were burned is situated in close proximity to Meitei houses.
Speaking to the media, Meitei locals of the area questioned how such incidents kept recurring in an area heavily guarded by central security forces and expressed suspicion that Kuki residents still inside the New Lambulane area might have started the fire.
Advertisement
"The BSF and CRPF have been deployed in the area since the outbreak of the violence on May 3 but they have been ineffective in properly safeguarding the lives of people in the area and preventing untoward incidents inside the buffer areas," a local said.
Secretary of New Chekon Bazar Women's Society Nongpok Ingkhol stated that it was impossible for an outsider to enter the area due to security presence and as such, she alleged that the fire could have been started only from the inside.
She alleged that Kuki residents inside New Lambulane intentionally burnt down the houses in order to drag the Meitei into a bad narrative.
She maintained that the recurrence of such incidents had put people of other communities in the area on edge and appealed to the government to put a stop to the violence.
Later, state police fired a few rounds of tear gas shells to disperse the crowd.
Advertisement