The Manipur Pradesh Congress Committee (MPCC) on Monday joined the celebration on successful completion of the Bharat Jodo Yatra led by All India Congress Committee (AICC)  leader Rahul Gandhi. The yatra covered 12 states and two union territories, stretching over 4,000 km over a span of five months.
The MPCC also commemorated the 75th death anniversary of Mahatma Gandhi at Congress Bhawan in Imphal.
As a part of both the celebration and commemoration, working MPCC president T Manga Vaiphei unfurled the Tri-colour, which was followed by singing of the national anthem by the women volunteers of MPCC.  
Advertisement
The MPCC working president accompanied by MLAs Th Lokeshwar and K Ranjit also led the floral tribute paid to Mahatma Gandhi at the Congress Bhawan.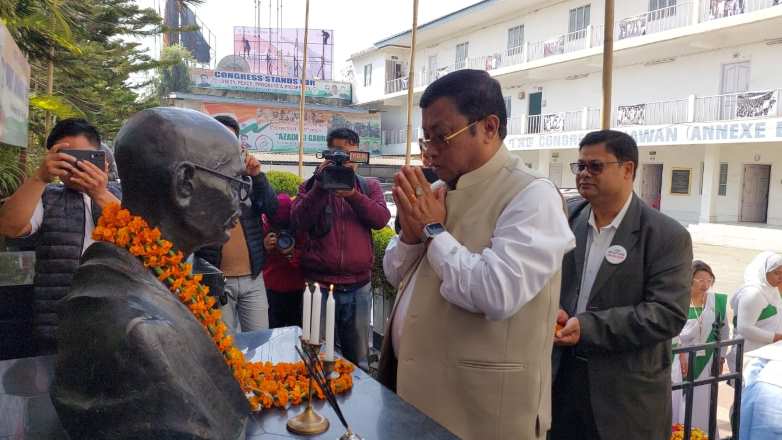 Speaking on the occasion, Vaiphei pointed out that the support received during the Bharat Jodo Yatra from various political parties and especially the general public is indeed a big achievement for the Congress party.
Advertisement
Launched with a mission to protest against the "politics of hatred, intimidation, prejudice and failures of the BJP government," he said the historic yatra successfully brought India together, besides strengthening the party.    
The Bharat Jodo Yatra, which started from Kanyakumari on September 7, concluded in Srinagar on Monday. The grand finale of the yatra at Srinagar was also attended by CLP leader Okram Ibobi, CWC member Gaikhangam and MPCC president K Meghachandra.
The celebration of completion of the Bharat Jodo Yatra was also being organised at the District PCC and Block PCC offices in Manipur.
Advertisement