Manipur on Tuesday observed the International Yoga Day 2022 with mass yoga demonstration under the theme 'Yoga for Humanity' at the Indoor Stadium, Khuman Lampak, Imphal West and across the state. 
The main observation at Khuman Lampak was organised by the Directorate of AYUSH, Manipur and State AYUSH Society, Manipur in coordination with the state Directorate of Youth Affairs and Sports. The day was also observed at different parts of the state with mass participation.
Chief Minister N Biren Singh along with cabinet ministers, members of legislative assembly, members of Parliament, director general of police, senior civil and police officials of the government, students and others attended the programme.
Speaking on the occasion, N Biren Singh stated that International Yoga Day is observed on June 21 every year across the world and the day is also observed in many places of the state. He appreciated the thoughts and visions of Prime Minister Narendra Modi for his initiative to achieve recognition of Yoga from the United Nations General Assembly on September 27, 2014 and the declaration of June 21 as International Yoga Day.
Advertisement
The chief minister said this year, the day is observed under the theme 'Yoga for Humanity', implying that yoga helps in building good relations among all people regardless of caste and region.
Acknowledging the importance of Yoga, 175 nations have supported the India-led resolution on International Day of Yoga at the UN General Assembly, he said.
Biren also said that the state has been able to overcome the COVID-19 pandemic with lesser casualties because of the people maintaining the Standard Operating Procedures issued by the government.
Health Minister Dr Sapam Ranjan, delivering his presidential speech, recalled the credibility of yoga during the COVID-19 pandemic in maintaining the well being and possession of positive thoughts at the time of hardship.
Maintaining that yoga had been gaining popularity with time, he appealed to the public to perform yoga for well-being on oneself.
Advertisement
During the programme, Prime Minister Narendra Modi's address on the occasion of the 8th International Day of Yoga from the iconic Mysore Palace, Karnataka was telecast live.
As a part of the observation, Common Yoga Protocol was also performed by everyone present at the venue.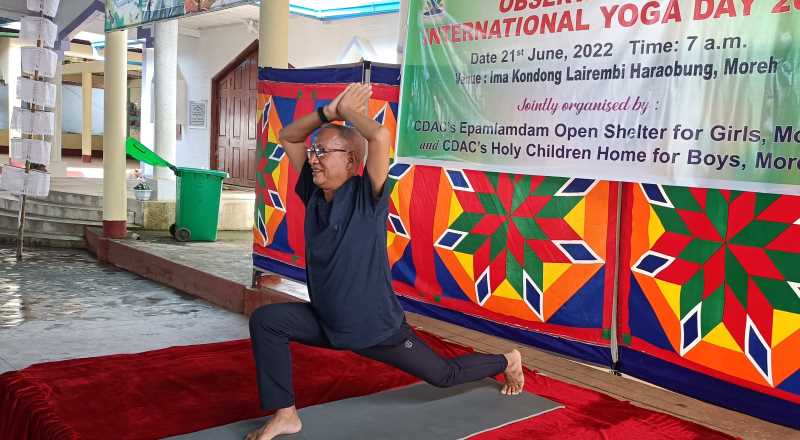 Meanwhile, in Moreh, the day was celebrated at the Auditorium hall of Ayush Hospital Moreh. Yoga instructor Irom Maipak and his team demonstrated on various topics of the yoga, during which more than 70 youths from different localities of the town took part in the observation.

Different child care institutions in Moreh town also organised International Yoga Day at various locations of the town.
CDAC's Epamlamdam Open Shelter Home for Girls and Holy Children Home Moreh jointly organised the day at Ima Kondong Lairembi Haraobung Moreh. A total of 30 inmates of the two homes took part in the observation. Yoga instructor K Kanta singh gave various demonstrations on Yoga to the inmates of the two homes.
Advertisement