As many as 69 houses were completely demolished as eviction of illegal structures within Waithou Reserve Forest area under Thoubal Forest Division began Sunday.
The first phase eviction drive, conducted by the Thoubal Forest division with the support of security forces, started at 7 am and concluded at 11.30 am Sunday.
Thoubal Forest division said the eviction was carried out following an eviction notice served on Friday by DFO Thoubal Th Lokendro to 71 illegal encroachers or illegal pattadars among all the encroachers of Waithou Protected Forest area.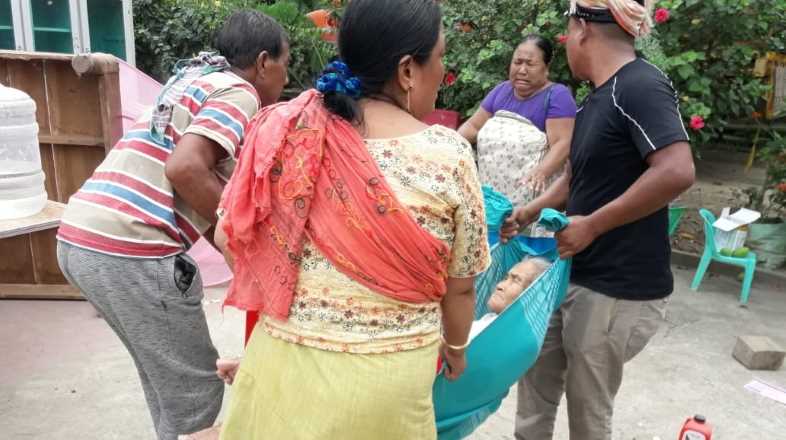 (An aged woman is carried out of her house as the first phase of eiction drive was conducted at Waithou Protected Reserved Forest area in Thoubal district, Manipur on June 12, 2022 | Photo: IFP)
Must Read: Claims over mountains
Advertisement
The eviction notice states that the encroachers were served show cause notice under Rule number 73 of Manipur Forest Rules, 2021 to submit their replies why they should not be evicted from the forest land in Waithou Protected Reserved Forests and why the structures should not be dismantled on or before June 3, 2022.
But no justification was found in the explanations provided by the encroachers and could not be considered because of certain reasons, the eviction notice mentioned.
The reasons cited by the DFO Thoubal stated that Dag Chithas/ Jamabandi issued in Waithou Protected Forest is in violation of the provisions of the Indian Forest Act, 1927, Manipur Forest Rule 2021 and the Forest Conservation Act 1980, and hence the documents submitted by the encroachers cannot be a justification for not evicting encroachers from the forest land.
Must Read: Diminishing bond with forests
Further, the notice also mentioned that since the land is inside the Waithou Protected Forest, the patta/jamabandi and allotment order have been cancelled by the DC Thoubal vide order number 27/28/LS/DC(TBL) dated June 9, 2022.
The eviction notice of the DFO Thoubal informed the 69 illegal encroachers to vacate the land and remove all structures constructed by them on or before 5 pm of June 11, 2022 failing which necessary action for eviction and dismantling of structures will be taken up without further notice.
DFO Thoubal Th Lokendro told this reporter that the dismantling of illegal structures of Waithou Protected Forest area and other remaining protected forests falls under Thoubal Forest division shall be taken up phasewise.
Must Read: War on land-grabbers
Advertisement
Over 180 illegal encroachers  have been found settling in Waithou Protected forest area only. Out of 71 illegal pattadars which were served show cause notice, 69 structures have been evicted on Sunday, he added.
The DFO also extended his gratitude to SP Thoubal and Thoubal District police and other districts police personnels for their tireless help on conducting eviction peacefully. He also appealed to all the illegal pattadars to vacate their land at the earliest.
Additional Chief Secretary MH Khan, DC Thoubal A Subash, Chief Conservator of Forest L Joykumar, SP Thoubal Jogeshchandra Haobijam were seen at the dismantling site taking strict vigil of the situation.
Also Read: Land Encroachment: Protesters against eviction appeal for re-survey of land
The eviction move came after Chief Minister N Biren, who was returning after attending the function of Khongjom Day on April 23, instructed the Forest department to evict all the illegal encroachers from Waithou Protected Forest area.
As per sources, the chief minister was visibly furious after noticing various structures and dwelling houses constructed inside the protected forest and on roadside along the National Highway. 
Advertisement