The Khoupum Area Farmers Association, Noney district has drawn the immediate attention of the government in view of the flash flood condition in the hills caused by torrential rainfall in the last 48 hours.
The association stated in a release signed by its chairman Janglungpou Pamei that Khoupum area is a deep low-lying area having 1451 hectares of arable land out of which, 850 hectares is under irrigated area as per CADA reports (Gom).
It further said that recent plantation of paddy/crops was completed in almost all the arable areas but that the newly planted paddies have been extensively damaged due to flood caused by incessant rain.
Advertisement
The farmers of the area are in complete dismay as there is a fear of famine in the next harvesting season as the paddy fields are completely submerged, it stated.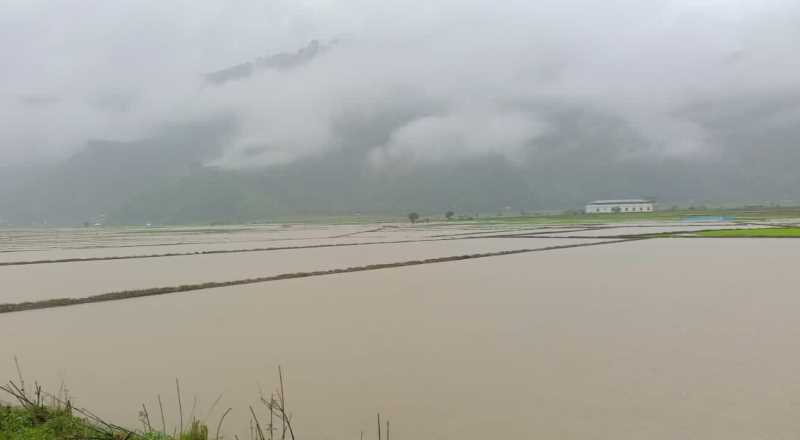 (Photo: IFP)
It stated that there is complete lack of maintenance of river banks which leads to breach of river banks causing flood whenever rainfall of such magnitude occurs.
The Khoupum Area Farmers Welfare Association appealed to the authority concerned and field officers to assess the flood condition at the earliest and prepare a detailed field report for onward submission to the concerned department so that measures can be taken up in time in order to mitigate the woes and sufferings of the poor farmers.
Advertisement
Landslides occurred in many parts of the area causing extensive damage to all the standing horticulture crops, affecting the area of about 650 hectares, the association stated.
Vegetable plants were also washed away by landslides which badly affected the small-scale vegetable traders who rely on vegetable crops as a source of their economic survival, it said.
It also mentioned that landslides occurred in many places along the Tongjei-Maril Road, causing hardship to commuters and travellers.
Given the current scenario, the people of Khoupum area are faced with untold hardships and sufferings, the association added.
Advertisement