Northeast
Cultural Fest, Cyclothon for 'transparency in taxation' mark Azadi ka Amrit Mahotsav celebration in NE India
The Income Tax Department, Northeast Region held a series of Cyclothon and Cultural Fest as a part of the Azadi ka Amrit Mahotsav celebration in the Northeast region.
Updated on 14 Dec 2021, 5:06 pm
Several cultural delights by some of the best performing artistes in Manipur lit up the Cultural Fest in Imphal on December 12 that marked India's Azadi ka Amrit Mahotsav celebration in the Northeast region. The cultural festival was organised along with the Cyclothon events held across Northeast India by the Income Tax Department, North East Region, Guwahati.
The keynote address of the Clutural Fest which was held at Hotel Imphal by the Classic in Imphal was delivered by GG Kamei, Commissioner, Income Tax (Administration), Guwahati.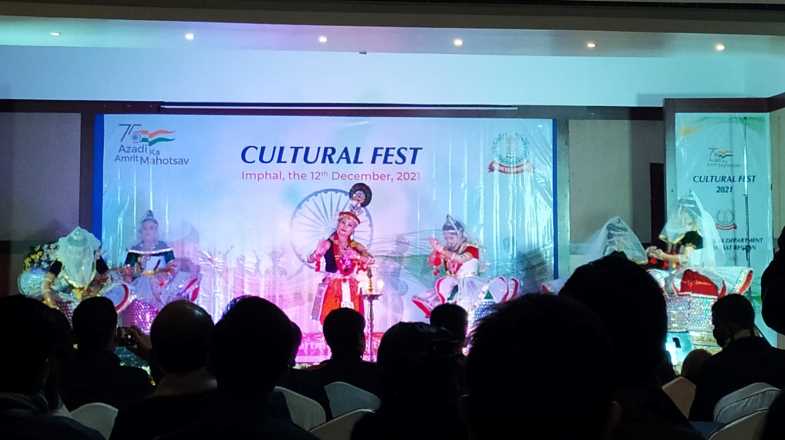 The cultural evening enthralled the audience with various captivating traditional art forms of Manipur presented by celebrated artistes Lourembam Bedabati Devi and Guru Rewben Mashangva, and groups such as the Folk Ensemble Manipur, Manipur Jagoi Marup, Rhythms of Manipur.
The Cyclothon events covered prominent places and monuments of national importance in the region and created awareness on 'Transparency in Taxation', the Income Tax department stated in a release. It stated that the event was organised to celebrate and commemorate the activities promoted by the government of India to mark the occasion of 75 years of India's independence
The final leg of the Cyclothon, which began on December 6, was held for the general public from Imphal to Moirang on December 12. The Cyclothon in Imphal was flagged off at 7 am by well-known international cyclist C Rameshwori Devi, actors Biju Ningombam and Bonny Gurumayum, along with GG Kamei, Commissioner, Income Tax, Guwahati, Assam.
Over 200 cyclists took part in the Cyclothon, which started from Shahid Minar, Imphal and culminated at INAMemorial, Moirang. Floral tributes were paid to the freedom fighters at the historic site.
Several eminent citizens of the state were felicitated for their remarkable achievements that greatly contributed to nation building.
First published:14 Dec 2021, 6:36 am
Tags: