Five members of the Opposition (Congress Legislature Party) in the Manipur Legislative Assembly led by CLP Leader Okram Ibobi Singh called on Governor Anusuiya Uikey at Raj Bhavan on Wednesday evening and demanded to convene an emergency session of the Manipur Legislative Assembly on the ongoing unprecedented turmoil in the state.
The MLAs demanded that under Article 174(1) of the Constitution of India, an emergency session should be convened in the best interests of the people of Manipur to discuss the ongoing crisis, the Raj Bhavan said in a release.
They said, Manipur legislative Assembly is the most appropriate forum to discuss and debate the ongoing turmoil for which suggestions of measures to restore normalcy can be tabled and discussed, the Raj Bhavan said.
Advertisement
Besides the Congress, representatives of 10 political parties met the Governor and requested her to convene a special session of Manipur Legislative Assembly to discuss the ongoing crisis and explore the ways and means to solve the issue through a peaceful and amicable dialogue.
Meanwhile, a team of Manipur University Peace and Normalcy Restoration Committee led by Professor N Lokendra Singh, Vice Chancellor, called on Governor Anusuiya Uikey at Raj Bhavan in Imphal on Wednesday and briefed about the functioning of the University and its humanitarian services rendered to the violence affected displaced people staying in various relief camps.
Professor Lokendra informed the Governor that normal classes have been started after the summer break and examinations of undergraduate courses have also been conducted. He said, students from outside the State have also started coming in and joined classes. Besides these, two relief committees have been set up and aids have been extended to the displaced people in relief camps, the Raj Bhavan said in a release.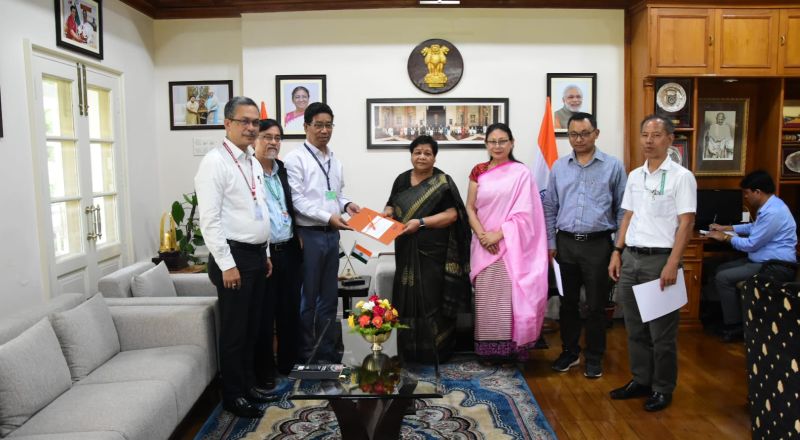 Advertisement
The team submitted a proposal for early restoration of peace and normalcy in the state.
The governor appreciated their efforts and said, drinking water, household items, consumables, clothes, medicines etc. rather than food items are in need of the people and if possible, arrangement of such items should be made, the Raj Bhavan stated.
The governor appealed to them to extend their fullest cooperation in the efforts to remove hatred among communities and to restore peace in the State.
Lt Gen HS Sahi, GOC HQ, 3 Corps along with Major General Rajan Sharawat, IGAR(S) also met with the Governor and briefed about the prevailing security situation in Manipur. The Commander informed about the preparedness of the Army to face any eventuality/challenges coming out in Manipur, the Raj Bhavan said.
Advertisement