In a bid to reduce the rate of road accidents taking place in Manipur, the Traffic Control Police Wing, Manipur has engaged a private company, 'Safe Drive save life Road safety Equipment Private Limited' to provide radium stickers and other safety kits for vehicles to commuters. 
A press statement issued by superintendent of police, Traffic Control Police Wing, Manipur, Wungpam Kasar stated that the low visibility and absence of reflective radium stickers in heavy vehicles have become one of the major reasons behind frequent road accidents.
Advertisement
During the winter season, low visibility due to fog and mists add to the problem, it mentioned. Because of poor visibility along the National Highways, there have been instances of speeding vehicles hitting other vehicles which are plying without tail lamps or reflective radium stickers, he added.
Must Read: Unfenced waste plant poses threat to cattle's health in Imphal
He further said that vehicles without radium reflectors and tail lamps are mainly responsible for accidents during the wee hours and night hours on the national highways as it is difficult to spot them from a distance.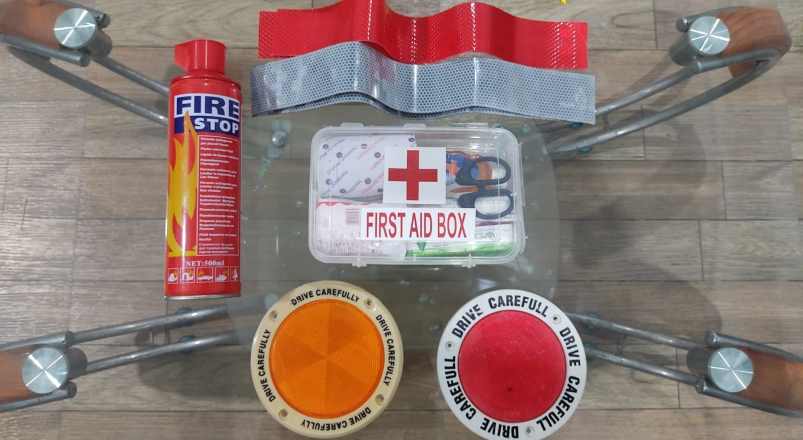 Advertisement
One of the officials of the company, Ravindra Raj said that the company has conducted such activities in many other states before coming to Manipur. Apart from the radium stickers which are distributed by charging a nominal rate, ranging from Rs 50 for two wheelers to Rs 100 for four wheelers, the company is also providing other useful kits like fire extinguisher, first aid kits, and others.
He said the items will be provided for free for government vehicles and emergency vehicles. At present, the company is carrying out its work at National Highway-2 (Imphal-Dimapur) near Sekmai Police Station.
Must Read: Manipur's only Deaf and Mute School ignored for 49 years
Advertisement