Amid the report of frequent conflicts between patient parties and authorities of healthcare centres, SP (Immigration) Priyadarshini Laishram stressed the need of providing accurate information on patient's status to patient parties to prevent any conflicts.
Addressing the Capping, Lamp Lighting and Oath Taking Ceremony of the eight batches of GNM of Leirik Institute of Nursing held at Asha Jina Complex in North AOC, Imphal, the SP stated that conflicts among patient parties and hospital authorities have become a frequent issue in the state.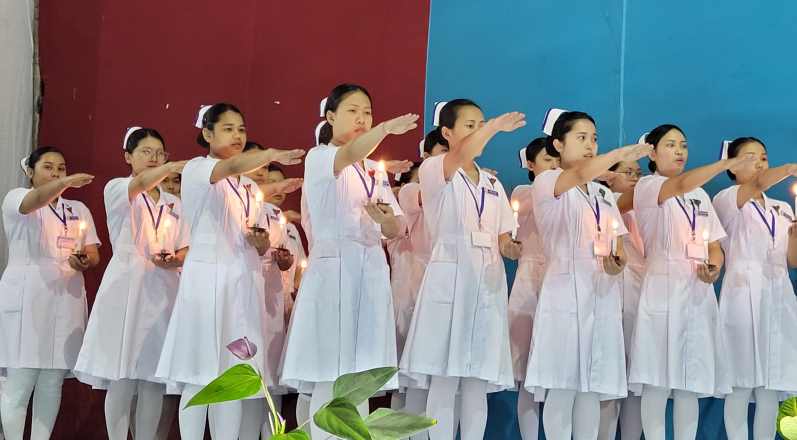 Advertisement
"Sometimes, such situations arise when there is unintentional negligence by the hospital authority, however the maximum of the conflicts are result of communication gap," she said.
In order to prevent such conflicts, hospital authorities should provide assurance to the patients' parties that the hospital is giving the best medical intervention to the patients.
Talking about nursing career opportunities, she pointed out that there is no shortage of jobs for nurses as many private healthcare centres are rapidly booming across the state.
Moreover, there is a high demand for nurses from Manipur in other states of the country and overseas, she said, adding that working families in the state have started hiring home nursing service to look after aged family members.
Also Read: 39.8 crore drinking water project in Manipur's Tamenglong fails to meet public demand
Advertisement
Elaborating on the role of nurses, she said that they are the ones who closely in touch with the patients by acting as a bridge between the doctors and the patients.
A humble word from a nurse is indeed a big encouragement to the patient(s) and hence, nursing is regarded as one of the noblest professions, she said, apprising the students to acknowledge that the oath which they have taken is not just a statement but a pledge.
As many as 40 students took the oath which was administered by the principal of the institute, Gurumayum Priyadarshini. Meritorious students of the institution were also felicitated during the programme.
The programme was also attended by CMO Imphal West Dr L Joykumar; registrar of Manipur Nursing Council Dr A Jamuna; director of RK Sanatombi Devi Educational Institutions T Asha as presidium members.
Advertisement