Two militants were arrested and an improvised explosive device (IED) found at Kongba Bazar, Imphal East during frisking, checking and cordon and search operation (CASO) conducted by the Imphal East police at different places on Monday.
The bomb was found at the foot of a big tree on the western side of Kongba road opposite to the Welfare of the Youths Liberal and Conduct organisation office. At about 11 am, a team of bomb disposal squad (BDS) CID (technical) rushed to the spot and confirmed it as an IED.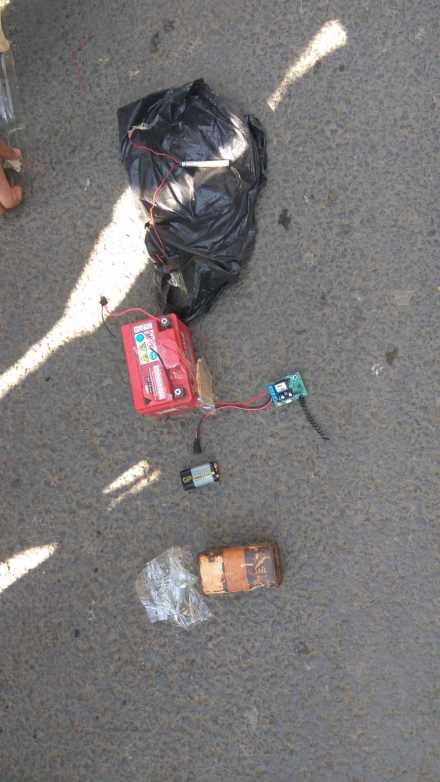 Advertisement
Superintendent of Police, Imphal East, Jogeshchandra Haobijam also rushed to the spot. Speaking to media, he said routine search operation to avoid unwanted incidents are being conducted in different areas of Imphal East district. During the search operation, the IED was spotted by the team. Later a team of BDS, CID (technical) diffused the IED safely, he added.
The operation was conducted under the command of additional superintendent of police (Ops), Roni Mayengbam led by officer-in-charge, CDO, Imphal East inspector Kh Henery and its 2nd inspector Rajib. The team also conducted cordon and search operation at Purana Rajbari village, Palace Compound at about 6 am.
Later, at about 12.20 pm, the team arrested an active cadre of the proscribed underground organisation United National Liberation Front (UNLF) from Irilbung Thongkhong (bridge).
The arrested have been identified as one Md Abdul Rafique alias Sajid alias Sadam, 36, son of late Md Junab Ali of Urup Makha Leikai, Imphal East.
Abdul disclosed that he joined the UNLF in 2000 through one Ingba, member of the UNLF. He got basic military training for 45 days at Sajik Tampak, Chandel district, Manipur under the command of one sergeant major of outlaw organisation, Ibomcha with allotted army number 1292 of 20 batch of the year 2001. He further disclosed that he is presently holding the rank of lance corporal of the organisation and working under the command of one Pathou of the organisation.
Advertisement
The same team also arrested one active KCP (valley operation commander group) from Top Khongnangkhong which falls under the jurisdiction of Porompat police station, Imphal East. The person has been identified as Sougrakpam Nelson Singh alias Bhaimacha alias Sushil Meitei alias Pari Meitei alias Apabi, 38, son of S Parijat Singh of Keishampat Jailor Leirak, Konjeng Hajari Leikai, Imphal West District.
He joined the UNLF in 2009 through one Chaklamba alias Korou of the underground organisation. The police team recovered one 0.22 pistol marked as "GERMANY' loaded with 4 live rounds in the magazine from his possession.
The CASO is being conducted to minimize anti-social element activities as security is being beefed up ahead of the VVIP visit in Manipur. Union Home Minister Amit Shah is scheduled to visit the state on December 27. 
As a part of the security measures ahead of Shah's visit, a combined team of Imphal East police and a column of 30 and 16 Assam Rifles have been carrying out CASO in different areas of the district. A similar operation will be undertaken to avoid unwanted incidents in the district, Jogeshchandra said.
Advertisement