Fresh tension gripped Imphal East district as hundreds of people, including displaced villagers, attempted to march towards Gwaltabi village on Wednesday to assess the damage to their homes. The scene quickly escalated into a standoff with security forces, resulting in a confrontation that left the region on edge.
The rally organised by the Lamlai Kendra Village Volunteers Force (LKVVF) from Sabungkhok village, sought to provide the displaced victims of Gwaltabi village a chance to survey the state of their homes. 
However, as the march crossed Yaingangpokpi Bazar, a combined team of central and state security forces halted their progress.
Tensions escalated as a heated exchange ensued between the protesters and security personnel. In response, the security forces fired several rounds of tear gas shells to disperse the crowd.
The situation took a more alarming turn when some protesters retaliated by pelting stones and using slingshots against the security personnel.
Advertisement
While the male participants of the protest were eventually dispersed after a tense confrontation, the female contingent persisted in their attempt to reach Gwaltabi village.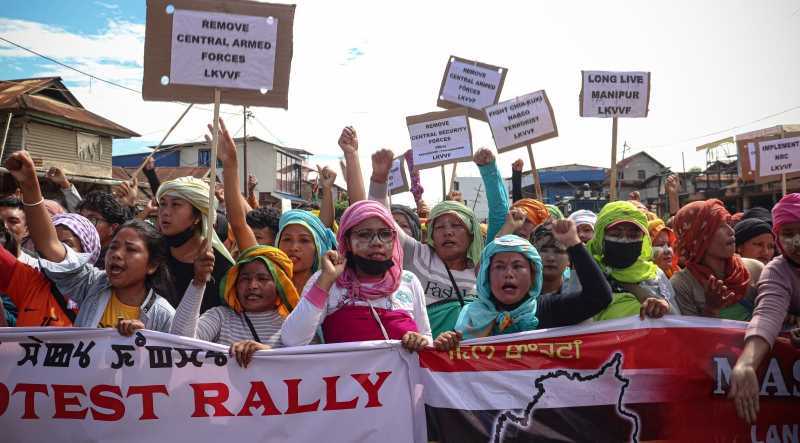 The law enforcement managed to defuse the situation through verbal negotiations, ultimately restoring a semblance of normalcy to the region.
However, the protesters successfully removed a temporary checkpoint that had been set up between Yaingangpokpi and Sabungkhok, which they saw as a government effort to establish a buffer zone. 
No reports of injuries or casualties emerged from the fiery clash, sources said.
Gwaltabi village of the Meitei community, located on the outskirts, had housed over 200 villagers. Tragedy struck on May 3 when a peaceful solidarity rally turned violent, sparking the ongoing crisis. Just weeks later, on May 28, the abandoned village was reportedly set ablaze by Kuki militants.
Advertisement
In response to the incident, Devendro Mangsatabam, an advisor of LKVVF, vehemently condemned the security personnel's actions. 
He decried the use of excessive force against a peaceful rally and questioned why the displaced villagers were being denied access to their village. 
He further expressed suspicions that the security forces were not safeguarding civilians but rather aiding the Kuki militants.
Among the displaced individuals from Gwaltabi who took part in the protest, a sense of desperation was palpable. 
They appealed to the government to allow them the opportunity to assess the ruins of their burnt homes, questioning the reason behind the denial of entry to their village.
Advertisement