In a small room filled with the tender cries of newborns and the companionship of mothers-to-be, a unique sense of unity and resilience is forged among the displaced women taking shelter in a relief camp amid the ongoing unrest in Manipur.
The Youth Hostel in Khuman Lampak, Imphal, has become a haven for pregnant women and nursing mothers who have been uprooted from their homes due to the turmoil that has gripped the state.
Some of them at the relief camp shared their tragic stories, their painful journey to the camp, and their survival stories at the camp with the Imphal Free Press.
One such mother, Moirangthem Abem, 30 years old, cradles her 24-day-old daughter in her arms as she gazes out of the window, yearning for a return to normalcy and peace that have eluded her family since the displacement.
Abem's journey to this relief camp was a painful one. She was seven months pregnant when she embarked on a challenging journey to reach the relief camp opened at the Youth Hostel, where she eventually gave birth to her second child on July 19.
Tragedy struck Abem's family when their village, Yaiphakpon village in Churachandpur district, became a casualty of violence that erupted during a solidarity rally on May 3.
The aftermath of this event forced them to flee their home, leaving behind a life they had built. Their house was among those set ablaze during the violence that broke out.
Abem's husband and other family members found refuge in a separate camp in Bishnupur district, further adding to the disarray.
Amid the backdrop of this tragedy and an uncertain future, the relief camp has become a haven of solace for Abem and numerous others.
Advertisement
It stands as the sole sanctuary, specifically dedicated to pregnant and lactating mothers in Manipur, providing a temporary shelter for women from various walks of life.
In this shared space, the mothers bond over stories of ancient myths and cultural beliefs surrounding celestial events, finding commonality in their humanity and shared experiences.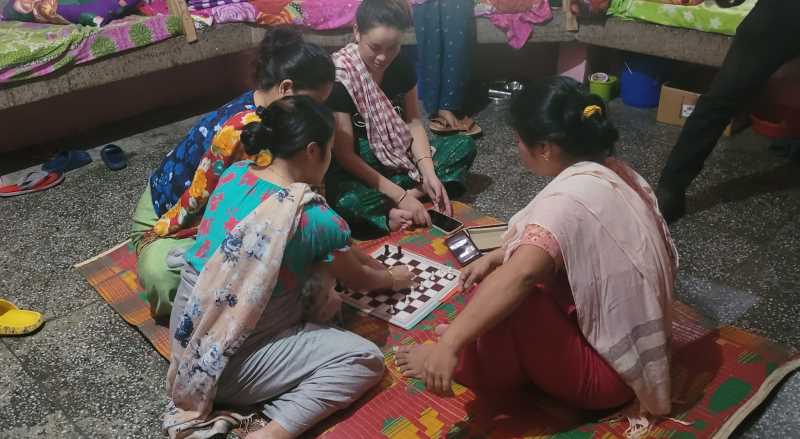 Abem, her eyes filled with tears, stated, "In this camp, we have come together to create a safe haven where we support and uplift one another, exchange prenatal knowledge, and find solace in the connections we share."
"However, the haunting memories of the tragedy still cloud my mind," said Abem while expressing concern about the future of her newborn daughter and her five-year-old son.
Her heart's yearning echoes the sentiments of all those who have found themselves displaced and yearn for a return to a peaceful life.
Shantimala, a 31-year-old woman from Chairen, Bishnupur district, shares a similar sentiment.
Seeking refuge in the relief camp on August 4, she found a sense of security for her unborn child in the midst of continuing chaos.
"I wish to raise my child in a peaceful home, not amidst this unrest," she expressed with fervent hope for the restoration of tranquility in Manipur.
Since its inception on May 21, the relief camp at the Youth Hostel, organised under the aegis of the BJP Manipur, has emerged as a beacon of support and care for expectant and nursing mothers.
The camp has provided comprehensive services to ensure the well-being of these mothers, including traditional blessing ceremonies for every childbirth taking place. Notably, Manipur Governor Anusuiya Uikey herself graced a mass blessing ceremony at the camp.
Advertisement
The numbers tell a story of resilience and hope.
A total of 91 pregnant women have sought shelter and assistance at the camp during their remarkable journey towards motherhood.
Of these, 44 have experienced the miracle of childbirth within the nurturing environment of the camp. Currently, 28 pregnant women eagerly await the arrival of their bundles of joy. They are surrounded by dedicated medical professionals, volunteers, and vigilant nursing staff round the clock.
Medical attention and care are prioritised, with daily visits from doctors at the CMO's offices in Imphal East and Imphal West.
The camp also recognised the significance of proper nutrition, providing a weekly cash allowance of Rs 500 to lactating mothers, enabling them to procure additional dietary provisions for themselves and their newborns.
Inmates of the camp have expressed deep satisfaction with the services rendered by volunteers and the BJP in Manipur.
In a time of uncertainty and upheaval, this relief camp stands as a powerful symbol of hope, compassion, and the unbreakable spirit of humanity.
It is a testament to the unwavering capacity for empathy and support, even in the most challenging of circumstances.
As these displaced mothers yearn for peace to be restored in Manipur, their collective strength illuminates a path toward a brighter future.
READ MORE: IFP EXCLUSIVE
Advertisement