As a part of the ongoing strike launched by the JAC of Manipur Electricity Employees' Union (MEEU), Power Engineers Services Association (PESA) and MSPDCL Officers Association (MOA), the prepaid counters and divisional offices were shut down on Thursday.
When the agitators tried to shut down its corporate office at Keishampat, confrontation took place with the police personnel. However, they locked the pre-paid counters and other divisional offices. Electricity employees of various districts of the state also locked their respective divisional offices in addition to the sit-in-protest.
Speaking to media persons, JAC co-convenor Soram Sunnyboy said that the electricity employees did not make the demand immediately as they have been demanding for the last many years. In continuation of the movement, non-maintenance of power outages will be started from Friday, he added.
ALSO READ: 7th Pay: Electricity employees stage sit-in protest in Imphal
He continued that the sit-in-protest will be continued in front of the power house at Keishampat and the mobile maintenance team shall not cooperate with any complaints regarding power outage at any place.
Sunnyboy also said that considering the interest of the public amid pandemic, maintenance of power supply in major health sectors shall not be affected.
He further said that employees of other departments were advised not to go to their offices during the pandemic. However, electricity employees have been continuously discharging their duties whether it is before the pandemic or during the pandemic.
Responding to the media persons, Sunnyboy said that no positive response has been made from the government side regarding the demand till date and the movement will be continued till the 7th Pay (ROP-2019) is implemented for the employees of electricity department. 
Advertisement
Electricity employees of Thoubal, Tamenglong join demand for 7th ROP
Employees of Manipur State Power Distribution Company Limited (MSPDCL) Thoubal sub-division have joined the strike being carried out in demand for 7th ROP on Thursday.  
Representatives of Manipur State Power Company Limited (MSPCL), Manipur State Power Distribution Company Limited (MSPDCL), Manipur Electricity Employees Union (MEEU), Power Engineer Service Association (PESA) of MSPCL as well as the JAC of MSPDCL Officers Association took part in the demonstration on Thursday.
The employees of MSPCL, MSPDCL and EDM demanded the authorities to consider their needs and immediately implement the 7th Revision of Pay (2019).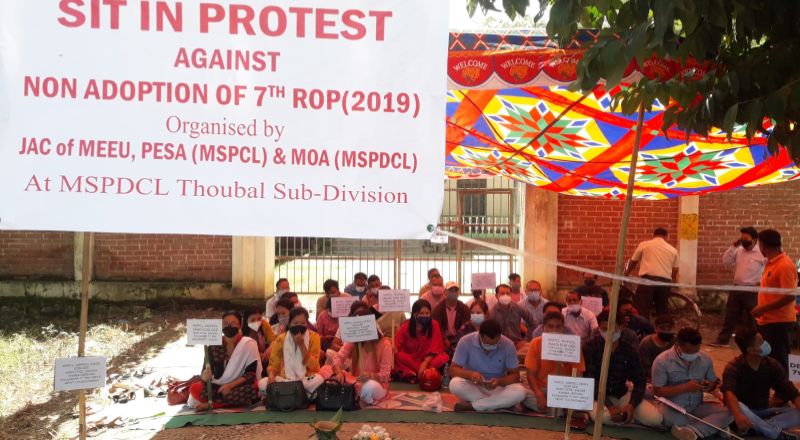 (PHOT): IFP)
EO, MSPDCL Thoubal Sub Division Sagolsem Khelendro said that demonstration was undertaken in support of the resolution made by the JAC.
While employees of other departments are allowed to enjoy the benefits of 7th pay commission, the employees of electricity, which is an essential service, are kept ignored till date, he said. He further urged the authorities to not discriminate among the employees and provide equal pay to all.  "We resorted to taking up demonstrations as our several appeals fell on deaf ears," he added.   
Employees of Thoubal sub-sivision will extend full support to decisions taken by the JAC, he said.  He also announced that in case of power outage during the movement, electricity employees will not work to fix them. He appealed to the public to understand their situation.
Advertisement
During the demonstration, placards that read "give equal treatment to all employees", "We demand 7th Pay", "MSPCL and MSPDCL demand 7th Pay", etc. were displayed.
Meanwhile, MSPDL Tamenglong Division and MSPCL Tamenglong on Thursday also joined the cease-work and staged a sit-in protest against non-adoption of 7th ROP (2019) at its office at Gadailong Tamenglong Ward No IV.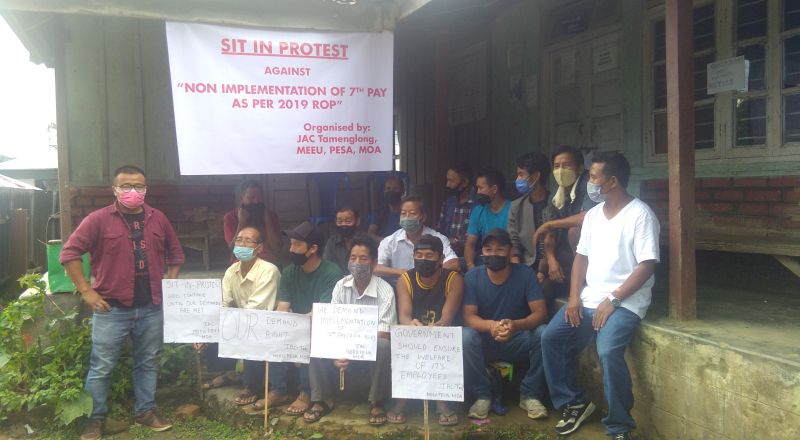 (PHOTO: IFP)
Speaking to the media, Joint Action Committee (JAC) Tamenglong under the banner of MSPDCL, MSPCL, MEEU, PESA and MOA president Akhon Pamei said that ROP has been promised in 2019, however, nothing has been materialised till date. 
"Delivering promises only on lips is not acceptable but they must be physically turned into action. Electric employees are working 24 hours even during bad weather," he said. 
He said the protests will continue until the demand is met. He further informed about the acute shortage of manpower in the Electricity department in Tamenglong district. 
He also urged all the citizens of Tamenglong to bear with the department for causing inconvenience during the protest. 
Advertisement