As many as 36 cadres of the Chin Kuki Liberation Army (CKLA) and a cadre of PREPAK (Pro) on Friday surrendered and laid down their arms before Chief Minister N Biren Singh at a homecoming ceremony held at the Banquet Hall of the 1st Battalion Manipur Rifles. The homecoming ceremony was organized by the Home Department, Government of Manipur.
The arms and ammunition surrendered by the cadres were four AK series rifles, one .22 rifles, one 303 rifle, one single barrel, one carbine, four pistols, two hand grenades, and 540 assorted ammunitions.
Speaking on the occasion as chief guest, Biren Singh welcomed all the surrendered cadres on their joining to the mainstream, adding that today's homecoming ceremony was one of the largest in terms of number of cadres surrendered, since the formation of his 2.0 government.
Biren said that Northeast states had gone through significant changes in terms of development and economic matters, after Narendra Modi became the Prime Minister of the country.  He maintained that all the Northeast states, especially Manipur. can now compare with other states of mainland India in terms of development, maintaining that the state is progressing towards further development with the support of the people.
Advertisement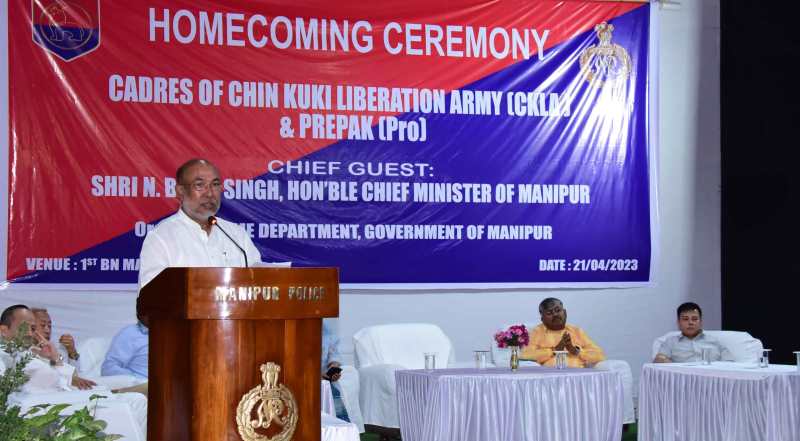 As such, many cadres of underground outfits have come out and joined the mainstream to take part in the development works, having faith in the governance of the present Government.
Stating that the government aims to bring equal development across the state keeping no difference in hill and valley areas, he spoke on various infrastructure development projects taken up in the state. He also mentioned that various welfare schemes initiated by the government had made it possible for the public to save some part of their earnings, which were earlier spent on basic needs. Such welfare initiatives have helped in upgrading the standard of living of the people, he added.
Biren further said that, apart from rehabilitation benefits provided to surrendered cadres, they would be given priority in the recently launched 'One Family One Pension' Scheme of the State Government. This will facilitate them in earning their livelihood and in educating their children, he mentioned.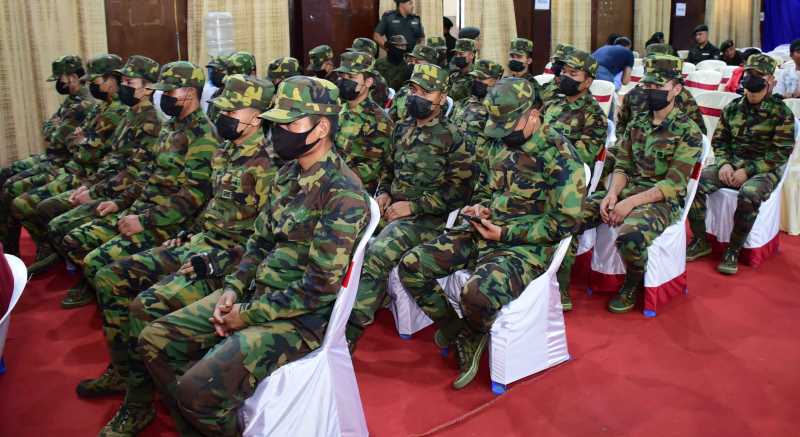 Advertisement
The Chief Minister stated that development could be brought only when peace prevails. And it is through people's support in the last 6 years that the State has been able to progress towards development. Continuing that the State had hosted many national and international events, he maintained that the State has become a preference for hosting such events.
He appealed to the public to refrain from bandh and blockades and rather come up with their grievances, so that amicable solutions could be brought out.  He further appealed to the public to join hands and work together for a better and developed Manipur. Concluding his speech, he appreciated the Police Department, Intelligence Bureau, Special Investigation Branch, Army and other paramilitary forces for their efforts to bring cadres of various underground outfits to the mainstream.
Cabinet Ministers, Member of Parliament, Members of Legislative Assembly, Chief Secretary, Director General of Police, senior civil and police officers of the State Government, senior officers of Assam Rifles, CRPF and BSF also attended the homecoming ceremony among others.
It is worth mentioning that under the Revised Scheme for Surrender-Cum Rehabilitation of Militants in the North East States, 2018 of the Union Ministry of Home Affairs, rehabilitation benefits given to the surrendered cadres include a one-time financial grant of Rs 4 lakh to each surrendered cadre, which is to be kept in a bank account in their names as a fixed deposit for a period of three years. Apart from this, monthly stipend of Rs 6000 per person and incentives for surrendered weapons. They will stay in a rehabilitation camp for three years.
Advertisement