Imphal West district police seized a total of 187 modified exhaust pipes and removed tinted films from 345 vehicles which are beyond visual light transmission (VLT) per cent during the last one month under the violation of Motor Vehicle Act, 1988.
Imphal West Superintendent of police S Ibomcha Singh told media on Saturday at its office located at Babupara, Imphal, that the drive was conducted since last month and for the violation of MV Act, 1988, the said modified exhaust pipes were seized and tinted films beyond permissible VLT per cent were removed. 
He said that during the drive, Lamshang Police Station seized 40 unauthorised exhaust pipes as maximum among nine police stations of Imphal West district which was followed by Imphal and Lamphel Police Station seizing 38 unauthorised exhaust pipes each. And Assistant Sub-Inspector, (commando unit-Imphal West), L Sarat alone seized 21 unauthorised exhaust pipes.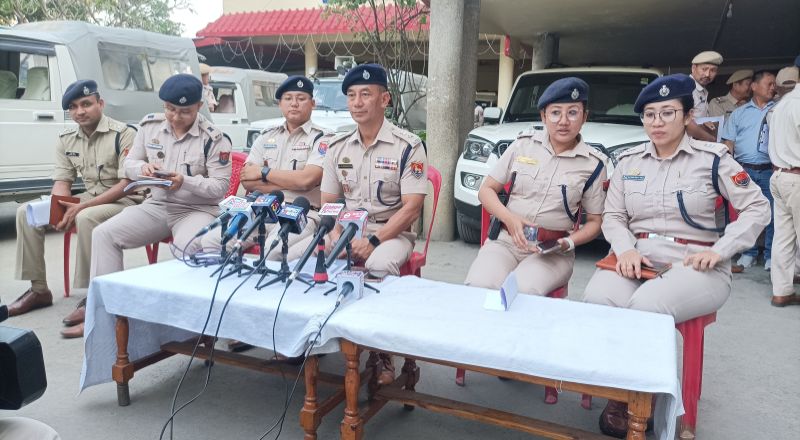 (PHOTO: IFP)
The senior officer said use of unauthorised modified exhaust pipes not only violate section 52 of MV Act, 1988 but also cause public nuisance due to its loud sound. He said the district police started seizing unauthorised exhaust pipes in order to make the public aware that using such exhaust pipes violates MV Act, 1988 and is punishable. 
Advertisement
He appealed to the public not to encourage use of unauthorised exhaust pipes and any automobile part selling shop found selling such types of exhaust pipes will need to take necessary legal action.
One of the officials of MPCB said individuals have to pay a fine under motor vehicle act, 1988 and environment protection act if they violate the MV Act, 1988. The recommended noise for a vehicle is 80 decibels. If the vehicles are found beyond the recommended noise limit the individual will be charged, officials added. 
The modified silencers can produce a noise ranging from 120 to 130 decibels and it can easily cause noise pollution. 
Ibomcha further said many unwanted crimes are occurring behind tinted films of vehicles. To reduce such unwanted crime and for the violation of MV Act, 1988, district police are also removing tinted films, he added. 
He said under the Act, windscreen and rear window glasses of a vehicle should have visibility of at least 70 per cent and all side windows should have a visibility of at least 50 per cent. Only the home department can give the permission for putting tinted films, he informed.
Advertisement
According to a Supreme Court order issued on April 27, 2012, it is mentioned that all black films from glass windows of vehicles must be removed. 
Responding to the media, Ibomcha said that due to lack of awareness, no penalty was taken from the MV Act violators, however, necessary legal action will be taken soon. 
He said the seized unauthorised exhaust pipes will be destroyed later in the presence of media personnel.
Later, officer-in-charge of Lamshang Police Station was given prize for highest seizure of unauthorised exhaust pipes along with a letter of appreciation while ASI, CDO-Unit, Imphal West, L Sarat for highest seizure in individual.
Advertisement