In a heartfelt display of camaraderie and compassion, a group of friends in Manipur, who have aptly named themselves ETAO, meaning "friends" in Manipuri, have initiated a pop-up stall at Mao Market, Chingmeirong, Imphal East, with a noble aim.
Their endeavour seeks to provide assistance to those grappling with the ongoing crisis in Manipur, particularly the individuals in relief camps and the valiant frontline warriors.
Speaking to this staff from the Imphal Free Press, Heisnam Gyanprakash, one of the organizers, shed light on their motivation behind this initiative.
Advertisement
He said, as they began contributing to support those in relief camps and the frontlines, they realized that their contributions weren't generating enough funds. People had started becoming hesitant to donate, as the protracted five-month-long conflict had nearly depleted their own savings, he said. Hence, the ETAO group decided to raise funds by establishing this innovative pop-up stall, the organizer said.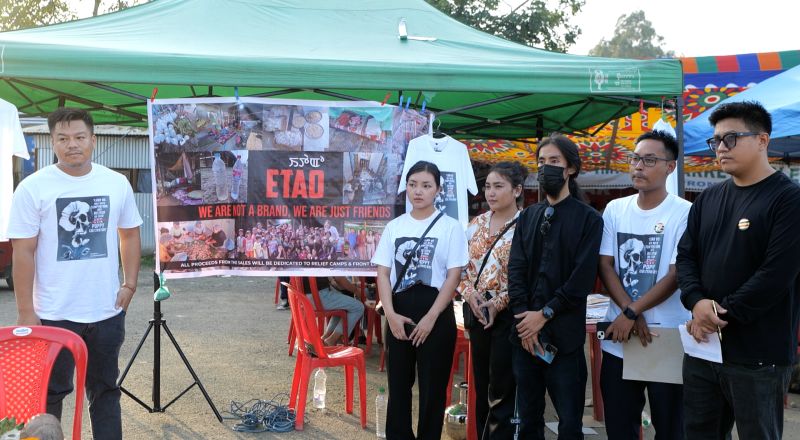 (PHOTO: IFP)
Sophiya, another organizer, expressed how they had witnessed first-hand the hardships endured by people in the relief camps due to the conflict in Manipur. This observation propelled them to conceive the idea of a pop-up stall, with the sincere intention of making a positive impact and alleviating the difficulties faced by those affected.
The pop-up stall has also created a platform for internally displaced people (IDPs) from the relief camps to showcase and sell their homemade products, including candles, incense sticks, and dishwashers. Many visitors were seen patronizing these items, showing their support for the IDPs.
Advertisement
A buyer from Kongba lauded the initiative, stating, "It is a great step, and we feel proud to lend a helping hand to the people who are the direct victims of this present conflict."
While this marks the inaugural event, the organizers have ambitious plans to make it a regular occurrence, with the intention of holding it every weekend. They aspire to expand the event into a street show and incorporate other activities, all aimed at supporting the artist community in Manipur.
Visitors who came to witness the pop-up stall sale not only appreciated the ETAO group's efforts but also contributed by purchasing T-shirt merchandise from them, further amplifying the aid being extended to those in need.
The ETAO group's compassionate gesture in the form of this pop-up stall serves as a shining example of how a collective effort can make a meaningful impact on the lives of those affected by crises. Their dedication to sustaining and expanding this initiative underscores their commitment to helping the people of Manipur during these trying times.
Advertisement