The off-grid electrification of remote Kangjang village in Senapati district of Manipur a few years ago had brought hopes and smiles to its villagers. However, the happiness and hopes brought by the much hyped project of the state government was short-lived as the power-supply failed to function.
Kangjang village secretary P Pidibou was among those who had high hopes and looked forward to a better living condition when their village, located more than 120 kilometres away from the state capital Imphal, was finally electrified.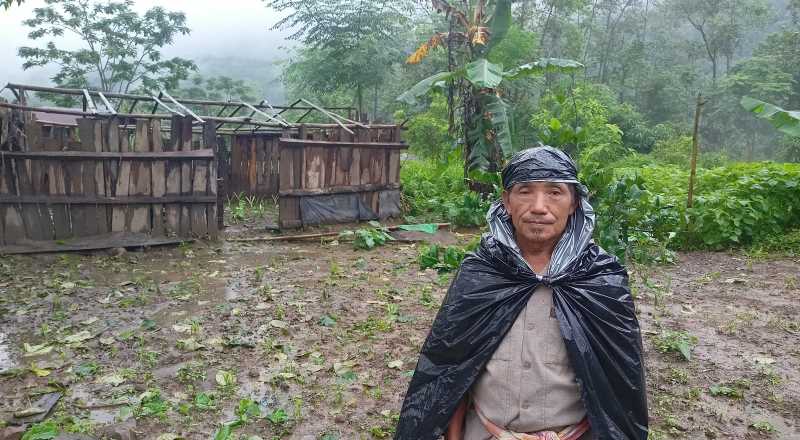 (Kangjang village secretary P Pidibou stands in front of his barren duck farm and coop--Photo: IFP) 
He worked hard and attempted to fulfill his long cherished dream of establishing a poultry hatchery in the village. Unfortunately, all his hopes were completely shattered. All the eggs he collected for hatching were ruined when the power mechanism stopped functioning.
In an exclusive conversation with the Imphal Free Press, Pidibou said that he started rearing more than 200 ducks and 10 drakes and collected the eggs for hatching.
"Moreover, the inverter, batteries and other equipment necessary for incubation were procured after saving up my small earnings towards achieving my dream. However, all my efforts were wasted when the power supply stopped working. I lost around Rs 75,000 in the process," he lamented.
Kangjang village, populated by around 280 people, along with neighbouring village Chakha in Senapati district were provided off-grid power supply with solar energy through the Manipur Renewable Energy Development Agency (MANIREDA) in 2018.
Advertisement
However, most of the solar panels and batteries installed at the villages have ceased functioning over time and the villages now reel under darkness.
With none of his six children being government employees, Pidibou and his family solely depend on the income from selling farm produce.
He said that he had attempted to expand the farming process but in vain in the absence of uninterrupted power supply.
When this reporter spoke to some of the villagers who were engaged in farming crops and livestock, it was clearly visible that they have been rendered handicapped with no source of earning due to lack of power supply though they have various livelihood plans.
Such lack of basic amenities and infrastructural facilities in villages also compelled the villagers to lead a different lifestyle.
Many of the villagers now rely on emergency lamps, kerosene lamps, candles among others in the night time and they were seen trying to finish cooking and having supper as early as possible, before the sun sets and it gets dark.
As told by the chairman of Kangjang village, K Paolin, Manipur Chief Minister Nongthombam Biren Singh in his speech during the Barak Festival in 2019 specifically mentioned Kangjang village among others and assured to connect the villages to the power grid.
"We were extremely happy then. The chief minister seemed serious and enthusiastic then. However, whether it is because of the indifference of department officials or lack of sincere efforts by the authorities concerned, the villages are yet to be connected to the power grid," he lamented. 
The village chairman further said that the village authorities have already submitted report and complaints to MANIREDA to repair and look after the solar power mechanisms. Yet, there has been no positive response so far, he said, adding that standalone off-grid electricity supply will not be viable.
According to the village authorities, the two neighbouring villages Chakha and Kangjang, both inhabited by the Liangmei tribe, are probably the only two villages in Senapati district that are yet to be connected to the power grid. 
Advertisement
Meanwhile, Chakha which is a border village has a population of over 550 people and most of the villagers derive their income from farming and bamboo and cane products.
Chairman of Chakha village, PT Khomuibo said that solar power mechanisms in only four or five households are functioning at present out of over 60 households in the village.
Khomuibo further said that the villages have very fertile land and crop yield is high. However, they cannot sell all the crops most of the time and many food items were wasted. If only the village has sufficient power supply, we can have a cold storage to stock the food for use during lean season, he said.
Besides, the villagers are skilled in handicraft – such as producing various types of cane and bamboo baskets and mesh among other products - he pointed out and exuded confidence that the bamboo and cane industry will further be enhanced if there is uninterrupted power supply in the village.
Meanwhile, according to officials of Manipur State Power Distribution Company Limited, MSPDCL, villages provided with off-grid power supply under central scheme can be connected to the grid after five years from the time of getting off-grid power supply as per the Power Ministry guidelines.
In such a scenario, despite many prominent leaders, members of state legislative Assembly and ministers voicing that uninterrupted power supply is crucial in socio-economic development of a place, many villages in Manipur, particularly in hill districts are reeling under lack of power supply and other basic amenities.
In view of the endless sufferings faced by the people living not only in villages but in places with hilly terrain due to lack of power supply, it is pertinent to question how long the government will remain silent spectator to the plight of the villagers, especially those who are guarding the state's border.
At present, Chakha and Kangjang villages remained cut off from the rest of the state due to several landslides along the inter-village road connecting Chakha and Kangjang villages, caused by incessant rains for the past several days.
Also Read: Several landslides cut off interior villages of Senapati district
Advertisement