As the saying goes, 'every coin has two sides,' the implementation of developmental projects in Manipur's Tamenglong district has its two sides too.
Following the implementation of various developmental projects, it has also led to human expansion while also causing massive felling of trees and deforestation, thus posing a great danger to the climatic condition in Tamenglong and Noney districts.
As human beings delved into thick forests to implement development works, many natural rivers and streams have been destroyed in Tamenglong district.
The main rivers flowing in the district include Barak (Ahu), Alang (Irang), Makhu (Makru), Ijei (Aga) and Apah, etc., of which the Barak (Ahu) is the biggest and longest followed by Alang and Makhu.
And as developmental works and projects are being implemented, they have affected the natural course or flow of rivers and streams, as a consequence of which, the economy of the poor villagers are affected, leading to food insecurity too.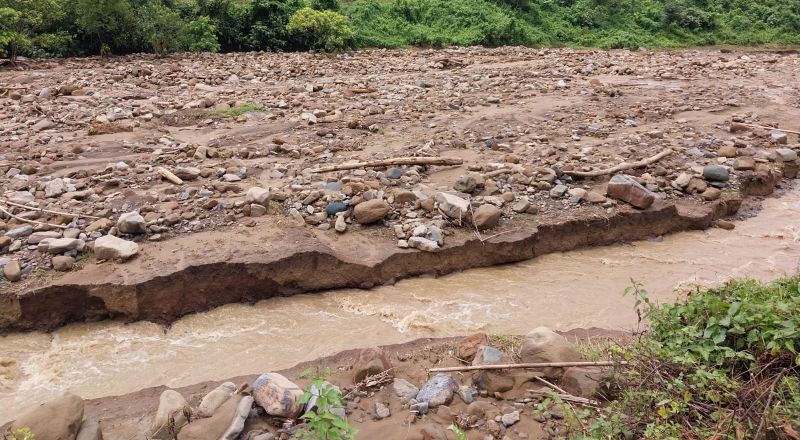 Water flows in the middle of a field. (PHOTO: _Daniel Kamei_IFP)
One 46-year-old farmer, Maliangjuanliu, narrates how her paddy field has been affected by the changing climatic condition and that she is unable to work in her jhum field due to the extreme hot conditions due to the impact of global warming.
"My only wet (paddy) field is destroyed and I cannot work in jhum cultivation due to the hot sun. So, I am forced to travel from my village to Tamenglong district headquarters town to sell vegetables to support my family," she said, adding that her husband too goes to work in Imphal on a daily-wage basis to support the family.
Hailing from Phalong (Bhalok) village under Tamenglong police station in Manipur state, which is located about 16-18 km from the district headquarters, Maliangjuanliu said that as natural river 'Bupangthuak' (Bupang River) has been destroyed by unnecessary dumping of soil, mud and stones have flowed into her paddy field, destroying three acres of field which have been handed down from her forefathers.
The field yielded about 60 to 70 tins of paddy every year which is sufficient for her family, she said.
She lamented that Hindustan Construction Company (HCC) Ltd., the company which has undertaken the construction work of the Imphal-Kangchup-Tamenglong Road, had paid her only once for the destruction of her standing crops caused by their work, as compensation. However, the field which can be used for generations is now destroyed, she added.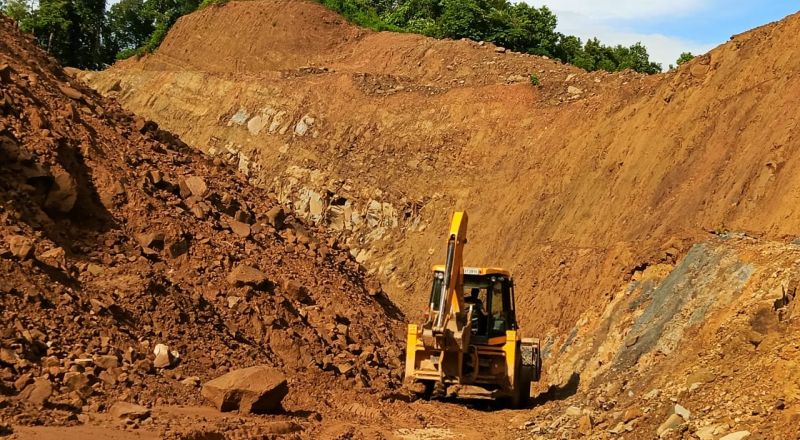 (PHOTO: _Daniel Kamei_IFP)
It is worth mentioning here that the natural river system or course has changed in many villages due to human expansion and dumping of soil from development projects such as the construction of the Imphal-Kangchup-Tamenglong and the Tamenglong-Tousem to Haflong Mahur Road and Northeast Asian Railway construction continue in Tamenglong and Noney districts.
Advertisement
According to the Head Professor Kh Pradip Kumar, Department of Geography, Manipur University, water flow can be roughly catalogue in two ways, including river system and water flowing inside rock.
He said, in the river system, there is a channel of water flow according to the volume of water and size of the river. If the river water flow is blocked by artificial or natural things, there would definitely be changes in water flows, leading to flooding even in hill areas, thus affecting the environment, he added.
The professor also said that if the waterway inside the rock is blocked and if the rock could not halt it any longer, massive landslides occur either with mud flows or earthflow. When roads are aligned, one needs to properly investigate the alignment and give proper treatment to avoid environmental change and control phenomena which could result in climate change, the professor said.
"In order to survive, my family shifted to Tamenglong district headquarters to sell vegetables as we cannot work under the hot sun in jhum fields", Maliangjuanliu said while relaxing after attending to her customers at the Rani Gaidinliu Women Market in the district headquarters. 
Joining Maliangjuanliu, a 52-year-old woman named Tagongliu from the same village told the Imphal Free Press that, following the cutting of Imphal-Kangchup-Tamenglong Road in her village, their paddy fields have been destroyed and so, she also left for Tamenglong town to find ways to survive.
She said that her family ran around for compensation but all in vain. So, she started selling vegetables at the Rani Gaidinliu Women Market, HQ, she said and appealed to the concerned authorities to look into the farmers' grievances to adopt sustainable livelihood for the future generation. 
One Aguangliu, wife of a newly recruited auto rickshaw driver, who sells vegetables on the roadside at the Medical Gate, Tamenglong, looks tired after attending to customers under the sun. However, she was keen to share her story with this Imphal Free Press reporter who visited her as a part of the survey on climate change impact on the environment in the state.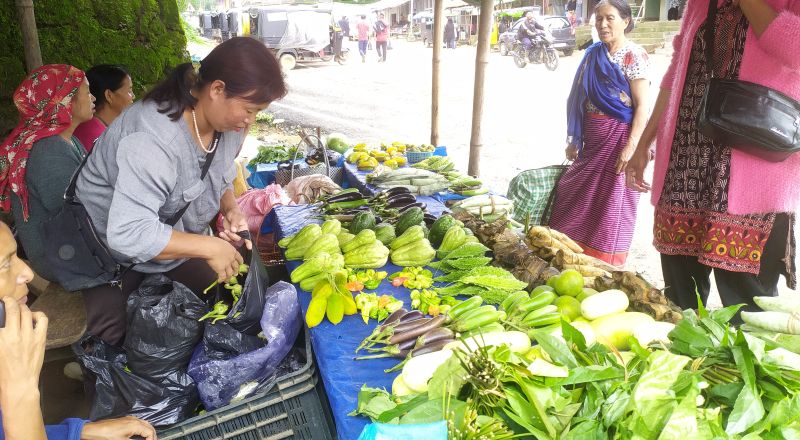 Women vendors sell vegetables on the road side in Tamenglong district headquarters. (PHOTO: _Daniel Kamei_IFP)
"My family was forced to move to Tamenglong town to find ways and means to survive after our wet field was completely destroyed by mud and stones. We can't work in the jhum field under the fluctuating temperature," she said.
Natural river Bupangthuak, which joins Duigathuak (Duiga River) and later Alangthuak (Irang River), has been destroyed by unnecessarily dumping of soil by Hindustan Construction Company (HCC) Ltd., she said.
"As a consequence, my wet field, measuring around three acres, has been completely destroyed. My villagers considered my wet field as 'golden field' as the field yielded 200 to 210 tins of paddy every year", Aguangliu said.
She also regretted that her field, which has been cultivated since forefathers and could be used in the future too, has been destroyed and no compensation has been paid till date. She then urged the government to provide sustainable livelihood as their wet fields are all destroyed.
A 64-year-old Namcha Kamei from Oinamlong village told the Imphal Free Press that thick forests have been turned into town-liked in the NF railway stations at Oinamlong, Khongsang, Thingou village.
He said that owing to the ever-rising temperature in the last 10 years, fans are being used in homes, even in the villages. Farmers or labourers are finding it very hard to work under hot sun during the day, he added.
There has been scarcity of drinking water for the last ten years. However, following the deforestation and dumping of soil by the NF railway line construction, there has been a lack of quality drinking water too, the senior citizen said.
Advertisement
"Due to the cutting down of thick forests, people feel very hot during the day. In the year 2000, people did not require umbrellas from the sun but now, it is very difficult to move out without an umbrella", he said. He said, people have begun to use electric fans in the village too.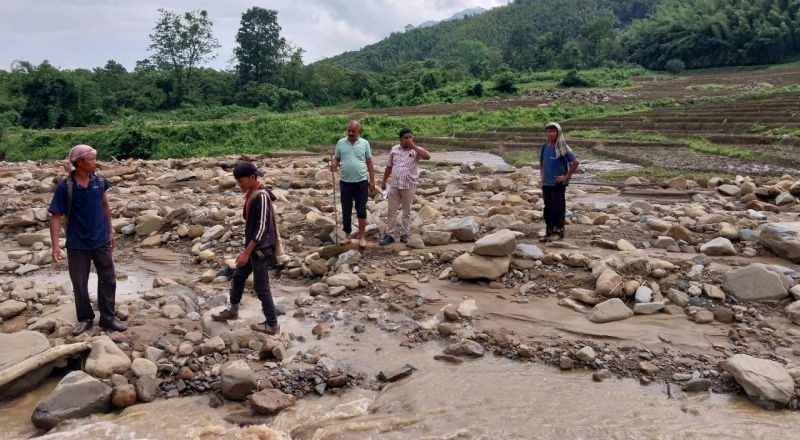 Poor Farmers look on as their paddy field is damaged by natural forces (PHOTO: _Daniel Kamei_IFP)
Meanwhile, a massive deforestation and soil erosion and dumping at several places have been happening along Tamenglong-Tousem-Halflong Mahur Road construction which could lead to climate change effect in the region. Many natural rivers, streams and rivulets have been destroyed too.
Amidst the threat and danger of climate change impact in the region, several villages are facing drinking water problems with many wet fields reportedly destroyed.
According to an official from the forest division of Tamenglong district, at least 431.656 hectares of forest land have been destroyed in road construction of Tamenglong-Tousem Halflong Mahur double lane.
The sources said that deforestation by human expansion has also led to the danger of climate change impact.
According to the state climate change cell, Manipur, the recorded total forest area of Tamenglong district according to 2017 assessment is 3953 sq km. which is 90.03 per cent of the total geographical area of the district.
Of this, 390 sq km are dense forest, 1754 are moderately dense and 1809 are open forest; forests can be grouped as Tropical-Ever-green Forest, Sub-tropical forest and Bamboo brakes. The forests are rich in wildlife and Tamenglong is often called the land of the Hornbill. 
Tamenglong district, like other hill districts, is socio-economically backward with many villages in the interior region lacking basic facilities.
In the event of any natural changes, the district would be most vulnerable. Adaptation would serve as a solution to the changing climatic condition.
Meanwhile, the Tamenglong district administration told the Imphal Free Press that at least more than 16 villages, including villages in Noney district, were affected by Imphal-Kangchup-Tamenglong Road construction and Tamenglong-Tousem-Halflong Mahur Road construction.
Official sources said that there is no compensation for Imphal-Kangchup-Tamenglong road construction from the concerned companies. However, the district administration has told the company to pay for the damage of standing crops as alternative livelihood or adaptation measures for affected villagers. The sources further said that there is zero compensation for Tamenglong-Tousem-Halflong Mahur Road construction.
According to the environmental impact assessment (draft) for Imphal-Kangchup-Tamenglong road construction, there are anticipated potential adverse environmental impacts due to acquisition of about 291 hectares of land for new alignment, due to tree cutting (2732) for the proposed, impact on land, air and water environment due to establishing and operating construction plants (Hot Mix Plant and Diesel Generator [DG] sets); and impact on biophysical environment due to quarry operation; impact on air quality, water quality, drainage, road users due to construction activities of road project and impact on land and water environment due to disposal of waste materials.
Advertisement