Stories of suffering and despair as well as new hope continue to roll out from the relief camps strewn across Manipur as the ethnic unrest refuses to settle down.
More than 60,000 homeless refugees have become internally displaced peoples (IDPs) taking shelter in the relief camps and living on relief by the government supplemented further by dole-outs by charitable organisations and aid agencies.
 "All the world's a stage, and all the men and women merely players", a line from William Shakespeare's play "As You Like It", seems similar to the life of an asthma patient, Premi, whose husband, Laipujam Inao Meitei, died while playing his role as a village defence force in the ongoing violence in the state.
Laipujam Inao Meitei, 24, son of L. Premjoy succumbed to his injuries after he got bullet injuries following the attack by Kuki militants near the Loktak high canal at Naranseina, Bishnupur district on August 29, 2023; he was injured while defending the people and villages from the attack carried out by the Kuki militants from the nearby hills.
The deceased Inao was a labourer at a cement shop in Khurai Kongpal for five years and has been supporting his family on daily wages. He is survived by his wife, a five-year-old daughter and one and half year-old son. His wife Premi cannot go out and work for a living as she is an asthma patient; Inao had been the sole bread earner of the family.
Now that he is gone, there is no one to support the family. Lamenting her husband's death, Premi told the Imphal Free Press that her husband left home on August 23 at around 3:00 pm.
She narrated that Inao gave her Rs 420 and a half bag of rice for the family to manage till he came back while assuring her that he would be back soon.
She added that Inao informed her of his whereabouts on the phone and he even video-called his family on August 28. On August 29, he called her and told her not to call him as he will be going to Naranseina as there had been a gunfight and one farmer was injured. A local farmer was injured when Kuki militants fired upon him on his way to work.
He again called her on the same day at around 11.30 am informing her that he reached the place safely and told her that he will call as soon as he comes out of the place, Premi narrated.
She continued that, on the same day, i.e., August 29, she got a call from her friend at around 4.30 pm informing that her husband got hit by a bullet on his head during the gunfight. But, when she and her family members reached the hospital, her husband had already breathed his last breath, she said.
Even since Inao died, the surviving members of the family have been suffering and their house is in a very bad state.
Advertisement
While narrating the story, Premi appealed to the state government to extend help to her family and provide them with a viable means of living.
She said, the Lamlai MLA Kh Ibomcha Singh informed her that the government has assured of government jobs for the martyrs who sacrificed their lives during the violence and urged the authorities concerned to fulfil the assurance they have been given.
Premi also appreciated Mega Manipur School for giving free admission to her daughter. She had also received donations from a group of teachers from Kwakeithel and a village leader had also taken her Aadhaar card to start the process of renovating her house.
Laimujam Jamuna Leima, mother of late Inao, also appealed to the concerned authorities to extend every necessary help to uplift his suffering family.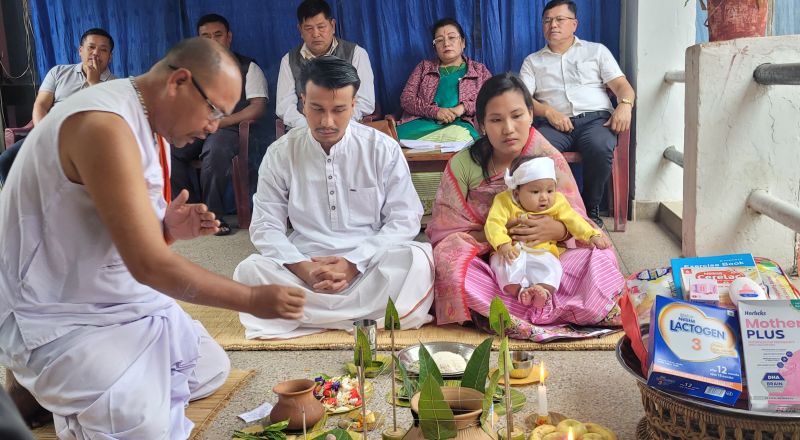 (PHOTO: IFP)
Another story from the relief camps is of a family enlivened by the birth of a young one in the family.
In the midst of the prolonged ethnic unrest in Manipur, the story of Chingtham Mahesh and his wife, Radha, sheds light on the challenges faced by displaced families.
Their tale revolves around the birth of their son, Langamba, under extraordinary circumstances.
Despite being stationed in the same small valley area of Manipur, Mahesh volunteered to defend against Kuki militants, a duty that kept him away from his new-born son for three agonising days.
Their family's ordeal began on May 3 when they were displaced, the day the ongoing crisis erupted in the state.
Radha, heavily pregnant at the time, faced the daunting challenge of evacuating amidst the chaos.
Luckily, Radha was referred to the exclusive relief camp for pregnant women opened by the Manipur BJP on May 22.
Advertisement
Then, their home in Tangjing Napet of Kumbi assembly constituency was tragically reduced to ashes by Kuki militants on May 28.
It was within the confines of this camp that she gave birth to their son, Langamba, on the same day, adding a glimmer of hope to their otherwise dire situation.
The family is now finding refuge at the Lakoipat Relief Camp in Bishnupur.
Five months later (on Wednesday), they celebrated Langamba's winning ceremony at the BJP Relief Camp opened at Khuman Lampak YouthHostel, a bittersweet moment given their circumstances. The ceremony also witnessed the presence of Manipur BJP president A Sharda Devi.
In their conversation with this reporter, Mahesh and Radha expressed mixed emotions, acknowledging that celebrating this milestone in their own home would have been ideal.
However, they remained grateful for the small ceremony, conducted during a critical juncture in Manipur's history.
They shared their hope that the government would take swift action for resettlement, recognising the myriad challenges faced by displaced families like theirs.
Mahesh mentioned the multitude of problems faced by the displaced but acknowledged the challenge of voicing them when the voices of the masses remain suppressed and unheard.
Despite their trials, the couple expressed gratitude to the Manipur BJP and its dedicated staff for tending to their basic needs and facilitating Langamba's winning ceremony.
This story is just one of many in Manipur, where families continue to give birth while displaced due to the prolonged ethnic unrest.
The BJP Relief Camp at Khuman Lampak Youth Hostel has played a pivotal role in bringing 100 children (51 girls and 49 boys) into the world, boasting a 100 per cent success rate, all without burdening the displaced parents financially.
In this time of uncertainty and upheaval, this camp serves as a beacon of support and hope for those enduring the hardships of displacement.
Advertisement