As evacuation of thousands stranded people continued in various districts of Manipur hit by the recent communal clashes, various relief camps have been set up across the state to facilitate the evacuated individuals. And, many civil bodies have started distributing relief goods to these shelter camps. However, shortage of food, water and lack of sanitation facilities for those evacuated riots victims taking shelter at various camps are being reported.
The relief materials, including food items and clothes were collected by civil bodies in the form of donation drive from their respective jurisdictions and provided to the thousands affected at several places across the state.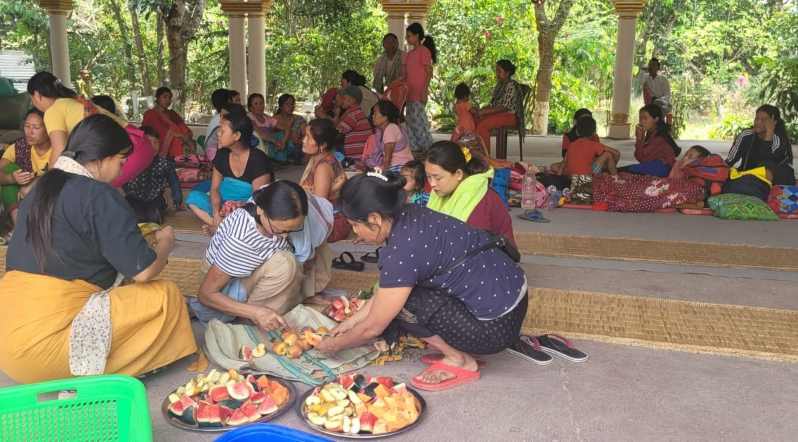 (A relief camp in Imphal. May 8, 2023. Photo by IFP)
However, during a ground survey by the Imphal Free Press, it was found that most of the displaced people in relief camps were suffering from shortage of water and sanitation problem, apart from other inadeqaute essential items.
The camps do not have enough sanitation facilities and water tanks to store waters for as many as 100 individuals. It may be mentioned that each camps hold around 100 displaced individuals.
One of such civil body Chingamakha Ima Lai Khurembi donated various relief materials to the camp run by the Khundrakpam Kendra Development Association opened at the residence of MLA Th Lokeshwor at Sagolmang in Imphal East.
Advertisement
In this regard, Chingamakha Ima Lai Khurembi president N Arun Singh said that such is not a donation but a duty during this difficult time.
Thousands of people stranded in Imphal, Churachandpur, Kangpokpi, Moreh and other affected places were evacuated in an effort to restore peace and normalcy in the state, official sources said.
According to reports, as many as 5,000 stranded tribals have been reportedly evacuated in Kangpokpi district since May 5, while in Churachandpur about 5,000 people are secured at relief centres located at four location, including Mini-Secretariat complex, currently.
And, as many as 14 relief centres are being opened in Khundrakpam and are sheltering a total of around 2,000 stranded people. And, CMO, Imphal East conducted a free medical camp at Khundrakpam. Soram Sodheino Singh said that the free medical camp was launched on Monday and will be covering all the relief camps opened in Khundrakpam.
Meanwhile, many relief camps run by local clubs and organisations are reportedly facing shortage of essential items, as an increasing number of people are evacuated to relief camps. So far, over 45,000 people have been evacuated to the relief camps run by the state government as well as the local clubs and meira paibis in the state, according to official sources.
Among the evacuated people, around 13,800 are secured in relief camps in Imphal West, 11,800 in Imphal East, 4,500 in Bishnupur and 5,500 in Churachandpur. The remaining around 9,400, including 1500 in Churachandpur, have been given safe passage, the sources said.
Advertisement
While the government is making all possible efforts to ensure adequate supply of essential food items at the government run relief camps, those run by the locals clubs at government schools, community halls and club buildings are facing a hard time to provide relief materials and food items to the evacuated lot.
Moreover, the ones with children and small babies are facing more difficult times in providing baby friendly food items to the small babies.
One such camp lacking essential items was witnessed by the Imphal Free Press at Sambei in Imphal East which was run by the local clubs and meira paibis. A total of 113 women and children are provided shelter in the camp. Around 15 of them are below three years of age.
Those staying in the relief centre are those evacuated from places such as Ekou, Sadu Yenguman and Dolaithabi whose houses were burnt down during the clashes that erupted between two communities in several parts of the state on May 3-4.
Many organisation and individuals have donated aid to the relief camp, but it is not enough to feed all the 113 individuals provided sheltered at the camp, the local clubs said.
In view of the dire situation at the relief camp, Sambei Youth Club president Nongthombam Sanker Singh drew the attention of the state government for assistance to ensure that the inmates are well looked after, especially the small children.
Advertisement