The Thadou Students' Association Sadar Hills has announced that it will be organizing a one-month free coaching for the JNV selection test 2023 in Kangpokpi town.
The inaugural ceremony of the one-month free coaching for Class VI Jawahar Navodaya Vidyalaya Selection Test 2023 was held at Kanggui Christian College, Kangpokpi district headquarters.
The event was attended by DFO Kangpokpi, N Ganesh, as Chief Guest, District Supply Officer, Kangpokpi, Nicky as Guest of Honour, OC Kangpokpi Police Station, Inspector Sunil Kumar as function president, deputy secretary general TSA GHQ, Paogoulun Chongloi as Chief Host, and Pastor, Centre Church TBA Kangpokpi, Rev Paominlen Kipgen as function minister.
Advertisement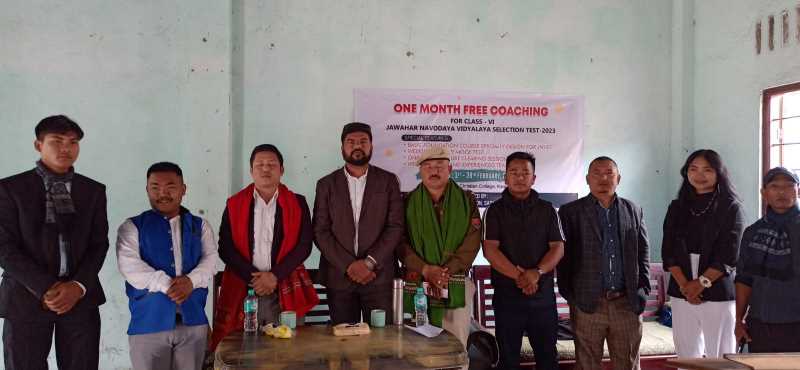 DFO Kangpokpi, N Ganesh exhorted the students to give priority and importance to education while OC Kangpokpi, Inspector Sunil Kumar advised the students to never indulge in drugs and other contraband items but rather focus on their education and avail the benefits of such free coaching organized by TSA.
TSA Sadar Hills president Paominlun Lhouvum said that they came across many students who could not afford proper coaching owing to poverty and the absence of a proper coaching centre in the district. "Considering the issue, we came up with the idea to offer a month of free coaching to such students out of concern for their future as a student body," he said.
Advertisement
He continued said the coaching, which will continue till February 28, will offer a basic foundation course specially designed for JNVST besides mock tests, and one-on-one doubt-clearing sessions under well-qualified and experienced teachers.
The newly appointed TSA Sadar Hills are Paominlun Lhouvum (President), Kamchon Kipgen (Vice President), Thangrousiem Hangshing (General Secretary), Lunsanglen Singsit (Addl. Gen. Secy.), Mangpi Kipgen (Accountant), Lunminkai Kipgen (Secretary, Department of Information, media & broadcasting, Convenor, Social Media and Chief Spokesperson), Kamneo Kipgen (Secretary, Department of Health, Education, Environment), Tonggoulal Lhanghal (Secretary, Department of Custom, Culture, and Tradition), and Lenjamang Hangshing (Secretary, Department of Sports and Youth Empowerment).
Advertisement