Tribal life is incomplete without dance and music, and their daily lives revolve around nature, making it central to their existence. The social and cultural lives of the Inpui (Kabui) Naga, who primarily reside in the hills districts of Noney, Tamenglong, and Senapati in Manipur, are inextricably linked with nature.
Their folklore and folktales are replete with stories about humans' close relationship with their immediate surroundings. The people used various musical instruments to celebrate life and the abundance provided by the land. Several of them are produced indigenously, whereas some instruments, such as cymbals, nipple gongs, bells, and others made of iron/steel, were bartered or purchased from the market as these resources were not available in the area.
Khwaang (which is a membranophone), is a cylindrical hollow log drum, made of various types of trees and found in various indigenous communities, is one of the most important musical instruments used as percussion instruments during traditional festivals, folk songs performance, dance, and ceremonies. It is played by the khwaang player by beating the membrane with the khwaang laakthing (drum stick). Khwaang is still used in traditional ceremonies, church festivals, and special events.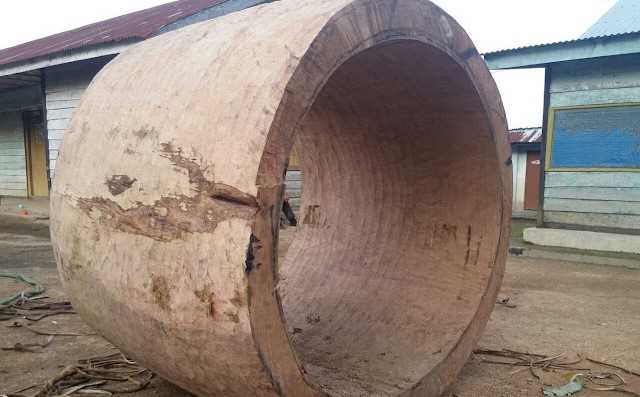 (Log Drum under construction: Photo by Noble Bariam)
Advertisement
The construction of a 5.4-foot-diameter, 16-foot-circumference, 4.3-foot-long record-breaking log drum by Haochong villagers, initiated by the Haochong Men Society (HMS), a society affiliated with the Haochong Baptist Church, is an important historical achievement.
The drum was brought from Tuikhui, a forested area, by kraanmi (male members). The goal in making this particular drum was to use it as an instrument for worshipping God and to bring unity to society through its use.The log drum was dedicated to the public in 2017.
The Inpui (Kabui) tribe brought the hollow log drum and showcased at the Sangai Ethnic Park, Moirang, during the G20 B-20 Sessions on February 18, 2023.
The making of such a massive drum takes months. To make a drum, a specific tree is chosen and cut to the desired length, and the dense wood is dug hollow/carved with chisels, axes, and other tools into a drum shape and dried for a while. Finally, the two open sides are covered with animal hides/skin, particularly cow and mithun, by tying it with a cane or vine found in the forest. The drumstick is made of a stick with the end wrapped in clothes or soft materials.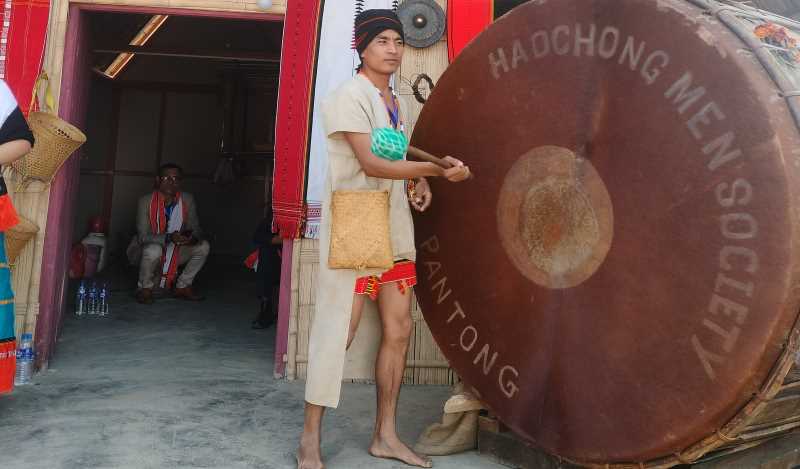 (Haochong log drum displayed at G20: Photo by Aron Bariamtak)
Advertisement
When this khwaang was first displayed on a public platform, several environmentalists expressed concern about the rationale behind cutting down such a large old tree and making a log drum for people's entertainment.
Although the people practice slash-and-burn agriculture on a rotational basis, they have a strong sense of conservation of the land and its forest, as evidenced by the practices of inmwanramraak (land protected by the village/community) and katangramraak (land protected by the youth/community), which can be replicated elsewhere.
The Inpui (Kabui) is one of the oldest indigenous communities residing in Manipur and are found in various districts including Noney, Tamenglong, Kangpokpi, Senapati, Imphal West, etc.
Haochong (Pantong) village also known as the Western Gate of Manipur is located in Noney district, about 80 kilometres from Imphal via National Highway 37/57 and about 25 kilometres via KangchupTamenglong Road (KT).
(The views expressed are personal)
Advertisement