In a first of its kind in Manipur, a month-long turmeric harvest event is being held at Luangchum (Awangkhul) Part-2 under Noney District on Monday, in an effort to raise awareness and promote organic turmeric farming as a new livelihood venture for the villagers.
Two farmer interest groups (FIG), Evergreen and Silver of Luangchum (Awangkhul) cluster harvested approximately one metric ton of fresh turmeric on day-1, the organisers said.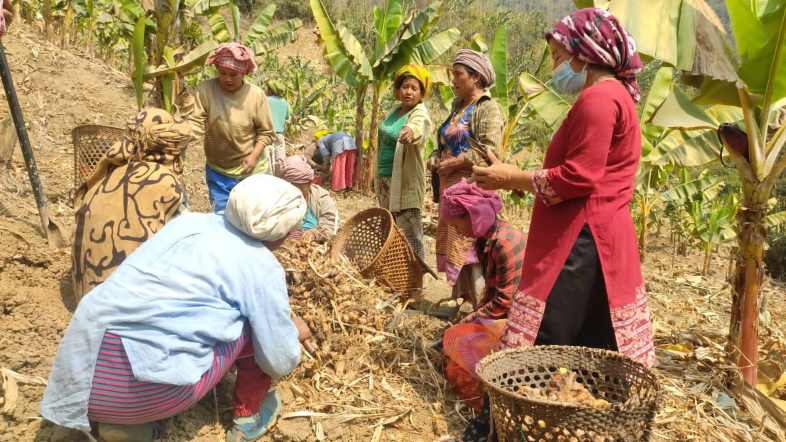 Advertisement
The turmeric harvesting event was organised by Taosuam Farmers Producer Company Limited. The project was initiated by Doscean Social Service Society (DSSS) under the sponsorship of Manipur Organic Mission Agency (MOMA).
Awoyo Lunglen, Project Manager, DSSS, visited the turmeric harvesting spots accompanied by his DSSS team, Chief Executive Officer (CEO) of Taosuam Farmer Producer Company Limited, Gaisangam Lawrence Kamson, in the presence of Field Inspector of DSSS, Guangjuanliu Gonmei.
Lunglen interacted with the turmeric cultivators and encouraged the farmers, deliberating on how to improve the methods of turmeric cultivation and how to sell the produce on an international market platform.
Advertisement
Taosuam FPC has reached out to seven rural villages under Noney district and has formed 24 farmer interest groups (FIGs) which are registered by 477 farmers to promote local products which are natural and organic. FIGs main focus products are turmeric, ginger, bananas and king chilli.
Lawrence said the harvest programme will continue for a month along with various FIGs under the company.
Advertisement