Millets, which are one of the highly nutritive and dietary fibre crops, could be an alternative for low-yielding paddy lands as the KVK, Andro has received a positive result during the crop cafeteria of varieties of millets conducted at its KVK institutional farm.
Millets have been a traditionally grown grain and consumed across the country, including Manipur in various forms since fore-fathers. However, due to lack of knowledge on its nutritional value the crop has been neglected by most of the people in Manipur. However, with the increasing health consciousness, people have started consuming millets by ordering through various online shopping windows.
Millet varieties are good sources of protein, micronutrients and photochemicals as per 100 grams of Millet contains 7-12 per cent of protein; 2-5 percent of fat, 65-75 per cent of carbohydrate and 15-20 per cent of dietary fiber. It is said that the essential amino acid profile of the millet protein is better than various cereals. Due to its high contain of dietary fibre the crop has been giving huge benefits in the digestive system of the human body.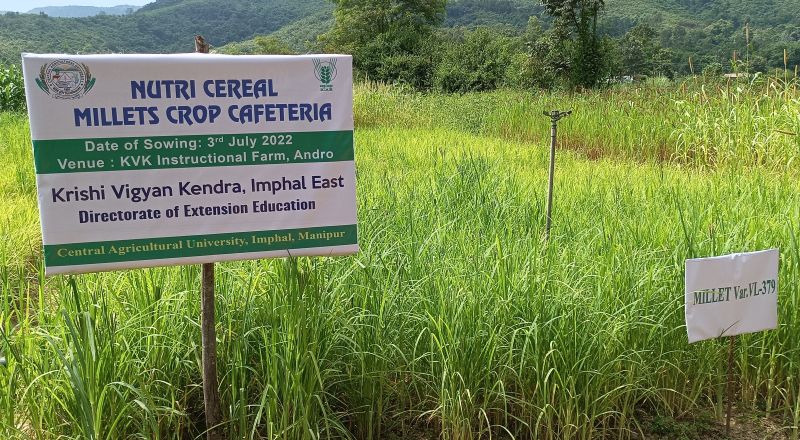 (PHOTO: IFP)
During a visit at KVK, Andro, different varieties of millets were seen planted in the institutional farm of KVK, Andro.
Advertisement
Senior scientist and head of KVK, Andro, Imphal East, S Molibala Devi told the Imphal Free Press during an interview that in the institutional farm 10 varieties of millets are planted as an experiment.
She said there are around 14 varieties of millets namely, Bajra (Pearl Millet); Foxtail Millet (Kangini); Millet Var. Vl.376; Kali Lacun (Blackish); Millet Var. VL-380; Millet Var. VL-379; Raddish Ragi (Finger Millet); Kodu Millet (Kodon); Barnyard Millet (Sanwa); Finger Millet (Ragi) Sunehri Lacun Brown Top Millet; Cadle; Safed Lacun (White Millet); Foxtail Millet (Kangini).
In the institutional farm 10 varieties of millets were planted on July 7 as an experiment and at present there are positive results of the crop, Molibala Devi said, informing that Millets can be cultivated with low water supply. Even if the crop is planted on a larger scale, farmers will not face issues due to lack of irrigation system, she added.
The senior scientist of the KVK also informed that Millets can be harvested in a short period of 100 days from the sowing of seeds. In some paddy lands where farmers face difficulties due to lack of proper irrigation, millet cultivation could be one of the most suitable crops which could be harvested within a short period, she added.
Regarding the nutritive value of the crop, the scientist said that it can provide good health benefits for diabetic patients and the crop possess low glycaemic index values ranging from 54 to 68 for millets like Foxtail millet; Little millets; Finger millets and Pearl Millets.
Advertisement
She also said that 2023 is declared as the international year of millets and KVK, Andro is also planning to encourage the farmers to cultivate different varieties of the crop on a larger scale.
She said KVK, Andro has started distribution of different varieties of millet seed to some selective farmers and at present, the farmers are getting positive results in their farms which they used to cultivate paddy.
In the last few years, due to global warming, Manipur has also been facing irregular rainfall and due to the reason farmers are not able to produce the recommended amount of paddy from their respective paddy fields. It is said that around 70 per cent of Manipur population are farmers and are depending on paddy cultivation for their annual income. The state has around 1,95,000 hectares of paddy cultivable land, both in hill and valley district, and out of the total area, 88,820 hectares are located in hill districts.
With the present status of the crop cafeteria of KVK, Andro, if the millet cultivation is adopted on a larger scale by the farmers as an alternative crop of paddy in the paddy land having improper irrigation, then the issue of less paddy production for those paddy lands could be solved. 
Advertisement