The Manipur government on Thursday released MGNREGA fund of Rs 83 crore for the state Panchayat parishad functionaries. But the released fund is for only two days' work wage for job cardholders. Hence, the Panchayat parishad members, continued with their protest and shutdown call, demanding the release of the entire Central government sanctioned fund amount.
Members of Panchayat Parishad in Manipur have been holding protest, demanding the release of MGNREGA fund and airing their grievances, in front of the DC Offiee at Porompat, Imphal East, since April 17. They have been protesting against the non-release of funds under the 15th Finance Commission Award (2nd installments) and demanded their honorarium from October 2019 to March 2021.
Continuing with the protest and bandh call on Thursday, protesters burnt tiers for blocking the roads and even sparked off tension between protesters and commuters at some places in the valley.
The Panchayat members started the road blockades at several areas of the valley with a bandh call on Wednesday.
Advertisement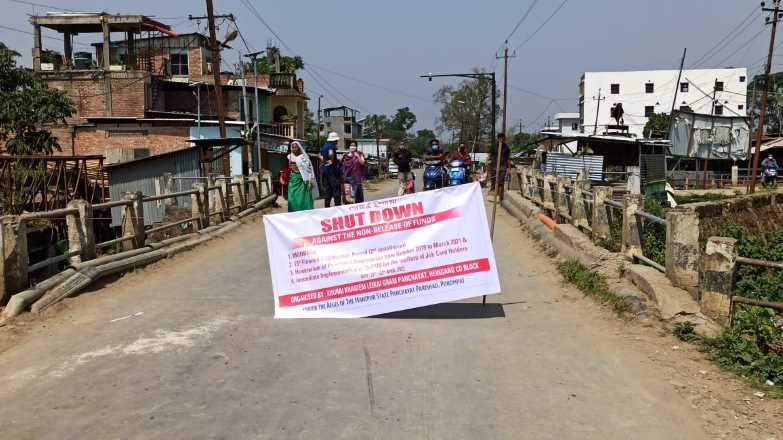 (PHOTO: IFP)
When asked about the fund amount released by the state government, one of the Zilla Parishad of Imphal East told the Imphal Free Press that the released amount of Rs 83 crore is for two-day work wages for job cardholders. "More than 40-day work out of 100-day work has been done on liabilities. Releasing R 83 crore is not enough for job card holder's work wages as the wage per day is Rs 238 per job cardholder. The honorarium of panchayat functionaries was released on Wednesday.
"The demand and blocking of roads as a part of the bandh call will continue until full work amount sanctioned by the Central government is released and also National Electronic Fund Management System is implemented for the welfare of job cardholders," the protesters said.
After holding a massive rally and sit-in protest with a large gathering of members on Tuesday, failing to comply with the government direction to strictly follow Covid rules, the Panchayat members on Wednesday went about conducting road blockades at several parts of the valley areas. They continued with their demand and protest on Thursday.
The protest was carried out following a joint meeting of the panchayat Parishad held on April 6, Imphal East Adhakshya P Bimola Devi told mediapersons on April 17.
Works under MGNREGS of 2021 started in every district but the funds are yet to be released, Bimola Devi said, adding that 64-65 per cent average works of 2021 have been done in liabilities.
Advertisement
The Panchayat functionaries taking part in the protest are from Imphal East, Imphal West, Thoubal, Bishnupur, Kakching and Jiribam districts, she had said.
Click Here to Read More News from Manipur
ALSO READ
Advertisement