Shivendra Singh Dungarpur: An undaunted soldier of film restoration
Shivendra Singh Dungarpur's Film Heritage Foundation established in 2014 maintains the detailed records of Indian films.
---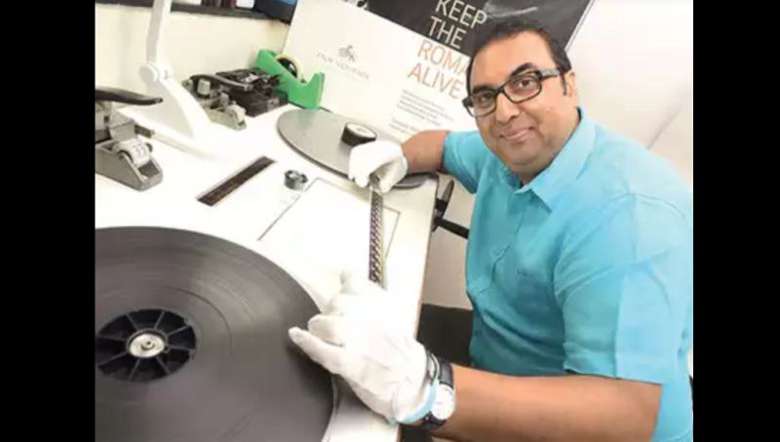 As I was curious to know about the restoration of films, I attended a lecture delivered by Shivendra Singh Dungapur, the Director of Film Heritage Foundation in September, 2015 at Indian Habitat Centre, New Delhi. The presence of Sharmila Tagore, the charming diva of silver screen of yesteryear was another attraction of the event. She was not there to reveal her glamorous stories but to see her maiden film in a new 4K restorations meticulously made by the Criterion Collection in collaboration with the Academy Film Archive at the Academy of Motion Picture Arts and Science. Sharmila Tagore made her acting debut at age 14 with Satyajit Ray's acclaimed Bengali film- Apur Sansar (The World of Apu) in 1959. 
Restoration of Apu trilogy 
Original negatives of Satyajit Ray's breathtaking milestone of world cinema- The Apu Trilogy comprising of three films Pather Panchali, Aparajitoand Apur Sansar were burned in a fire. In 1992, the Academy of Motion Picture Arts and Sciences presented an Honorary Lifetime Achievement Oscar to the Indian film director Satyajit Ray. While sourcing material from Ray's films for the Academy Awards ceremony, telecast producers were dismayed by the poor condition of the existing prints. The following year, after Ray's death, a project was initiated to restore many of Ray's films including those in Apu Trilogy. 
In 1993, several of the filmmaker's original negative were shipped to Henderson's Film Laboratories in London. In July, a massive nitrate fire at the lab spread to the film vaults, destroying more than 25 original negatives of important British classics and burning several Ray films including original negatives of the Apu Trilogy. Any ashes, fragments, or film cans that could be identified as belonging to Ray's films were sent to the Academy Film archive. But the Trilogy negatives were deemed unprintable as there were no technologies available at the time that was capable of fully restoring such badly damaged film elements. 
In 2013, Criterion Collection began working on the restoration of the Apu Trilogy with the Academy Film Archive. It was then entrusted to L'Immagine Ritrovata in Bologna, one of the World's premier restoration facilities. Using fine-grain masters and duplicate negatives preserved by Janus Films, the Academy Film Archive, the Harvard Film Archive and the British Film Institute; it took six months when the Apu Trilogy was reborn again. Restoration does not mean the digitization of a film, but is to construct the film in the same original format. 
In the lecture held at Indian Habitat Centre, New Delhi. Shivendra Singh Dungarpur showed the differences of the picture quality of the Apu Trilogy before and after the restoration through screening of few scenes. It was amazing. 
"A picture is worth a thousand words". It expresses the power of visual medium. It speaks the characteristic of the image appeared on a single frame. Then, what will be the volume of characteristics of a film which consists of many images in a series of frame and comes into live when it moves? Certainly a Film, having its unique identity of being live, must excel from a photo. Considering its unique characteristics and power of the medium; Swedish film director and writer Ingmar Bergman also said, "Film as dream, Film as music. No art passes our conscience in the way film does, and goes directly to our feelings, deep down into the dark rooms of our souls".
Just like the books in the form of novel or short story or poem or drama, the print medium has been narrating the stories of the society; the 100 years old film medium is also narrating the stories of different regions of the world visually from time to time. As the book records the real events and different features of life; the film also records it.  Film has its importance in both fiction and non-fiction categories. The films made in the past have become more precious day by day. Historians, anthropologists, sociologists and researchers on social traditions and its aesthetics are running after those films of bygone days. Why? They would like to see and understand the realities of the past. The generations of today have come to know 'What we were' authentically from the films of the past.
Film archive
America, Britain, Germany and France are the pioneer countries which opened its film library or archive early as they expect the films would be an important treasure of the mankind. Museum of Modern Art was opened in New York in 1929. Britain set up National Film Library at London in 1934, Reichsfilmarchiv (Reich Film Archive) of Germany at Berlin in 1935 and Cinematheque Francaise of France at Paris in 1938. In 1938,the International Federation of Film Archives (Fédération Internationale des Archives du Film, FIAF) was founded in Paris by the British Film Institute, the Museum of Modern Art, the Cinémathèque Française and the Reichsfilmarchiv. Today 156 film archives from 77 countries are members affiliated to the federation.
India, the largest film producers in the world, set up its film archive-the National Film Archives of India (NFAI) in Pune in 1964. It was too late to open its archive. By the time, India had lost many important films. The second and third reels of Dada Saheb Phalke's 3700 feet long and 4-reel film- Raja Harishchandra (1913), which marked the first feature film of India, could not be traced. Not a single frame of India's first talkie – Ardeshir Irani's Alam Ara (1931) was traceable. During silent era, 1700 silent films were made in India, of which the National Film Archive of India could preserve only 5 or 6 complete films and 10-12 films in fragments. By 1950, India had lost 70-80 percent of its films. NFAI, the only official Indian archive has only about 6000 Indian films in its collection.
An undaunted soldier of film restoration 
Having anxiety on the colossal loss of India's rich film heritage; Shivendra Singh Dungarpur, founder of Film Heritage Foundation based in Mumbai is spreading the message for preservation and restoration of Indian films from one place to other. I got the opportunity to listen his lecture when he delivered lecture at Indian Habitat Centre in New Delhi apart from Jawaharlal Nehru University in 2015. He studied at Film and Television Institute of India, Pune. He is a film maker, Archivist and Restorer. His much acclaimed documentary film -Celluloid Man (2012) was made on the life and work of legendary Indian archivist P. K. Nair, founder of the National Film Archives of India and guardian of Indian cinema. His another documentary- Immortals (2015) unravels hidden stories and rediscovers objects and images that at one time were an integral part of the lives of those artistes through which their creations came into being. The shoes worn by Raj Kapoor in the song Mera Joota Hai Japani from the movie Shree 420 was shown in the film.
Shivendra Singh Dungarpur's Film Heritage Foundation established in 2014 maintains the detailed records of Indian films. The Foundation becomes the member of International Federation of Film Archives and conducts international level workshops on Film Preservation and Restoration regularly with the experts from abroad.
How films are vanished?
On how films are vanished, Dungarpur narrated, "Early nitrate films were inflammable. Most of film stocks upto 1951 used cellulose nitrate as the film base. Destroyed by nitrate fire, stripped bare of silver, decaying in locked cans in hot, humid and unfavourable weather conditions or sold in kilograms in flea markets were the main reasons for vanishing the films of India including classics. If 1000 kg of film is stripped in one go to extract three kgs of silver, 50 films are vanished. There is a factory in Pathanwadi in the slums of suburban Mumbai. The silver scavenger who goes by the name Bipin 'Silver' has been doing this business for the last 40 years. India's first talkie-Alam Ara met the tragic fate in the stripped of silver." It was an interesting story. P.K.Nair recounted the incident in Celluloid Man-'When he had approached Ardeshir Irani to persuade him to archive Alam Ara, Irani had agreed asking him to take away the few cans lying in his office. Later Irani's son Sapurji had confessed to Nair that he had sold the film for silver long ago without his father's knowledge. All that remained of Alam Ara were a few empty cans and the dilapidated Jyoti Studio where it had been shot, a mute testimony to a lost legacy'.
Where to get films
'Where to get the films' is also another interesting story. Dungarpur said, "Some of the shopkeepers in one of India's largest flea market, the 'Chor Bazaar' in Mumbai, as guardians of film heritage, have been stocking rare memorabilia and film related artifacts for generations. Films are sold here by length and weight- 8mm films for Rs 300 a reel, entire films on 16mm for Rs 4000 and 35mm films for Rs 100 a kilogram."
"Interestingly, some of the films have found their way to NFAI by default, with the Indian Railways playing an unwitting archivist. After a film had its run at the box office, producers found themselves with several prints in hand and put them onto trains with no destination marked on them. They knew that if the prints were unclaimed, it would be the Indian Railways' legal responsibly to deal with them."
Life span of audio-visual media
Film making has undergone radical changes in technology. The erstwhile celluloid film and soft whirring sound of the projector has now made way for the digital format. Hence, along with the making of new cinema, the digital era has brought about path breaking innovations in technology which is helping restore films to the way they would have been on the way they were released. Dungarpur said, "Celluloid outlives all other formats. Life span of CD or DVD is 3-5 years; Hard disk 6 years; LTO (Linear Type –Open 30 years; Magnetic Storage Media 30-50 years and Celluloid film 126 years. I will continue to shoot on celluloid as long as I can".
Restoration in India and what to do next
Dungarpur pointed out that not a single full-fledged restoration of a film had happened in India till date." We have not even started", he rued. Shortage of funding and skilled staff, the National Film Archive of India is ill-equipped to handle the mammoth task of preserving the rich and diverse cinematic heritage of the country. He felt shock to see the prints of award winning and Indian panorama films piling up in a large room in the NFAI. Dungarpur suggested, "Each film industry in the country should have its own regional archive with a mandatory acquisition policy. Film storage facilities should be improved, expanded and optimized. Saving original source material is utmost importance. A detailed inventory and classification of the films in the archives is essential to facilitate public access for reference and research". This is his voice to preserve the film heritage of India. 
Visit of Shivendra Singh Dungarpur in Manipur
The visit of Shivendra Singh Dungarpur in Manipur in connection with the Golden Jubillee Celebration of Manipuri Cinema is remarkably important to save the treasure of Manipuri cinema. The authorities concerned of Manipur government must learn from him at their best how to restore and preserve the entire Manipuri films to set up the best film archive of India in Manipur. Where should we go to see those documentaries and features of our great filmmakers now, when we study their works? This question still remains.  Head of the World Film Foundation and Oscar Award winning film Director Martin Scorsese said, "Film is history. With every foot of film that is lost, we lose a link to our culture, to the world around us, to each other, and to ourselves".
 
ALSO READ:
First Published:
April 10, 2021, 1:32 a.m.