Agriculture, Veterinary and Animal Husbandry, and Tourism Minister Oinam Lukhoi Singh, who is also the in-charge minister of Thoubal district, handed over 23 different projects of various departments in Thoubal District on Friday.
The 23 projects were among the 311 projects inaugurated, during the celebration of four years of the government by Chief Minister N Biren Singh at City Convention on March 15.           
Speaking at the occasion as chief guest, minister Lukhoi Singh reiterated that the state government under the leadership of CM N Biren Singh is always committed for the welfare and equal development of all the people of the state.
Advertisement
He further expressed that the projects handed over today stand true to its commitment to always strive for the best for its citizens. So, minister Lukhoi called for people's cooperation and support for proper maintenance and functioning of all these newly inaugurated projects to sustain in the long run.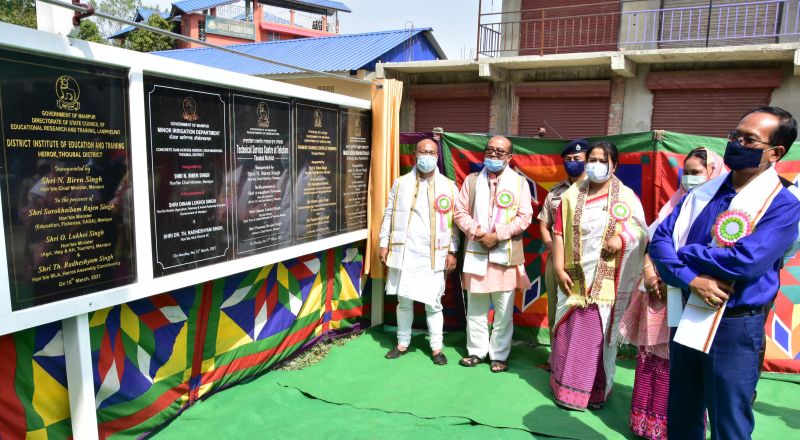 As district in-charge of Thoubal, Lukhoi lauded deputy commissioner Thoubal and all officers and officials concerned for their dedication and initiative for being the 1st district to hand over all the newly inaugurated projects to the public officially.
Advertisement
The projects that was handed over on Friday under various departments includes Multi Purpose Indoor Stadium at Kshetri Leikai, Haotabi Lampak, Trauma Centre, PHSC Building at Heibong Makhong, 10 - Health and Wellness Centre at PHC Charangpat, PHC Nongpok Sekmai, PHC Wangjing Lamding,PHSC, Phundrei, PHSC Khangabok, PHSC Athokpam, PHSC Thokchom Bengi, PHSC Ukhongsang, PHSC Irong Cheshaba, PHSC Irong Khunou, PHC(former Health Sub-Centre) at Tentha GP, Multi-Utility Market Complex at Wangjing Bazar, Farmers Training Centre, Phundrei, Technical service Centre, Tekcham, Concrete Dam across Heirok Litan Makhong, DIET Building Heirok for CCS Teachers Education, Administration Building of YK College, Wangjing and Overhead Tank and Water Reservoirs for 24x7 Water Supply at Khangabok Part I, Khangabok Pt II and Sangaiyumpham GP among others.           
MLA, Wangjing Tentha and advisor to chief minister, Manipur Paonam Brojen Singh; Adhyaksha,Thoubal Zilla Parishad Hasina Begum; nodal officer, Thoubal District and commissioner, Education (S) Government of Manipur T Ranjit Singh also attended the ceremony as president, special guest and guest of honour respectively in the presence of DC, Thoubal, N Bandana Devi, superintendent of Police, Thoubal S Ibomcha Singh and officials of the various departments.
Advertisement