Several students in Manipur commute to school by auto-rickshaws. In the capital city Imphal, students are charged Rs 10 per ride to school, while the charge for others ranges from Rs 20 and above per ride depending on the travel distance, according to the diesel auto-rickshaw association's fair regulation.
Already burdened by the rise in fuel prices, considering the reduced earnings in carrying students at a lesser rate, many auto drivers are unwilling to carry school students. Sometimes, students who try to take an auto ride to school were seen unattended and left with no vehicle to reach the school.
As poor families struggle to send their children to school, 29-year-old auto driver Oinam Raja Singh popularly known as Ningamdaba Raja from Nongchup Kameng, Imphal West has started free auto rides for school and college students and senior citizens on the route - Kameng via Lamdeng to Imphal since March 1.
The free service was started considering the financial constraint faced by the students and their parents belonging to financially backward classes, especially during the COVID-19 pandemic, Raja said.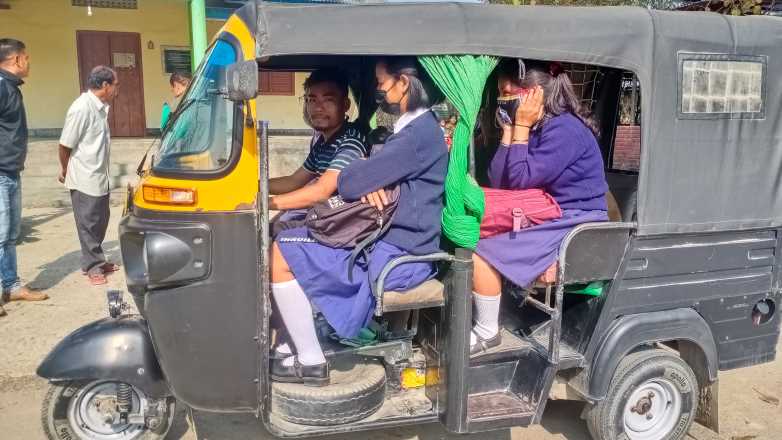 "As I belong to a financially backward family, I understand the level of suffering faced by many in having to incur high expenditure for commuting. So, I started rendering free services to the students according to my best level," said Raja while speaking exclusively to the Imphal Free Press.
Advertisement
Youngest among the three siblings born to O Tomba, a labourer and O ongbi Bimola, a housewife, Raja dropped out of school after completing class nine due to financial constraint. Since then, he has taken up different odd jobs such as driving a cycle-rickshaw to help in running his family.
Later, in the end of 2019, he started driving diesel auto-rickshaw after buying the vehicle on loan from a private bank. Raja is yet to pay off his debt for his vehicle loan. He, however, decided to start a free ride to school for students from poor families.
Sharing his story with the Imphal Free Press, Raja said during his childhood, there were days where his family members used to have only boiled broken rice with water for meals.
Recalling those days of utter poverty, he decided to give free rides to students and senior students in the effort to help many families who might not be able to effort daily meals during the pandemic.
Raja said, "Since my childhood I always extended physical and mental help to the needy ones I encountered as helping them financially is out of my context".
Helping and extending support to people gives him a taste of real happiness, he said.  
"Though rendering free rides affects my earnings, I feel happy, proud and satisfied that I am able to contribute a minimum support to the students," Raja said.  
In the effort to make up some due money, he started the auto services from early morning around 6 am and continued till 7pm with a small lunch break in between, said Raja, who is currently earning Rs 15,000 per month.
Advertisement
After the news of giving free auto rides to school students went viral, Raja has started receiving a lot of positive feedback and gratitude through social media and from the locals. Many well-wishers have even started giving financial support to Raja.
However, Raja has decided to spend the charity money wisely by reaching out to the old and aged people.
"With the financial support which I received from my well-wishers, I have decided to spend on buying Yaoshang (Holi) gifts for the aged people of Kameng village," Raja said.
"I will continue to drive an auto rickshaw till I am physically strong and will continue to give free services to students until I give up riding an auto-rickshaw," he added.
In an interaction with the Imphal Free Press, parents of students who regularly travel in Raja's auto expressed their gratitude for the free services provided by Raja, while. 
They lauded Raja for providing free auto services when many school students from Kameng and Lamdeng travel by public transport to reach their schools. The parents wished Raja success in every step taken up by him in every aspect of his life.
ALSO READ
Advertisement