Street food is fast gaining popularity in recent years among the people settled in Manipur's capital city, Imphal, due to its affordability and fresh preparation, including popular local snacks such as flavorful varieties of deep-fried bora, pakoura, puri and singju among others. Owing to its growing demand, especially among the younger generation, running street food has become a thriving source of livelihood for thousands of locals.
Ease of business that requires minimal capital is one major factor behind several unemployed locals taking to setting up stalls and selling freshly made food by the roadside. While some stick to traditional local food, some ventures into more varieties of Indian and Chinese snacks.
"It was in 2018, I started setting up a small mobile food stall by introducing momo, noodles and fried rice in the menu, in front of the main gate of ISBT ... But the idea of starting a street food stalls struck in my mind after I frequently witnessed many non-locals selling omelette, mixtures and pani-puri in the streets of Thangal and Paona Bazaars," said one Y Malemnganba, speaking to the Imphal Free Press.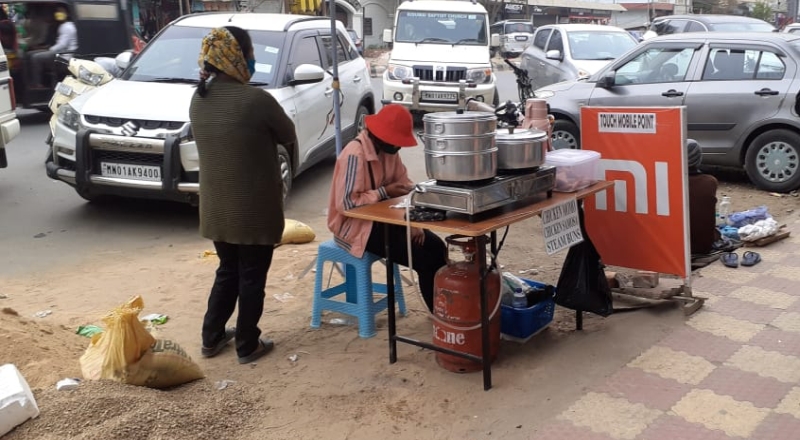 (PHOTO: IFP)
Following the increase in the number of daily customers, the items in the menu started increasing gradually, he said, adding, he has engaged two persons from his locality to help attend to the growing number of customers.
However, running street food stalls is not an easy task as satisfying the customers is one of the important keys for the business to be successful, Malemnganba said.
Advertisement
"In the present time, where getting a government job is next to impossible, running a food stall is a good option for unemployed youths to become financially independent," he added.
Another street food seller, Thokchom Johnson, who sells juice, coffee, burger, sandwich and other items in a food truck at RIMS gate said that the food truck has become a means of livelihood for his family.   
Prior to this, Johnson was working as a butcher in a chicken centre, by hardly earning Rs 6,000 per month as his salary. Now he makes a profit of around Rs 500 or more per day, he said.         
"As street food is prepared in front of the customers and is way cheaper than restaurant food, I prefer to buy my food from street food stalls or trucks instead of fast food," said a customer, one Thokchom Rohit while speaking to the Imphal Free Press.
(PHOTO: IFP)
Although many health experts commonly consider street food as "junk food," the street food in Imphal looks hygienic and clean, Rohit said. "I can guarantee you that street foods are far more hygienic and tastier than many costly and popular restaurants," he said.
Advertisement
During a survey by the Imphal Free Press, street food stalls and trucks are seen mushrooming rapidly in almost every locality of Imphal area. Maximum of the food stalls and trucks, however, do not have the government permits for selling street foods.
According to the data provided by the Imphal Municipal Corporation (IMC), only 80 food stalls on wheels (without engine) have the permission to sell street foods in the area covered under IMC.     
IMC did not issue any permit for installing a fixed food stall or running a mobile food stalls (with engine), the corporation has the rights to banned selling of street foods without acquiring its permit, said an IMC official Lisam Rupendro.
However, the food stall owners, while declining to say that they have no government permit to set up food stalls, said that running street food does not harm anyone. It is an important means for survival. And, perhaps, a profitable means of generation of income and employment for several workers employed by them.
ALSO READ: 
Advertisement