Contractual staff under the banner of All Manipur District Covid Contractual Health Workers (AMDCCHW) on Thursday afternoon stormed the office of the health directorate demanding service protection.
Decrying the government, the staff alleged that they were terminated while they were performing their duties and when the contract is yet to be expired.
Police personnel contained the situation around 1:30 pm, and six representatives of AMDCCHW were allowed to meet the health director.
Meanwhile, the remaining protestors staged a sit-in protest opposite Nursing College, Lamphel by holding various placards.
Advertisement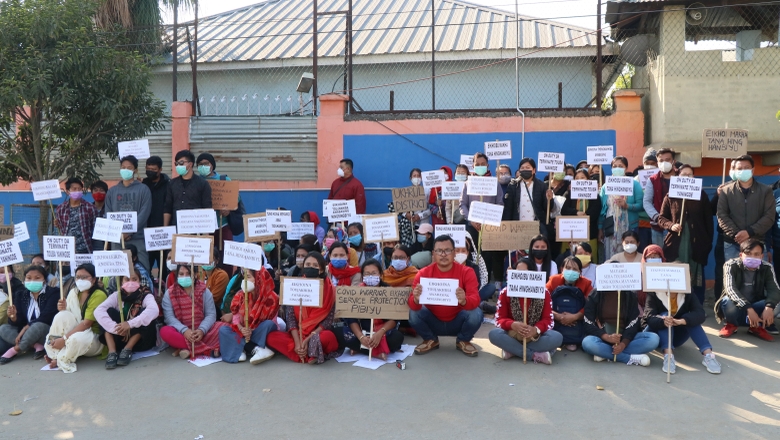 (PHOTO: IFP)
It is said that the AMDCCHW representatives met the director and submitted a memorandum citing their demands around 3 pm. However, the details of the talk have not been disclosed yet.
As many as 171 nurses and 177 multi-tasking staff (MTS) were engaged on contract basis by the government for COVID-19 duty in 16 districts of the state.
AMDCCHW secretary Yumnam Bidyarani said that the staff were utilised for duties regarding sampling in districts, mobile sampling, dead body sampling, Covid Care Centres, rapid response team, ambulance pick up team, home isolation, surveillance, among others.
Advertisement
She said that they had not even raised complaints even when their salaries had not been given for four and half months.
Expressing strong condemnation over issuing the termination order while they are performing their duties, Bidyarani urged the government to value the services they rendered and extend them service protection.
She also warned of intensifying the agitations if the government remains indifferent to their demands. 
ALSO READ:
Advertisement