He works in his paddy field over the low lying hills during the day and weaves beautiful soft cane baskets in his spare time to earn a few money so that he could afford a living. Brimming with pride of running a family by dint of sheer hard work, he makes sure his wife and two children do not go hungry.
However, suffering from poverty for long years, making a living has been hard on Ningthar and his wife, Solomi, of Chingjaroi Khullen in Manipur's Ukhrul district under Jessami block. Their small house was in a dilapidated condition. It could not withstand the heavy downpour of rain during the rainy season. The rooms would be flooded with rainwater.
What made their lives even more difficult is that both husband and wife are deaf, which is one big factor that drew them to each other. Undeterred by the many difficulties they face daily, they found strength in each other. They found joy in living together.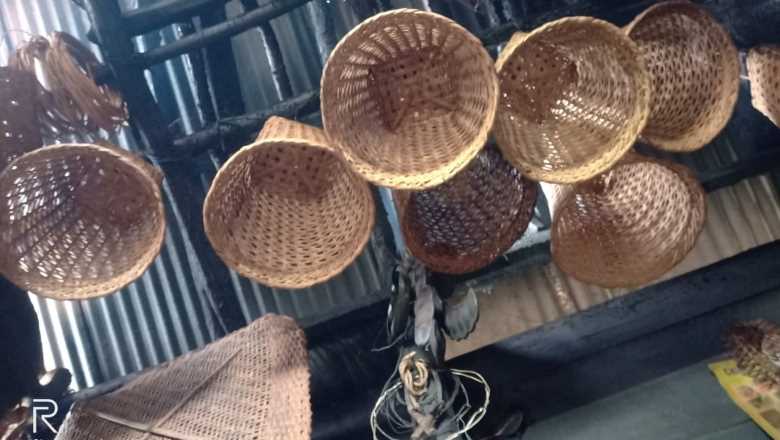 Advertisement
Cane baskets made by Ningthar (PHOTO: IFP)
Despite poverty and hearing disadvantages, what kept the two going strong is the joy of sharing as a couple for seven years now, as they watched their children grow. The eldest one, a girl, is three years old now while the youngest is just six months. To their relief, both the children are born normal.
When they had their first child, the couple slept on rotational basis to watch over the baby so that they would know when the baby cried and the world would not be disturbed, Jenial Raikhan, a translator, said as he narrated their story to IFP.
Ningthar and Solomi have been struggling to make ends meet. Till today, the couple have not received any benefits of the government schemes with the exception of the national food security. The only financial aid Ningthar had received is Rs 500 from an unknown visiting officer, as told to the translator.
Advertisement
The couple survived on some monetary help received from some Good Samaritans in the village in addition to the small amount of money he earns from selling his hand woven products. Jenial Raikhan, who translated their story, was one of them. 
With their house in no condition to live in, the couple, along with their two children, have now found shelter at Ningthar's parental home. Hopefully, their life would get better as they say blessings come in disguise.
Advertisement