Northeast
Staffs lock institute of agricultural sciences over 'non-payment' of salary for 16 months
The staff staged a sit-in protest at the entrance of the administration block.
Updated on 3 Nov 2020, 1:04 pm
Teachers and staffers of the Pandit Deen Dayal Upadhyay Institute of Agricultural Sciences (PDDUIAS), Utlou locked the administrative block of the institute on Monday over non-payment of salary for 16 months.
Holding placards with slogans that read 'No More Negotiation', 'Give Our Salary', 'Give Us Back What You Owe', 'Give Back Our Stolen Livelihood', 'One Year Without Salary Is Not A Joke', the staff staged a sit in protest at the entrance of the administration block.
Speaking to the media on the sidelines of the protest, one of the aggrieved staff Joybi Singh said that they have not received their salaries for 16 months since June 2019.
"With no salary for around 16 months, staff and families are struggling immensely and the pandemic has also added to the sufferings," he lamented.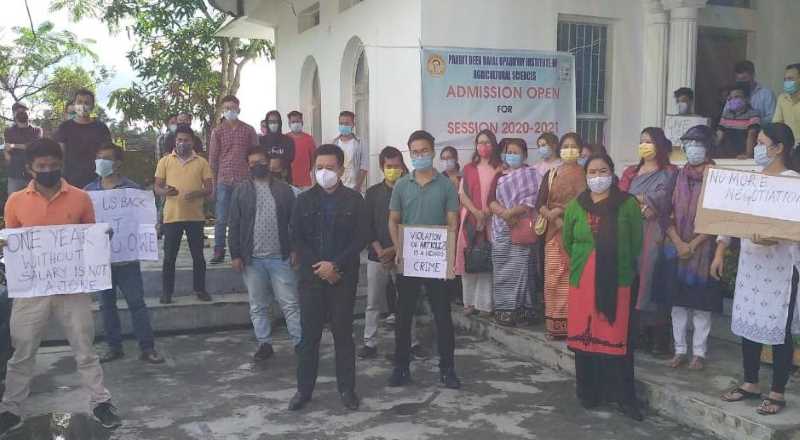 Stating that the director of the institute RK Imotomba and Chairman Th Chaoba Singh have made repeated promises to release the salary, he contended that their assurances and promises were never translated into action. "There are hardly 300 students but the number of non-teaching staff is above 250," Joybi added.
Joybi said that at the time of recruitment, the PDDUIAS authority assured to follow UGC norms regarding the salaries of the staff. However, contrary to the promises, the salaries of the staff are substantially low, he contended, adding "Without receiving salaries, the staffs have wasted their valuable time working for the institute."
The staff also said that promises to hike the salary of the staff on the basis of UGC norms after two years of probation were never fulfilled.
Besides, there are no welfare programmes being initiated at all for the staff and there is no EPF scheme for the staff, said Joybi. He also charged that many of the staff of the institution are being used for personal gains of higher officials of the institute.
First published:3 Nov 2020, 3:54 am
Tags: